If you enjoy collecting honey and protecting Bees from being destroyed, then Roblox Bee Farm is the game you want to jump into. Using weapons, you can fend off enemies from trying to destroy the Hive you are creating. Collect honey as you travel different worlds and become stronger as you level up and unlock more extensive and better upgrades for your hives.
Our Roblox Bee Farm Codes has the most up-to-date list of codes that you can redeem for new Weapons and Coins. Coins can be used to get Pets, and other items used in-game to make farming honey easier. Claim these sweet codes while you can!
Bees and farming are some of the best games you can play on Roblox. We have the best codes and games for you to start your farming journey on Roblox. These codes will help you get a head start in these games. Roblox My Bee Tycoon Codes, Roblox Bee Simulator Codes, Roblox Bee Tycoon Codes, Beekeepers Codes, and Roblox Farming and Friends Codes.
All Roblox Bee Farm Codes List
Updated July 18, 2022

Added new info and code.
Roblox Bee Farm Codes (Working)
RUSSO—Redeem for 1k Coins (New)
1250LIKES—Redeem for Coins
UPDATE3—Redeem for Coins
50LIKES—Redeem for 1K Coins
RELEASE—Redeem for 500 Coins
Roblox Bee Farm Codes (Expired)
There are no expired codes.
Roblox Bee Farm Frequently asked questions
Here's everything you need to know regarding Roblox Bee Farm codes.
How to Redeem Bee Farm Codes
It's easy to redeem codes for free rewards in Roblox Bee Farm. Follow our guide below.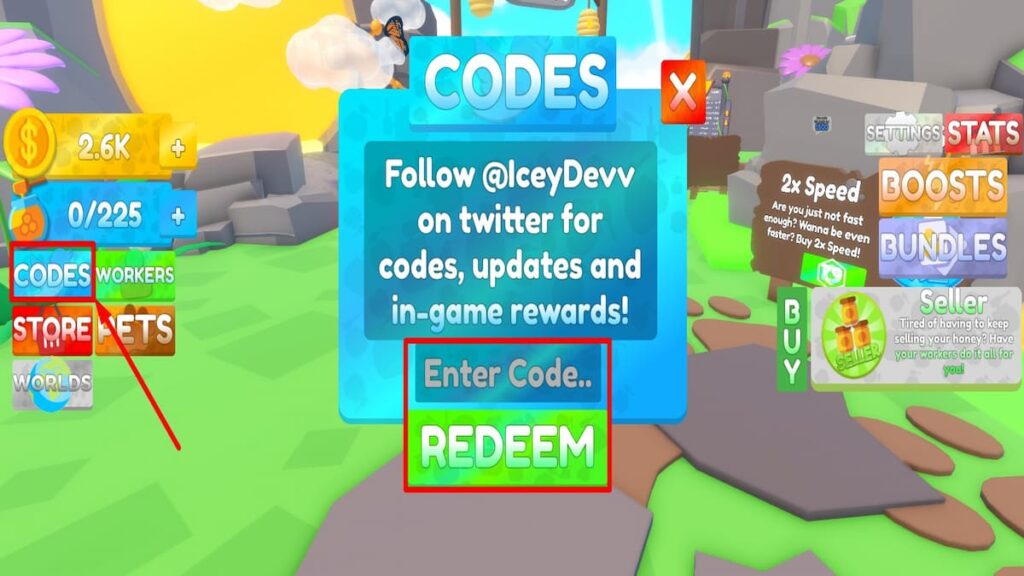 Launch the game.
Press the Codes button on the left side of the screen.
A new window will appear where you can enter each working code into the text box.
Press Redeem to receive your free reward.
How can you get more Roblox Bee Farm codes
To get the latest codes from the developer PlayTopia for Roblox Bee Farm, follow them on Twitter @IceyDevvv and their PlayTopia Discord Server. We here at Pro Game Guides have the latest codes for you, so make sure you save this page from redeeming them as they drop.
Why aren't my Roblox Bee Farm codes working?
There could be several reasons why your codes for Roblox Bee Farm arent redeemable. These codes are time-sensitive, so you could be trying to redeem a code that is already expired. Your codes could be mistyped into the text box. Make sure your spelling and punctuation are correct before hitting the Redeem button.
What is a Roblox Bee Farm game?
Roblox Bee Farm is a farming game where you will need to build as many hives as possible to collect honey. The more honey you collect, the more coins you can redeem Coins. Coins can be used to get Pets, and these Pets will help you get more honey. The bigger your farm and more honey you get, the higher you will climb on the leaderboards.
If you're looking for codes for other games, we have a ton of them in our Roblox Game Codes post! You can also get a bunch of free stuff via our Roblox Promo Codes page.