Welcome to one of the largest superstores you're going to find in the world of Roblox! If you're looking for Buy My Avatar codes to spend there, read on.
I'm always blown away by the creativity of other Roblox players, and this is quite literally a shop window in which you can show off your talents. Create items and looks, open your store, and sell your creations for Robux.
Unfortunately, at the time of writing, there are no Buy My Avatar codes available. However, there is a code system in place already (see below), and the developers have hinted at big updates coming soon, so hopefully, the first codes will come along then. If you love looking fabulous in Roblox, also check out Royale High Codes.
All Buy My Avatar Codes List
Buy My Avatar Codes (Working) 
There are no working codes for Buy My Avatar
Buy My Avatar Codes (Expired) 
There are no expired codes for Buy My Avatar
QUOTE Related: PLS Buy Me Codes
How to redeem codes in Buy My Avatar
Follow the instructions below to redeem codes in Buy My Avatar.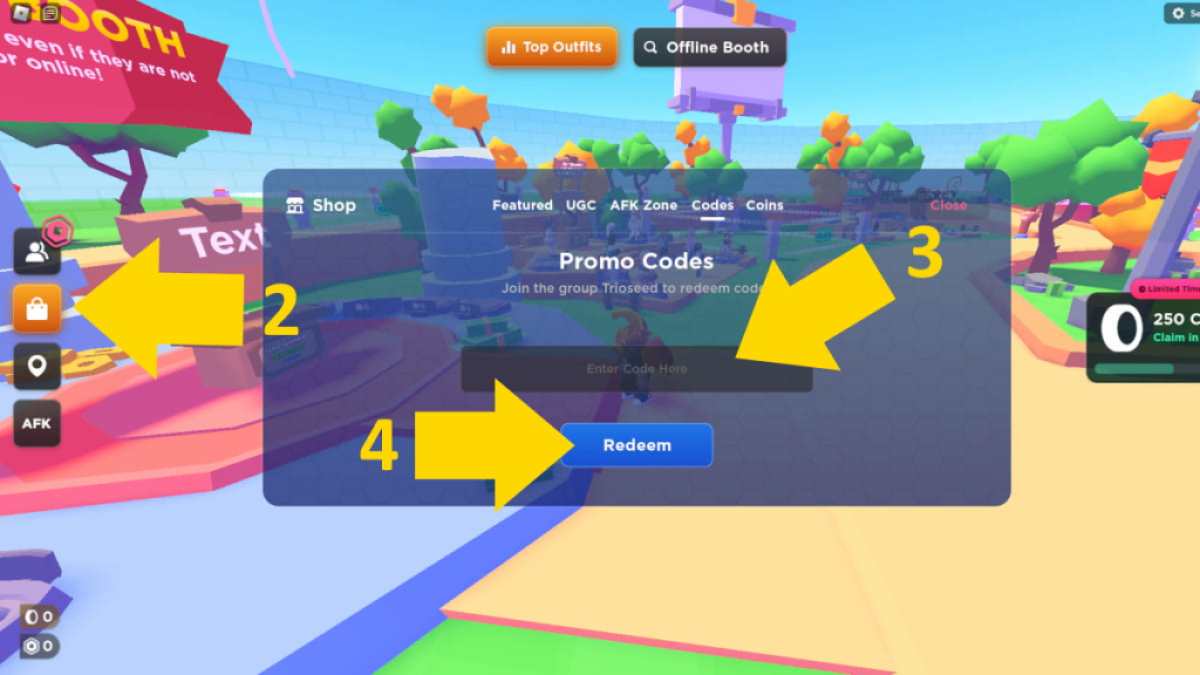 Launch Buy My Avatar on Roblox.
Press the shopping bag icon on the left.
In the text box saying Enter Code Here, do so exactly as it appears above.
Press the blue Redeem button to claim your reward!
How can you get more Buy My Avatar codes?
To find more Buy My Avatar codes I'd suggest starting at the Trioseed Roblox Group and joining up, as you'll find some of the latest game news there. For a more in-depth experience, you'll also want to head over and become part of the official Buy My Avatar Discord Server, where there are separate channels for game announcements, events, and giveaways, as well as fan chat. 
Why are my Buy My Avatar codes not working?
If you've found a Buy My Avatar code above but are struggling to make it work, first check you haven't made a typo by cutting and pasting the code into Roblox directly from Pro Game Guides. If that doesn't fix the issue, or if a code says it has expired, this usually means it has been taken out of the game by the developers. Let us know in the comments section below, and we'll update the guide. While it's gone for good, on the plus side, a new code will usually replace it, so check back with us soon! 
Other ways to get free rewards in Buy My Avatar
The way to get free rewards in Buy My Avatar is to window shop all day long! As well as items costing robux, the experience also has a secondary currency called Coins. The longer you stay logged in, doing whatever you like, the more you get! You'll get six Coins every minute you're in-game, which are paid out in 250 Coin chunks every 30 minutes. You can also earn three Coins per minute while in AFK mode.
What is Buy My Avatar?
Buy My Avatar is a Roblox experience in which players can sell their creations for actual Robux, as well as buy creations created by others. It works like a huge shopping mall, where you can wander around a huge number of player stalls and browse for items you like. There are on and offline booths available, as well as top outfit lists.
If you're looking for codes for other games, we have a ton of them in our Roblox Game Codes post! You can also get a bunch of free stuff via our Roblox Promo Codes page. And in the meantime, take a look at the latest news to stay up-to-date on all things entertainment.