Get ready to defend your base in Roblox Dimension Defenders! Place your pickers, set up your defenders, and grab your best sword. Then begin the first wave, defending your base from creatures from another dimension! Can you complete every wave, allowing you to rebirth with a new and improved base, ready to defend once more as you rise up the leaderboards?
Dimension Defenders codes reward you with either standard Coins or Premium Coins. Premium Coins can be spent on boosters and VIP access, while Coins are used to improve your troops, set up your base, and purchase new weapons. If you love Roblox tower defense games, you should also check out Geometry Defense.
All Dimension Defenders Codes List
Dimension Defenders Codes (Working)
These are all the working Dimension Defenders codes.
UPDATE1!—Redeem for 200 Premium Coins (New)
3kLIKES! —Redeem for 500 Coins (New)
Dimension Defenders Codes (Expired)
These are expired codes for Dimension Defenders.
500LIKES! —This code has expired.
1kLIKES! —This code has expired.
Release!—This code has expired.
Related: Demon Tower Defense Codes
How to redeem codes in Dimension Defenders
Follow the instructions below to redeem codes in Dimension Defenders.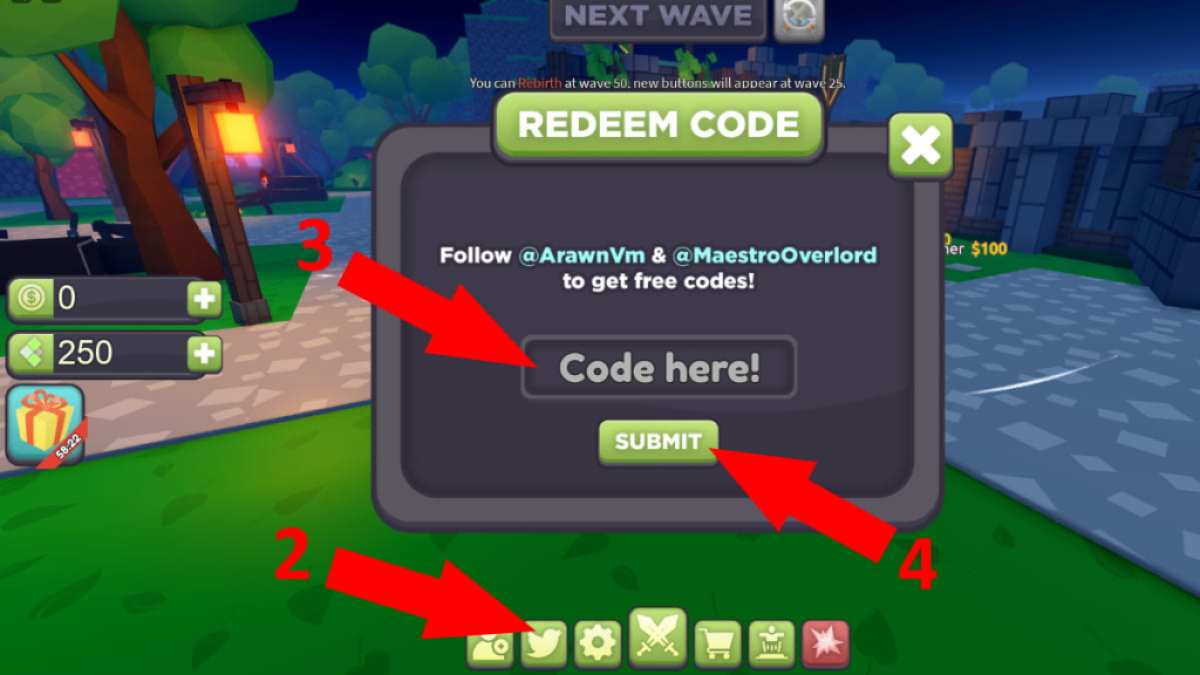 Launch Dimension Defenders on Roblox.
Press the green Twitter bird icon at the bottom of the screen.
In the text box that says Code here! do so exactly as it appears in the list above.
Click the green SUBMIT button underneath to claim your reward!
How can you get more Dimension Defenders codes?
If you want to hunt for more Dimension Defenders codes yourself, a good place to start is by joining the Dimension Games Roblox Group. You might also want to follow @DimensionGames5 on Twitter, and become a verified member of the official Dimension Games Discord Server. Twitter often has codes updates, while Discord has channels dedicated to Dimension Defenders announcements and updates.
Why are my Dimension Defenders codes not working?
If you've entered one of our Dimension Defenders codes above but it hasn't worked, have you checked for typos? It's really easy to miss a capital letter or mistake a number for a letter. Either of these can invalidate a Roblox code, which is why we suggest you cut and paste them directly from here when possible. If that doesn't fix it, unfortunately, the code may have expired. This happens to most Roblox codes in the end, but don't worry. We're always searching for new codes, so check back with us soon!
How to use Premium Coins in Dimension Defenders
One of the rewards you can receive from Dimension Defenders codes is Premium Coins. These can be found on the left of your screen, just below your normal coins. To spend them, go to the Hub and click the Shop icon at the bottom of the screen (near the Settings cog described above). You can spend your Premium Coins on temporary Boosts to the speed of your Coin Collection, or VIP passes. The best choice depends on how you play, as both options give you free bonus coins as a reward. Boosts are better if you want to play an intense session, as they double your collection speed for a short time. VIP is better for more casual play, as it only gives a 10 percent boost but for a much longer time period.
What is Dimension Defenders?
Dimension Defenders is a Roblox experience that combines the ideas of tower defense and tycoon games. You build droppers and conveyors and increase the quality of your base as in a tycoon game. Then you release waves of enemies and defend your base as in a tower defense game, both by buying and improving troops and also by physically battling them with your sword.
If you're looking for codes for other games, we have a ton of them in our Roblox Game Codes post! You can also get a bunch of free stuff via our Roblox Promo Codes page. And in the meantime, take a look at the latest news to stay up-to-date on all things entertainment.