Experience what it's like to be a champion striker in Goal Kick Simulator, a soccer-themed Roblox game where your only goal is to nail the perfect shot again and again. As you play the game, you'll notice it follows a similar trend to a lot of other Roblox simulator games: level up your stats, rebirth, repeat.
Most players will notice that the faster you earn coins, the better equipment and stats you can purchase, which helps boost you to be the ultimate soccer champion you always knew you were. With the codes we provide below, you can get a decent head start on your way to becoming the best.
While you're using these codes, don't forget to check out our codes lists for some other similar Roblox games! We have the latest codes for games like Football Stars 2, Dunking Simulator, Ball Throwing Simulator, and Football Universe.
All Goal Kick Simulator Codes List
We'll keep you updated with additional codes once they are released. You should redeem these as soon as possible because you'll never know when they could expire! These codes are tested on the date they are added. If you find one that is expired, please let us know the exact code in the comments below so we can remove it.
Enter the code exactly as it is listed, or it might not work correctly! Note: If the code is for in-game currency, some amounts may be slightly off if the game has active multipliers.
Updated July 5, 2022

Added new codes
Goal Kick Simulator Codes (Working)
Here's a look at all the working Goal Kick Simulator codes.
150K—Redeem for 10k Gems (New)
SATURN—Redeem for 10k Gems (New)
JUPITER—Redeem for 10k Gems (New)
THANKS—Redeem for 10k Gems
WELOVEFLOPPA—Redeem for 10k Gems
STARS—Redeem for 10k Gems
COUNTTO10K—Redeem for 1k Gems
BALL—Redeem for 5k Gems
LIKEFORUPDATES—Redeem for 3k Gems
GEMPARTY—Redeem for 5k Gems
SUPERKICK—Redeem for 1k Gems
ALIEN—Redeem for 2.5k Gems

FREEGEMS—Redeem for 3.5k Gems
15K—Redeem for 6k Gems
MOON—Redeem for 5k Gems
Goal Kick Simulator Codes (Expired)
These codes are no longer valid.
UPDATETODAY—Redeem for Coins
UPDATECOMINGSOON—Redeem for Coins
10K—Redeem for 10k Coins
ROBLOXWASDOWN—Redeem for 5k Coins
RELEASE—Redeem for 1.5k Coins
How to Redeem Goal Kick Simulator Codes
It's easy to redeem codes for free rewards in Goal Kick Simulator To do so, follow the instructions below.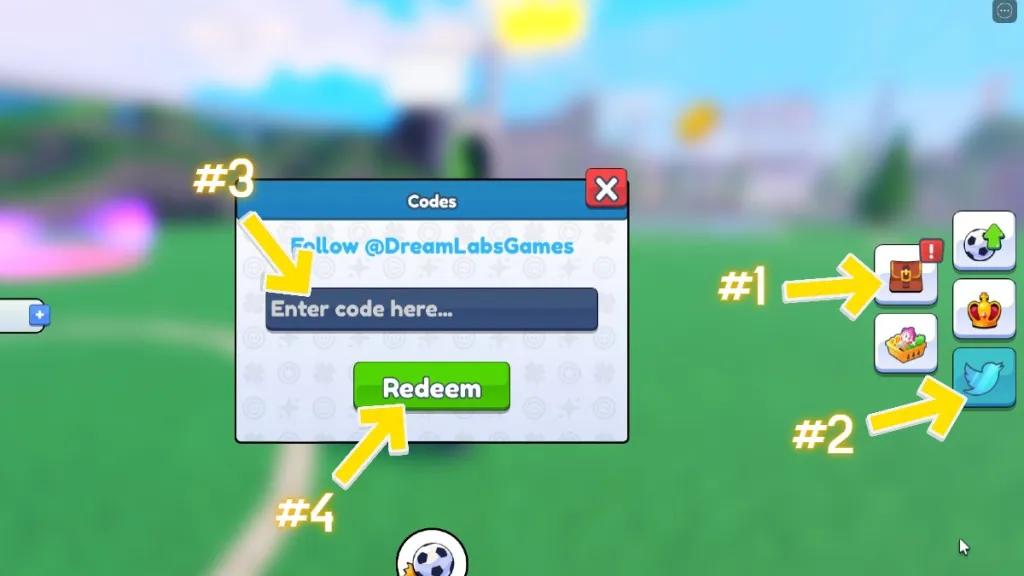 In the game, press the Inventory Bag button on the right side of the screen.
Press the Twitter Bird icon to open the codes window.
In the text box, enter the code exactly as it appears in the list above.
Press the Redeem button to claim your reward!
What are Goal Kick Simulator codes and how do I get them?
Codes in Goal Kick Simulator are keywords and phrases provided by Dream Simulator, the game's developer. They are used to claim exclusive rewards, such as cosmetics for your character, or in-game cash that you can use to upgrade your stats or open chests for new soccer balls. When used in the early game, they can give you a significant boost forward on your path to becoming a world-champion striker!
Bookmarking this page and making period updates is the most prudent way to get the latest codes, as we try to add them to the list as soon as they're available. However, if you want to get them faster and don't mind keeping an eye out for updates, you can get them early from the game's Discord community or by following the Dream Labs Games' Twitter account.
Why aren't my Goal Kick Simulator codes working?
There are a number of reasons that could prevent codes from working—even if they're active. The most common problem for non-working codes is that the user entered them incorrectly. Most codes in Roblox games are case-sensitive. To assure you're entering the code correctly, try copying and pasting the code directly from our page instead of entering it in manually.
Goal Kick Simulator's developer can also remove codes at any time without notice, so it's possible a code we have listed in our active list might have expired. If you're certain you entered it correctly and it still doesn't work, it may have been expired.
What is Goal Kick Simulator?
Kicking a ball has never been easier than in Goal Kick Simulator. In this sporty Roblox game, your goal is to level up your soccer balls and character stats to be a champion striker. Take aim with your favorite (or most profitable) ball, and simulate what it's like to score the winning kick again and again and again. When you earn enough money, use it to open chests to try your luck at getting even better soccer balls!
If you're looking for codes for other games, we have a ton of them in our Roblox Game Codes post! You can also get a bunch of free stuff via our Roblox Promo Codes page.