Ever wondered what it would be like to live in a living, breathing Roblox world? Then the Livetopia experience is the game for you! Enter a sandbox-style world where you can choose your pet (from an elephant to a robot), your vehicle, your home, and even your job. And then change any or all of them whenever you please. Sound like a utopia? Then step into Livetopia.
Livetopia codes don't currently work as they do in many other Roblox games. Likes instead trigger items being made available to the whole community, with more often codes given out as prizes via socials such as Discord (linked below). However, if any become available, they're likely to offer unique Inventory items or companions for a limited time. If you like Roblox sandbox sim games, also check out Emergency Response Liberty County.
All Livetopia Codes List
Livetopia Codes (Working)
These are all the working Livetopia codes.
There are no working codes for Livetopia
Livetopia Codes (Expired)
These are expired codes for Livetopia.
There are no expired codes for Livetopia
Related: My City Tycoon Codes
How to redeem codes in Livetopia
Follow the instructions below to redeem codes in Livetopia.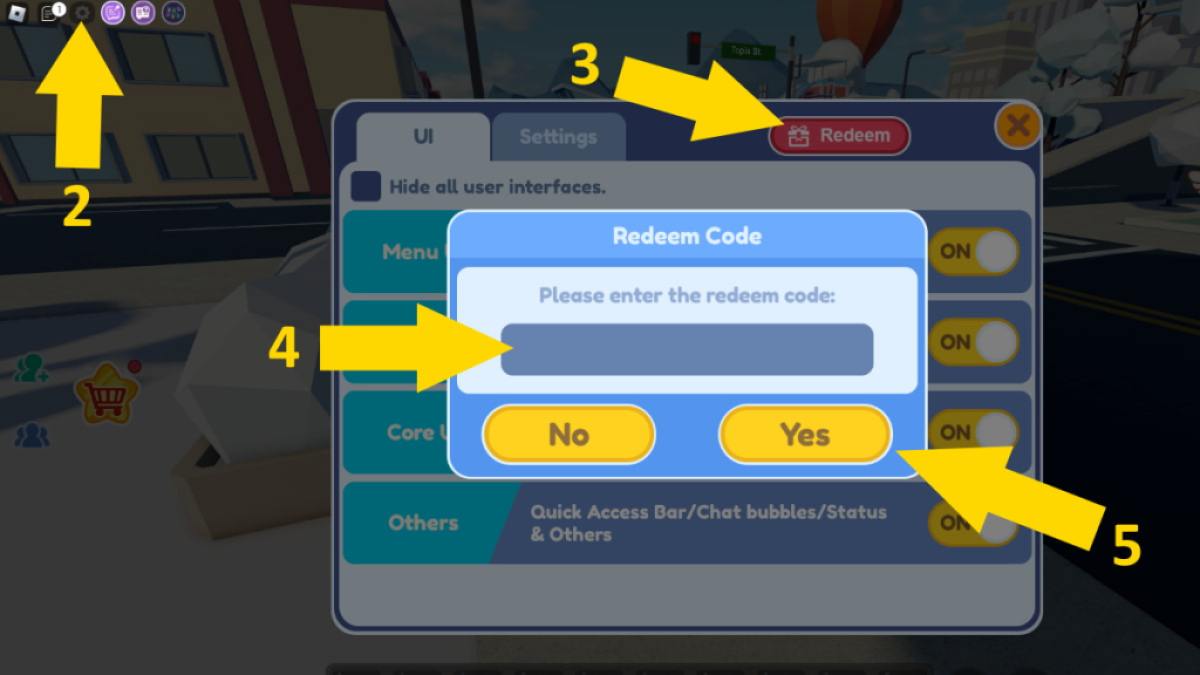 Launch Livetopia on Roblox.
Press the white Settings cog at the top left of the screen.
Click the red Redeem button at the top right of the settings pop-up.
In the grey text box, enter the code exactly as it appears in the list above.
Press the yellow Yes button to claim your reward!
How can you get more Livetopia codes?
If you want to try and find your own Livetopia codes, you should start by becoming part of the Century Makers Roblox Group. You can also follow @LivetopiaGame on Twitter and subscribe to the Livetopia Official YouTube Channel. Finally, why not become part of the Livetopia Official Discord Server? You find all sorts of channels there, including update logs and giveaways.
Why are my Livetopia codes not working?
Livetopia codes need to be inputted exactly if they're going to work. So if a code comes up as invalid, check to see if you may have mistaken a letter for a number or missed a capital letter. Unfortunately, if a code still won't work, it is likely that it has expired. In this case, it has gone for good. But keep an eye on this page regularly because we'll replace it with any new codes we find.
Other ways to get free rewards in Livetopia
If you're looking for more free rewards in Livetopia, one good way is to head over to the official Discord server (linked above) and participate in the Question of the Week channel. As many as 10 participants receive a free Roblox Gamepass code each week! You can also look for more free Gamepasses in the Giveaways section, under Announcements. As you move around, look for gift boxes on the ground in the game. If you find one, double-click it to receive a free gift which will open up new collections to try to complete.
What is Livetopia?
Livetopia is a detailed Roblox sandbox life simulator in which you can become part of a community in whichever way you choose. You can teleport, fly, run or drive to a diverse number of locations, build a house, and do anything from taking a job to going bowling. There are also pets and mounts, plus collections to complete, with many of the activities and items in the game being free on arrival.
If you're looking for codes for other games, we have a ton of them in our Roblox Game Codes post! You can also get a bunch of free stuff via our Roblox Promo Codes page. And in the meantime, take a look at the latest news to stay up-to-date on all things entertainment.