If you want to climb the property ladder (hoho), what better game to play than Mega Treehouse Tycoon? Start out in a tent by a gorgeous lake and slowly build up your treehouse from the ground up. It all looks like a lot of hard work to me, though, so some Roblox codes would certainly make life a bit easier.  
Unfortunately, there aren't any Mega Treehouse Tycoon codes right now.  However, I'm feeling optimistic that they won't be far away because the game has a system in place to input coles which is usually a good sign! Keep checking below, as we'll keep a close eye on things. If you love house-building tycoon-style Ronlox experiences, you might also enjoy Cabin Tycoon Codes.
All Mega Treehouse Tycoon Codes List
Mega Treehouse Tycoon Codes (Working)
These are all the working Mega Treehouse Tycoon codes.
There are no working codes for Mega Treehouse Tycoon
Mega Treehouse Tycoon Codes (Expired)
These are expired codes for Mega Treehouse Tycoon.
There are no expired codes for Mega Treehouse Tycoon
Related: Princess Castle Tycoon Codes
How to redeem codes in Mega Treehouse Tycoon
Follow the instructions below to redeem codes in Mega Treehouse Tycoon.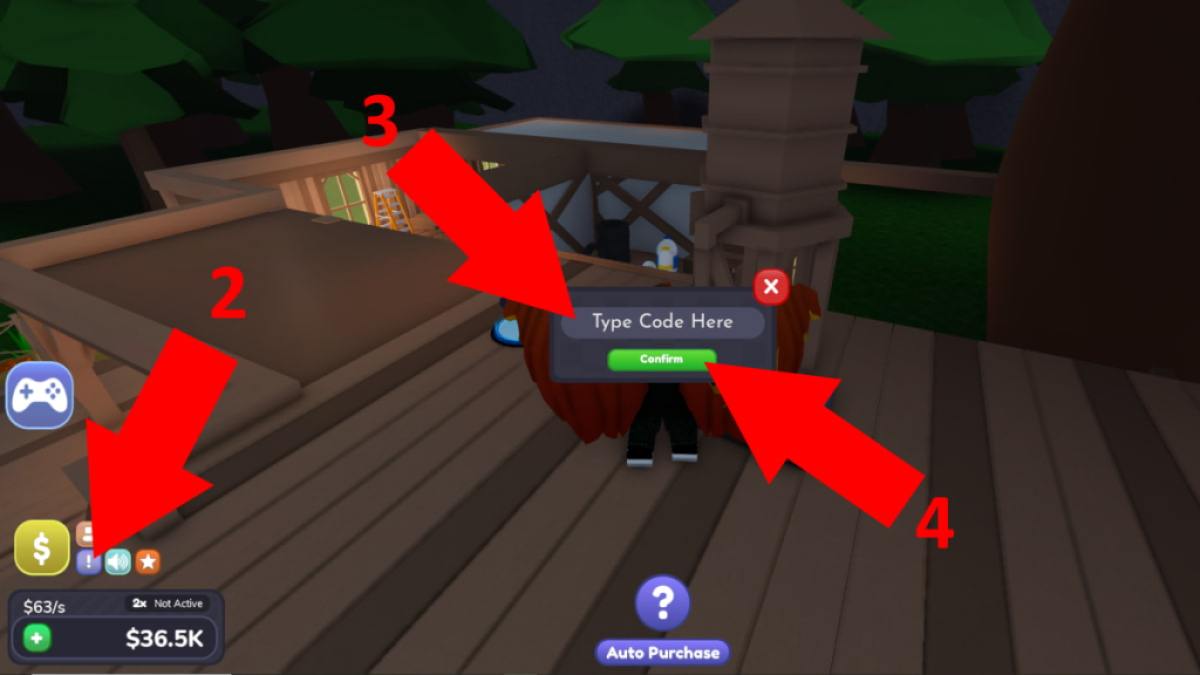 Launch Mega Treehouse Tycoon on Roblox.
Press the ! button just above your cash total in the bottom left corner.
In the pop-up text box saying Type Code Here, do so as it appears above.
Press the green Confirm button to claim your reward!
How can you get more Mega Treehouse Tycoon codes?
Mega Treehouse Tycoon codes are likely to spring from the developers, so a great place to start your search is by joining their DiscountBananas Roblox Group. Outside of Roblox, you can biome part of the official The Hav Estates Discord Server. You can find announcements and updates there, as well as fan chat and more!
Why are my Mega Treehouse Tycoon codes not working?
We regularly check our Mega Treehouse Tycoon codes, and they're correct when printed, so the most likely issue tends to be a typo. We suggest you cut and paste our codes directly into Roblox to avoid any errors. If a code still won't work afterward or if it says the code has expired, this means it has likely been removed by the game's developers. Let us know so we can double-check, then pop back in a few days, as we're always on the hunt for fresh new codes! 
Other ways to get free rewards in Mega Treehouse Tycoon
A great way to get a headstart in Mega Treehouse Tycoon is to like the game on Roblox and join the Discount Banan Roblox Group (linked above). If you do this and then relog into the game, you can run over the button just to the left of your treehouse entrance and collect $12,000 for free! Once you've finished your treehouse, you can also Rebirth for in-game bonuses (a red button to the right of your entrance).
What is Mega Treehouse Tycoon?
Mega Treehouse Tycoon is a house-building Roblox tycoon-style experience. The main selling points are the great graphics and relaxing treehouse setting, but it does also have rebirths to introduce new game elements as you play. Finally, while your treehouse is in its own zone, you can also invite friends to visit and make your treehouse open to visitors.
If you're looking for codes for other games, we have a ton of them in our Roblox Game Codes post! You can also get a bunch of free stuff via our Roblox Promo Codes page. And in the meantime, take a look at the latest news to stay up-to-date on all things entertainment.