Punch Monster Simulator is the place to be if you want to idly punch a bunch of monsters, crack open some pet eggs, and train to battle harder. It took me a while to find the right balance between training, fighting, and rebirthing, but once I did, I was punching my way through some massive beasts along with some super cute animal companions. It's so much fun opening up new zones to check out a whole new set of pets.
Punch Monster Simulator codes may give you free Strength or Wins or even better boosters that help you do more damage for a limited time. I hope they'll add some that give exclusive pets too, but we'll have to wait and see. If you love Roblox clicker-style fighting games, you should also check out Anime Battles Simulator Codes.
All Punch Monster Simulator Codes List
Punch Monster Simulator Codes (Working)
These are all the working Punch Monster Simulator codes.
1KLIKES—Redeem for 2x Damage Boost
Punch Monster Simulator Codes (Expired)
These are expired codes for Punch Monster Simulator.
There are no expired codes for Punch Monster Simulator
Related: Pet Battle Simulator Codes
How to redeem codes in Punch Monster Simulator
Follow the instructions below to redeem codes in Punch Monster Simulator.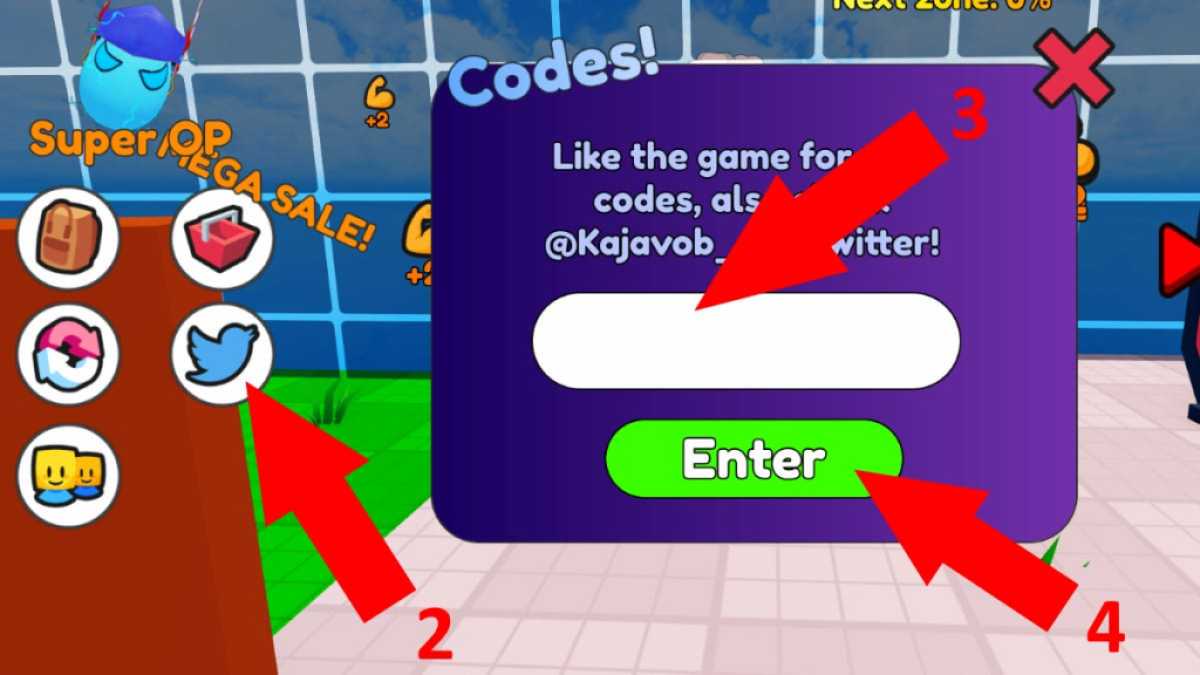 Launch Punch Monster Simulator on Roblox.
Press the Twitter bird button on the left.
In the blank white text box, enter the code exactly as it appears in the list above.
Press the Green enter button to claim your reward!
How can you get more Punch Monster Simulator codes?
If you've used all of our Punch Monster Simulator codes and want to see if you can find more, you can add developer @kajavob as a friend on Roblox and also join the Kaja's Games Roblox Group. Then you can venture outside of Roblox to follow @KajaGames_ on Twitter and become a member of the Kaja's Games Discord Server. There you can find game news and chat, as well as giveaways and announcements.
Why are my Punch Monster Simulator codes not working?
Punch Monster Simulator codes can't just be beaten into shape. You need to input them exactly as you see them here for them to work. We suggest you cut and paste each code directly from Pro Game Guides, as we've checked them all ourselves. If a code comes up as expired, it means the developers have canceled it. In this case, let us know so we can update the guide because those codes will no longer work. Check back with us soon for new codes, though!
Other ways to get free rewards in Punch Monster Simulator
There are a few ways to get more free rewards in Punch Monster Simulator. Look out for the red parcel that appears on the right of the screen (above the auto buttons). When it does, click it to claim free Strength and Wins the longer you play for. You'll get more and more free rewards as you play for up to two hours, and it resets when you leave! Also, note that when you rebirth, you double your Strength and Wins, so do this as soon as you can! I trained up before taking on too many monsters to get my first rebirth, and it made a massive difference.  
What is Punch Monster Simulator?
Punch Monster Simulator is an auto-clicker and pet collection Roblox experience. You can increase your Strength by training, which allows you to claim rebirths. Alternatively, fight monsters to get Wins which you can use to pick up new pets. As you battle, you'll eventually open up new battle zones, which give you access to better training facilities and new, more powerful pets.
If you're looking for codes for other games, we have a ton of them in our Roblox Game Codes post! You can also get a bunch of free stuff via our Roblox Promo Codes page. And in the meantime, take a look at the latest news to stay up-to-date on all things entertainment.