In Sea Piece 2, you complete quests and fight enemies to earn the currency Beli used to purchase new equipment and supplies, like weapons, ships, and powerful Devil Fruit that gives special abilities. You also earn XP to level up and upgrade your stats and become more powerful.
You can also earn some rewards for free by using in-game codes. Developers usually give out codes for players to earn free items and currency, like Beli, that can help them get a head start in their experience. You can earn more free rewards for other games like this, such as A Piece Codes or Piece Adventure Simulator Codes.
All Sea Piece 2 Codes List
Updated March 20, 2023

Added a new code!
Sea Piece 2 Codes (Working)
These are all the working Sea Piece 2 codes.
PINGGYRO—Redeem for 10k Beli (New)
FIXEDGIFTINGDARKBLADESORRY—Redeem for 80k Beli
RELEASE—Redeem for a free $1,000 Beli reward!
THANKYOU—Redeem for a free $10,000 Beli and Stat Reset reward!
Sea Piece 2 Codes (Expired)
These are expired codes for Sea Piece 2.
There are currently no expired Sea Piece 2 codes.
Related: Pro Piece Pro Max Codes
How to redeem codes in Sea Piece 2
Redeeming codes in Sea Piece 2 is a quick and easy process.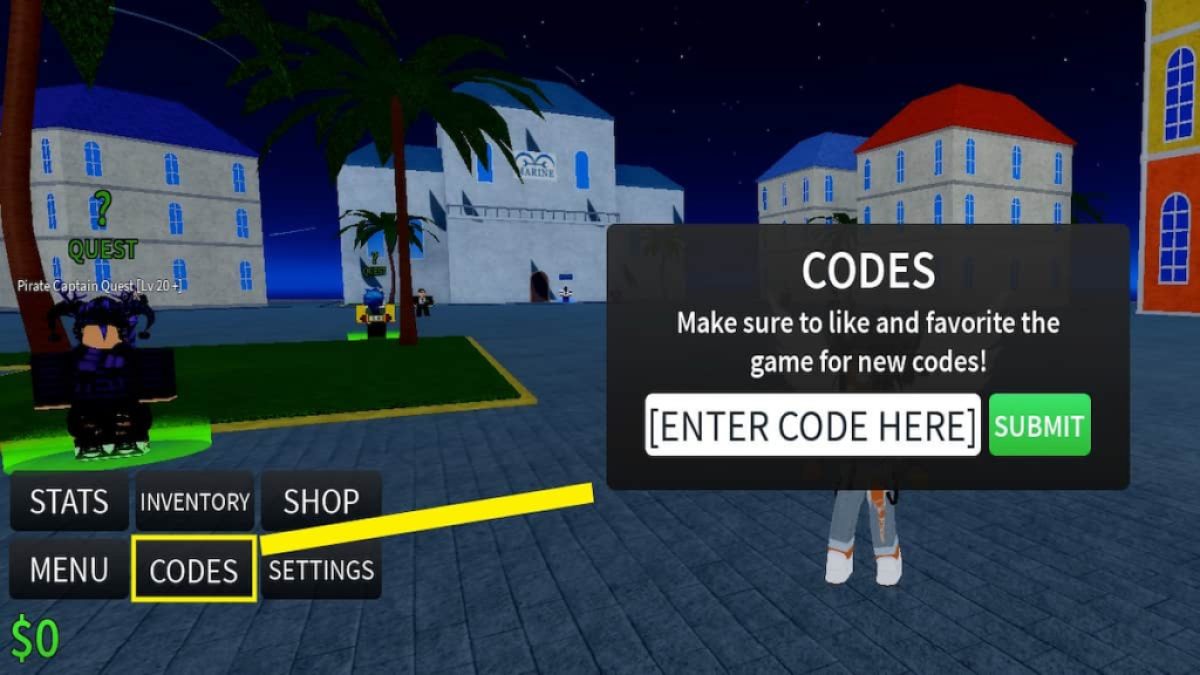 Launch Sea Piece 2 on Roblox.
In the game, press the Menu button on the left side of the screen.
Open the Codes menu to the right of the Menu button.
Enter the code into the text box exactly as shown in the list above.
Press Submit to enjoy your rewards!
How can you get more Sea Piece 2 codes?
Developers usually give out free rewards during an update, event, or as a goal is met, such as a specific number of likes reached. Some developers will place them directly in the game's description or image to notify players when they are available. However, other developers might require you to follow them on their social media pages, such as Twitter or Discord, to stay updated. You can follow this experience on their Discord, Sea Piece 2. For your convenience, you can also bookmark this page and check back whenever to see when new codes are added.
Why aren't my Sea Piece 2 codes working?
There are various reasons why your codes may not be working correctly. The most common reason is that the codes may have already expired. Since codes are regularly cycled in and out of the game, they can expire with little to no notice. We try to keep our lists updated, but if you notice a change before us, feel free to leave a comment below, and we will try to fix it as soon as possible.
It is also important that you double-check your spelling when entering codes. They are almost always case-sensitive, meaning the slightest typo could make them appear invalid. Ensure you are entering them exactly as shown in the list above, or if the game allows, copy and paste to avoid any issues.
Other ways to get free rewards in Sea Piece 2
Jumping into the experience with some friends can be rewarding in itself. You gain 10% experience for each friend that is on the server with you. Once you hit level 50+, you can also start claiming your Daily Reward from the NPCs on different islands. These rewards are given randomly, but each time you claim, it will boost your Pity and eventually allow you to claim a high-rarity item.
What is Sea Piece 2?
Sea Piece 2 is an RPG adventure game on Roblox inspired by the popular anime, One Piece. You spawn as a random race and must complete quests and fight enemies to level up. As you level up, you can put stats into various skills and become more powerful. You'll earn Beli for completing quests as well, used to purchase weapons and gear to help along your journey. Devil Fruit can be found around the map or sold by different vendors. These fruits give powerful abilities for your character and are how you can become the most powerful of the Pirates or Navy.
If you're looking for codes for other games, we have a ton of them in our Roblox Game Codes post! You can also get a bunch of free stuff via our Roblox Promo Codes page. And in the meantime, take a look at the latest news to stay up-to-date on all things entertainment.