Islands aka Skyblock is getting a lot of new updates and more resources are being added pretty much each week! One of those new additions is Gold that you can mine and obtain by slaying certain monsters. We're taking a look at all of the ways you can get gold in Islands with this guide.
How to Get Gold
Getting gold is very similar to obtaining gears. So, you will need to head through the adventurer portal, but to an additional island that now exists that is after the Slime one!
First, you need to create yourself a sword. You just need 20x Wood for this so it isn't too difficult to acquire. Make sure you have that with and head on through the Purple Portal on your island to the vendor area. Go to the Mine area and you'll see an Adventurer vendor next to a portal that looks like this: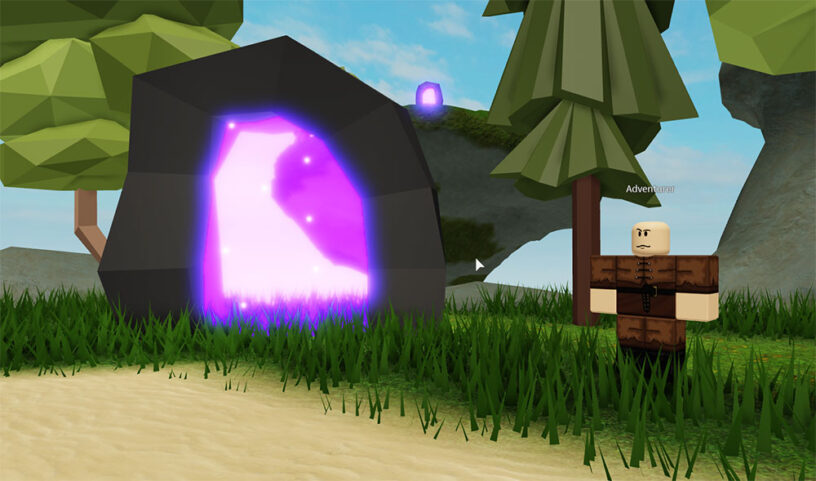 After a recent update, you can now just enter into the portal without paying for a Slime Key! So, just head on into the portal to make your way to Slime Island.
Now that you're at the island that spawns slime, you need to kill them until you receive the Buffalkor Key! It isn't too rare, so just slay a bunch of them until it drops. Once you have that you can head over to that other purple portal and enter it. This is the new island that can be accessed which has some ore you can mine. There's also the new Buffalkor Mob that spawns here. This is a buffalo like monster that is fused with ore that can be killed. These monsters will sometimes drop gold, so you can dispatch of them over and over to hope you find some.
That isn't the only way to get gold, you can also find gold veins that spawn in this area. It's a rare spawn, but you can mine the ore and stone that spawns on this island to encourage a gold one to spawn. This is the far more reliable way to get it because monsters take forever to kill with your wooden sword (if you have the upgraded weapons then they are much easier to kill). Just mine these over and over until you get a gold one to show up. Keep this up until you've got all of the gold you need!
There is no gold totem yet, but hopefully there will be one in a future update.
Gold Uses
You can currently create advanced weapons and tools with gold. There's now gilded items that require gold to create. These include a gilded axe, pick, and steel hammer. You will need to create a gilded steel rod to create each of these which requires 20 gold. The tools themselves also require additional gold, so this can be a bit pricey for the amount of gold you require. You also can use gold to create gold blocks if you want to show off or highlight some particular part of your island.