Updated September 27, 2023

We tried to find more codes!
Strongman Simulator lets players live out their weightlifting fantasies to make the most powerful character possible. Ingest protein, gain energy, and strongarm your way through new areas. While there's no doubt, you'll have a blast with this power fantasy, grabbing the codes below will amplify your experience.
Strongman Simulator codes give players limited-time boosters for Energy, Workout experience boosters, pets, and items. Timed code rewards can only be used once and offer limited experience gains, so make sure to use codes when you've got the time to make the most of them.
For more Roblox game codes, visit our other pages like Roblox Mining Simulator Codes, Roblox Car Dealership Tycoon Codes, Roblox Millionaire Empire Tycoon Codes, Roblox Muscle Legends Codes, and Roblox Oil Warfare Tycoon Codes.
All Strongman Simulator Codes List
Strongman Simulator Codes (Working)
Shazam!FuryOfTheGods—Redeem for 2x Movement Speed for 5 minutes
TruePowerOf—Redeem for a Buff
LearnThe—Redeem for a Buff
Shazam!—Redeem for a 2x Move Speed Buff
HOLIDAY—Redeem for 10 minutes of 2x Workout
400M—Redeem for a Reward
100M—Redeem for a Boost
Chad—Redeem for a Rubber Duck
10m—Redeem for a Reward
25k—Redeem for x2 Energy Boost
1500likes—Redeem for x2 Energy Boost
5000likes—Redeem for x2 Energy Boost

10000—Redeem for x2 Energy Boost
strongman—Redeem for a Pet
Strongman Simulator Codes (Expired)
The following Strongman Simulator Codes no longer work.
season1—Redeem for 10 minutes of 2x Workout
500likes—Redeem for x2 Energy Boost
Strongman Simulator Codes FAQ
Here's everything you need to know regarding Strongman Simulator codes.
How to redeem Strongman Simulator Codes
Redeeming codes for free rewards in Strongman Simulator is easy.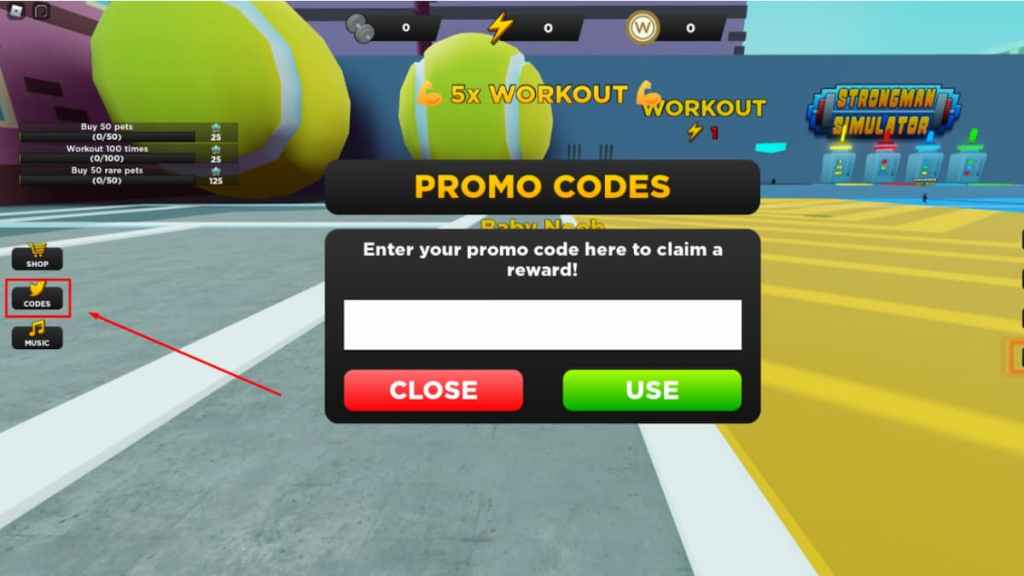 In the game, press the Twitter Codes button on the right side of the screen.
Once a new window opens up, you'll see a text box that allows you to enter your working codes.
Press the Confirm button to redeem your rewards and add them to your account.
How can you get more Strongman Simulator Codes?
The best approach to obtain additional Strongman Simulator codes is to save this page and return it frequently. We'll update this article as soon as new codes arrive. You can also follow the developer's official Twitter and YouTube pages for more information.
Why aren't my Strongman Simulator Codes working?
Any extra characters or errors can throw off the code redemption, making them invalid. So, if your codes aren't working in Strongman Simulator, you may need to copy codes directly from the list above and paste them into the redeem text box. If you find expired codes, please let us know in the comments so we can move the code to expired.
What is Strongman Simulator?
Strongman Simulator tasks players with lugging heavy items to increase their strength, unlock new areas, seek treasure, and complete quests for various rewards. Outlift your competition by using energy to gain power and overcome obstacles.
If you're looking for codes for other games, we have a ton of them in our Roblox Game Codes post! You can also get a bunch of free stuff via our Roblox Promo Codes page.