Take aim and fire as fast as you can in Throwing Simulator. With many levels to explore and many pets to unlock to explore these lands with you, you will need the speed and accuracy to become the best free thrower the leaderboard has ever seen. So harness your inner Greg Maddux and let fly!
Our Roblox Throwing Simulator Codes has the most up-to-date list of codes that players can redeem for free pets, coins, and gems! Since this is a simulator game, earning as many free items as possible will help you rank up the leaderboards faster and throw items at blazing speeds. Redeem these codes before they expire!
How accurate and fast are you with your throwing any object? If you want to improve, we have a list of codes and Roblox titles to help you move up in the ranks! Roblox Ball Throwing Simulator Codes, Roblox Blade Throwing Simulator Codes, Roblox Goal Kick Simulator Codes, Roblox Smashing Simulator X Codes, and Roblox Boom Simulator Codes.
All Throwing Simulator Codes List
Update July 8, 2022
Added new info.
Throwing Simulator Codes (Working)
SONIC—Redeem for free pet (New)
CoinBoost1—Redeem for a Coin Boost
GemsBoost1—Redeem for a Gem Boost
ShardBoost1—Redeem for a Shard Boost
10500Likes—Redeem for free rewards
FreeEaster2022—Redeem for free rewards
LuckyDay1—Redeem for free rewards
Throwing Simulator Codes (Expired)
TYSMFORSUPPORT—Redeem for 150 Gems and 250 Coins
Sinister—Redeem for a free Crimson Sinister Pet
Shard—Redeem for a free Vortex Shard Pet
Icelord—Redeem for a free Ice Lord Pet
DominusFire—Redeem for a free Fire Dominus Pet
Star—Redeem for a free Amethyst Star Pet
HAPPYNEWYEAR—Redeem for 150 Gems and 350 Coins
Release—Redeem for 150 Gems and 350 Coins
TWITTER—Redeem for a free Dominus Twitter Overlord Pet
Throwing Simulator FAQ, Answered
Our guides below are here to make claiming your Throwing Simulator codes easier.
How to Redeem Throwing Simulator Codes
It's easy to redeem codes for free rewards in Throwing Simulator. To do so, follow these steps.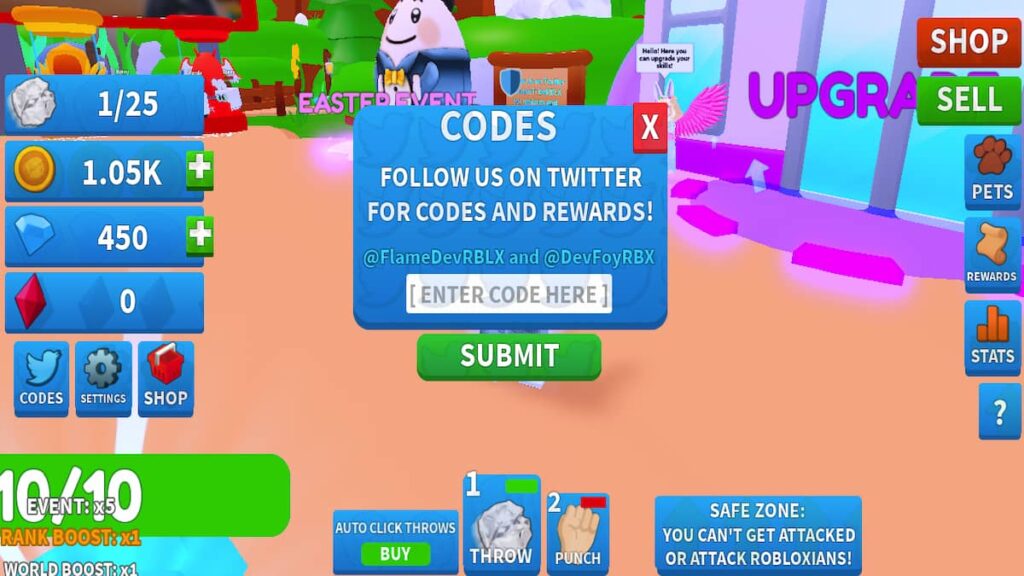 Launch the game
Press the Codes button (left side of the screen)
Enter the working code into the text box
Press Submit to redeem your free reward
How to get more Throwing Simulator Codes
Are you looking for immediate Throwing Simulator Code updates? Follow the developer's Dominus Studio!@DevFoyRBX on Twitter for frequent code announcements and their GameTribe Discord Server. We here at Pro Game Guides have the latest codes, so save this page and return to us often to see if there are new codes to redeem!
Why aren't my Throwing Simulator codes working?
There could be several reasons that your Throwing Simulator codes aren't being able to redeem. Redeeming codes needs you to type the code into the text box correctly. Ensure all your grammar and punctuation are correct when typing the code in. Codes, when not immediately redeemed after release, could be expired. Make sure you timeously redeem them to avoid the disappointment of missing that free reward.
What is a Throwing Simulator Game?
In a Throwing Simulator game, you must throw objects to become stronger. The stronger you get in this game will allow you to unlock many cool things to help your throwing improve, like new Pets, DNA, and skills. The more you throw, the higher you will rise on the leaderboard!
You can also get more free codes to help you in all your Roblox adventures by going to the Roblox Promo Codes page. We have you covered when it comes to all things Roblox and Roblox Anime!