Update October 6, 2023

We looked for codes
Untitled Combat Arena is a Roblox game developed by dragon bal fanclub xDDDD. Untitled Combat Arena offers a few free fighting styles at the start. Once you choose one, you'll be required to make money by landing attacks against NPCs or other players. The more money you build up, the better fighting styles you can incorporate into your fighting style. The game really picks up when you can use some of the stronger attacks that can affect entire areas.
The following codes will increase your cash. Cash is collected automatically, and you can use it as soon as you enter the code. Although initially, these benefits may seem unfair, they are available to everyone. You can get better combat and skills with these small boosts without worrying about getting attacked. The developer intended to build these codes into the game, so you should use them. Below are our Untitled Combat Arena codes, so check them out and see if they improve your gameplay.
Untitled Combat Arena Codes List
Untitled Combat Arena Codes (Working)
30KLIKES— Redeem for 1k Cash
29KLIKES—Redeem for 1k Cash
28KLIKES—Redeem for 1k Cash
10MVISITS—Redeem for 1k Cash
26KLIKES—Redeem for 1k Cash
25KLIKES—Redeem for 1k Cash

9MVISITS—Redeem for 1k Cash
24KLIKES—Redeem for 1k Cash
23KLIKES—Redeem for 1k Cash
8MVISITS—Redeem for 1k Cash
22KLIKES—Redeem for 1k Cash
21KLIKES—Redeem for 1k Cash
20KLIKES—Redeem for 1k Cash
7MVISITS—Redeem for 1k Cash
19KLIKES—Redeem for 1k Cash
6MVISITS—Redeem for 1k Cash
18KLIKES—Redeem for 1k Cash
17KLIKES—Redeem for 1k Cash

LASTUPDATE—Redeem for Cash
11KLIKES—Redeem for 1k Cash
12KLIKES—Redeem for 1k Cash
13KLIKES—Redeem for 1k Cash
SORRY4SHUTDOWN—Redeem for Cash
9KLIKES—Redeem for Cash
10KLIKES—Redeem for Cash
POGCHAMP—Redeem for Cash
8KLIKES—Redeem for Cash
THANKSFORPLAYING—Redeem for Cash
7KLIKES—Redeem for Cash
6KLIKES—Redeem for Cash

1MVISITS—Redeem for 250 Cash
900KVISITS—Redeem for 90 Cash
800KVISITS—Redeem for 80 Cash
5KLIKES—Redeem code for 500 Cash
700KVISITS—Redeem code for 70 Cash
4KLIKES—Redeem code for 200 Cash
600KVISITS—Redeem code for 160 Cash
Untitled Combat Arena Codes (Expired)
ROBLOX SERVERS –Redeem code for 250 Cash
3K Likes—Redeem code for free Cash
500K Visits—Redeem code for Free Cash
1K Likes—Redeem code for 95 Cash
2K Likes—Redeem code for 100 Cash
100K Visits—Redeem code for 75 Cash
250K Visits—Redeem code for 85 Cash
For more codes on Roblox games like Untitled Combat Arena, check out Anime Fighting Simulator Codes, Anime Fighters Simulator Codes - Free boosts, XP, & yen, Roblox Mech Smash Anime Fighting Simulator Codes, Roblox Weapon Fighting Simulator Codes, or Roblox Boss Fighting Simulator Codes. Use these codes to give yourself a healthy boost in the games above.
Roblox Untitled Combat Arena FAQ
Here's everything you need to know regarding Roblox Untitled Combat Arena codes.
How to redeem Roblox Untitled Combat Arena Codes
It is very easy to redeem codes in Untitled Combat Arena: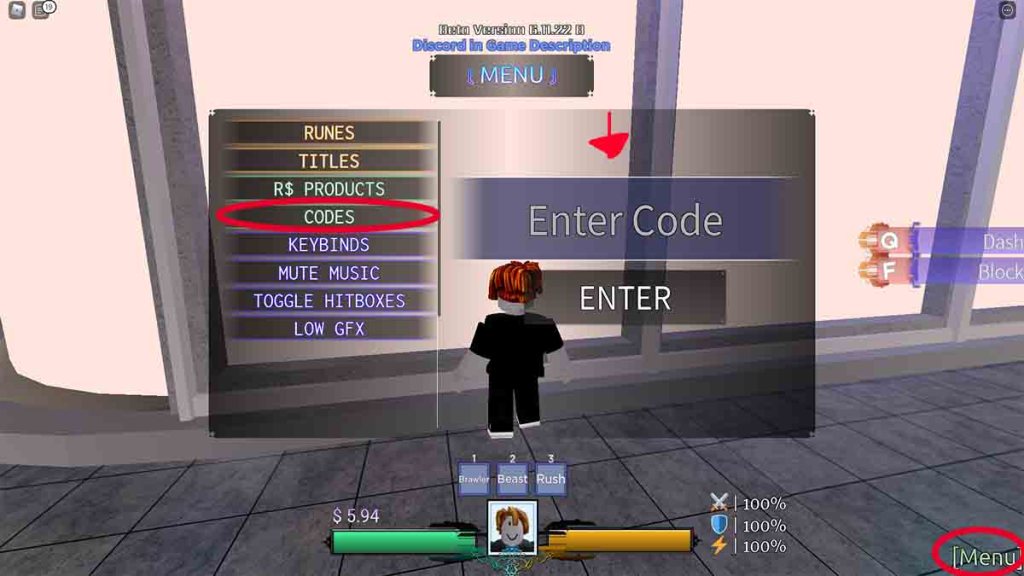 Launch Untitled Combat Arena on your device.
Tap on the MENU button on the bottom right.
Press the Codes button at the center of the screen.
Enter a working code into the code redemption box.
Press the REDEEM button to redeem the code.
Enjoy your free in-game rewards.
How can you get more UCA codes?
When it comes to staying up-to-date with the newest codes released, some methods work better than others. Hands down, the most effective way to keep updated on Roblox Untitled Combat Arena codes is to return to this page regularly. We will ensure that all codes in Untitled Combat Arena work perfectly as we continue to add and verify them. Whenever you find new codes that we don't have, please leave a comment. It is always appreciated when readers catch code errors quickly, and if the code doesn't work for us, it will be added to the expired section.
Your next step should be to join the Untitled Combat Arena Discord. Those who enjoy the game can form friendships in this community. Discord is where developers will post new codes they want players to use. Developers usually post new codes there or tell players how to find them independently. Untitled Combat Arena has its own channel on the Discord, but keep in mind that the Discord is for the developers and their games.
Players must use the above methods because there is no official Twitter account for Untitled Combat Arena.
Why can't I redeem any codes for Roblox Untitled Combat Arena?
Check out our list of possible causes and solutions if you're having trouble redeeming codes in Untitled Combat Arena:
Enter the codes exactly as they appear above. Any other method of entering the code than the one listed above will render it invalid.
To reduce the possibility of entering the code incorrectly, we recommend copying the code from the list above and paste it into the game whenever possible. Manually entering the code increases the chances of inadvertently entering it incorrectly.
A blank space was accidentally left at the end of the code. Copying and pasting codes cause this issue since the game considers the spaces as part of the code. Make sure to only enter the letters and numbers shown above in the code input field.
This code is no longer valid. If you encounter an expired code from the working codes list, please leave a comment. As soon as a code expires, we thoroughly check to ensure it is still valid before we update the article. If the code does not work after testing, it will be moved to Expired.
You have already entered and redeemed the code. You can only redeem a code once per account. You cannot enter another code if you have already entered one and received rewards. The only exception to this rule is previously expired codes that start working again since all users will be affected.
What is Untitled Combat Arena?
Untitled Combat Arena is a game in which the entire world is a battlefield. It gives you tasks to earn more money so you can continue fighting other players. It's a small area, so you'll spend a lot of time getting beaten up by stronger players. Once you earn enough money, you can purchase new skills and styles to make you a better artist.
Leveling up is solely to get more combat skills and use them to fight other players. There aren't many powers, unlike most Roblox games. Players should instead concentrate on close combat, where they can use abilities that look flashy but are really just melee attacks. While blocking and dashing to avoid getting hit, players must actively aim at their enemies and stay close enough to land each attack.
As it may seem at first glance, this is more of a street-fighting simulator than an anime fighting simulator.
If you're looking for codes for other games, we have a ton of them in our Roblox Game Codes post! You can also get a bunch of free stuff via our Roblox Promo Codes page.