Updated: September 25, 2023
Checked for codes!
Similar to Clicker Simulator and Anime Clicker Simulator, the main goal of Boss Fighting Simulator is to garner as many clicks as possible, earn currency, upgrade your weapons, and ultimately work toward becoming the most powerful fighter of them all! To help you along this journey, we at PGG have compiled the list below that features all of the known Boss Fighting Simulator codes!
Because there are so many codes available to redeem in Boss Fighting Simulator, we've separated them into categories based on what they award—Coins, Crystals, Runes, and Power! If you're looking for even more freebies, be sure to check back with this article regularly—we update this list as soon as new codes come out! If you find a code in the Working Codes section that seems expired, please let us know so we can remove it as soon as possible. Keep in mind, also, that you'll need to enter each code exactly as it's written or the experience won't accept it!
If you're looking for more Roblox content to browse while you wait for new codes, check out some of our other related guides, including How to level up weapons fast in Roblox Weapon Fighting Simulator or How to get Gems fast in Roblox Clicker Simulator, or our Roblox Anime Clicker Simulator code list!
Boss Fighting Simulator Codes List
Boss Fighting Simulator Codes (Working)
Coins
falconpunch—Redeem for 5k Coins (New)
eldorado—Redeem for 25k Coins
Gold—Redeem for 5k Coins
Demon—Redeem for 5k Coins
Update1—Redeem for 500 Coins
Coins100—Redeem for 100 Coins
Coins50—Redeem for 50 Coins
Release—Redeem for 50 Coins
Twitter1—Redeem for 25 Coins
Crystals
MassiveCrystal

—Redeem for 150 Crystals

Crystal100—Redeem for 100 Crystals
BigCrystal—Redeem for 100 Crystals
Crystal50—Redeem for 50 Crystals
SuperCrystal—Redeem for 25 Crystals
Twitter4—Redeem for 25 Crystals
Runes
runesstack—Redeem for 5000 Runes
TonsOfRunes—Redeem for 500 Runes
Runes7000—Redeem for 7k Runes
Sword—Redeem for 5k Runes
SuperBigRunes—Redeem for 4k Runes
2kRunes—Redeem for 2k Runes
LargeRunes—Redeemfor 2k Runes
BiggestRunes—Redeem for 1k Runes
ALotOfRunes—Redeem for 700 Runes
MassiveRunes—Redeem for 700 Runes
HugeRunes—Redeem for 500 Runes
Update2—Redeem for 500 Runes

SuperRunes—Redeem for 500 Runes
LotsOfRunes—Redeem for 300 Runes
BigRunes—Redeem for 250 Runes
Twitter3—Redeem for 20 Runes
MoreRunes—Redeem for 15 Runes
Twitter2—Redeem for 5 Runes
Runes5—Redeem for 5 Runes
Power
MegaBoss—Redeem for 5k Power
SuperBoss—Redeem for 2.5k Power
SuperPower—Redeem for 150 Power
Boss—Redeem for 25 Power
Powerful—Redeem for 25 Power
Boss Fighting Simulator Codes (Expired)
These codes are no longer available and can't be redeemed!
Redeeming Boss Fighting Simulator Codes
How do I enter codes in Boss Fighting Simulator?
It's easy to redeem codes in Boss Fighting Simulator! To do so, simply follow the steps below.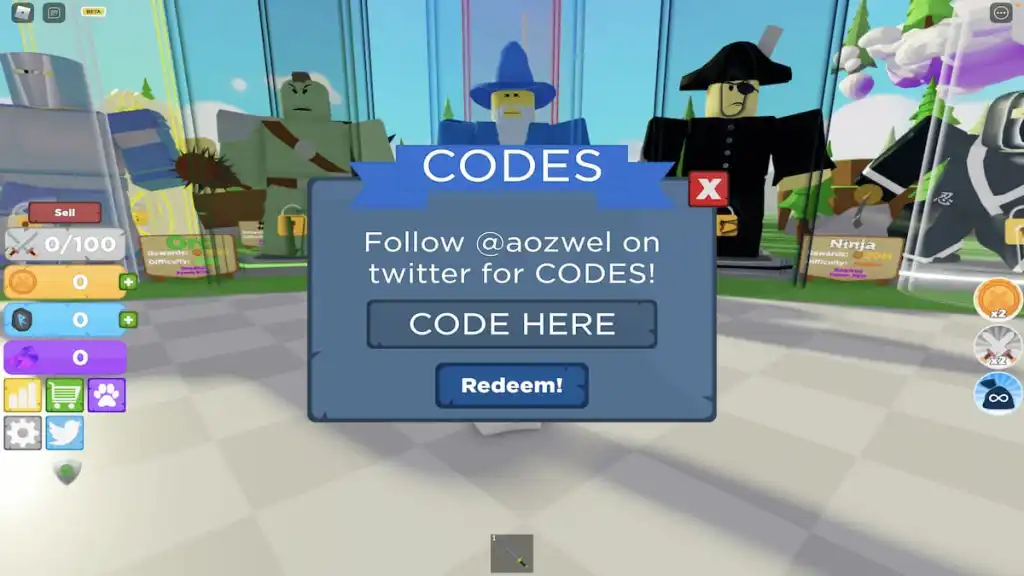 Launch the experience
Locate and click on the area that says CODE HERE
Enter any of the working codes listed above
Press the Enter key or click the Redeem! button to receive your free reward
How do I get more Boss Fighting Simulator codes?
The best ways to stay up-to-date on Boss Fighting Simulator codes are checking back with this article, following Broken Wand Studios, the development team behind Boss Fighting Simulator, on Twitter, joining the Boss Fighting Simulator Discord server, and by joining the experience's Roblox group. Though Boss Fighting Simulator doesn't boast a super high player count, it still receives updates quite regularly, meaning you'll want to keep your eye on these accounts!
Why aren't my codes working?
Not all Roblox codes are active for the same amount of time, meaning some expire exceptionally quickly and may even become inactive after 24 hours or less! If you attempt to enter a code and it says Code Expired, that code is no longer active and, unfortunately, can no longer be redeemed. There's nothing that you can do to fix this issue, the code is simply unobtainable. If you attempt to type in a code and it says Invalid Code, however, this means that you've likely mistyped the code or neglected to use the correct capitalization. If this happens, try to retype and re-enter the code once more, being sure to copy it exactly as it's written!
What is Boss Fighting Simulator?
Boss Fighting Simulator allows players to unlock, use, and upgrade a variety of weapons to train their strength and take down enemies and other players! Whether you prefer to train alone or hash it out in the PvP arena, Boss Fighting Simulator encourages players to use items, boosts, and their own wit to become the greatest fighter in the world!
If you're looking for codes for other games, we have a ton of them in our Roblox Game Codes post! You can also get a bunch of free stuff via our Roblox Promo Codes page.