There is no time for any mistakes in Roblox Zombie Tycoon because of the constant threat of having your brains eaten. You will need to build up an arsenal of the best weapons to help you and your friends survive. There is no running and hiding from the walking dead. You are just going to have to get better at shooting them down.
To build a better tycoon, you will need the in-game Cash currency. Cash will allow you to buy stronger weapons to mow down any size Zombie horde coming at you. That's why these codes will help you get that power boost at the beginning of the game so that you can survive those first encounters. Now lock and load; it's hunting season.
Suppose you enjoy hunting the undead and taking on hordes of enemies that could overpower you at any second. In that case, we have a few recommendations of Zombie games from Roblox that could keep you entertained for hours, try these titles and test your survival skills. Roblox Zombie Strike Codes, Roblox Zombie Uprising Codes, Roblox Zombie Madness Codes, Roblox Zombie Task Force Codes, and Roblox Zombie Simulator Codes.
All Roblox Zombie Tycoon Codes List
Updated September 9, 2022

Added a new code.
Roblox Zombie Tycoon Codes (Working)
PALMS22—Redeem for the Palms Gun Skin (New)
SUMMERTIME—Redeem for the Shells Gun Skin.
18KTHUMBS—Redeem for an Eighteen Gun Skin.
SIXTEEN1000—Redeem for a Cosmos Gun Skin.
THANKSFOR10K—Redeem for Snake Gun Skin.
ZOMBIE—Redeem code for 2k Cash.
SPACELAUNCH—Redeem for 2k Cash.
MINIBOSSES—Redeem for a Gray Camo Skin.
2KLIKES—Redeem for a Diamond Skin.
UNIVERSE—Redeem for a Clouds Skin.
4KL1K3S—Redeem for a Green Sparkles Skin.
MILLIONVISITS—Redeem for a Rainbow Pixels Skin.
LOTSOFLIKES—Redeem for a Cyan Pixels Skin.
EIGHT000—Redeem for a Polar Light Skin.
SANTA—Redeem for a Candy Cane Skin.
HAPPY2022—Redeem for a Fireworks Skin.
DOZEN—Redeem for a Christmas Trees Skin.
BAGOFLIKES—Redeem for a Yellow Snake Skin.
BLOOMY—Redeem for a Jessamine Spring Skin.
Roblox Zombie Tycoon Codes (Expired)
THANKSFOR100K—Redeem for a Red Snake Skin.
Roblox Zombie Tycoon FAQ, Answered
We answer all your questions about Roblox Zombie Codes.
How to Redeem Zombie Tycoon Codes
It's easy to redeem codes for free rewards in Roblox Zombie Tycoon. Follow our guide below.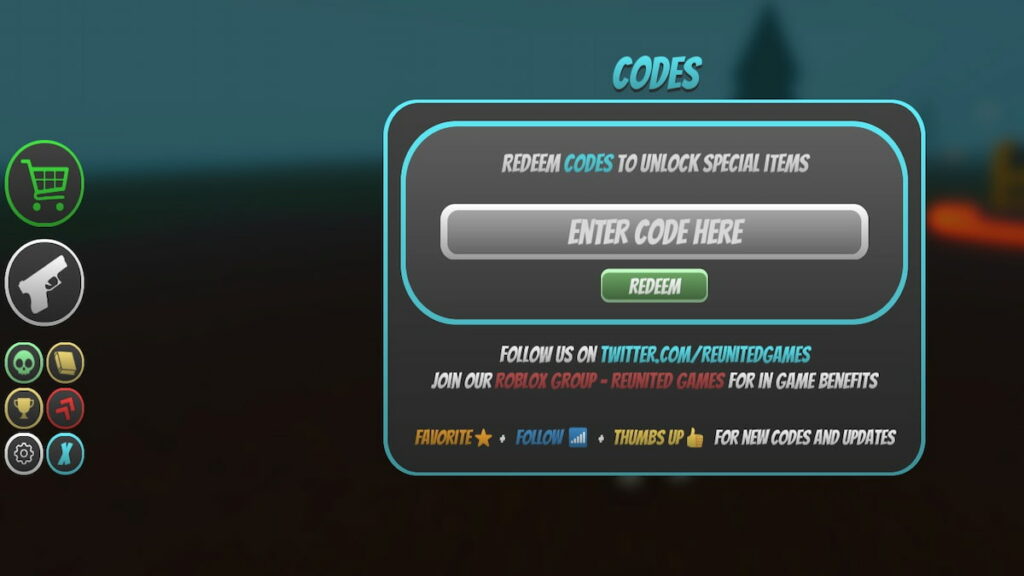 Launch the game.
Click on the Twitter bird icon on the left of the screen.
Enter the code into the text box that says Redeem Code Here.
Click on the green Redeem button to claim the code.
How to get more Roblox Zombie Tycoon Codes
There are easy ways to keep in touch with the latest Roblox Zombie Tycoon Codes codes. You can follow the developer Reunited Games on their Twitter @ReunitedGames or their Reunited Games Discord Server. We here at Pro Game Guides have all the latest codes, so save this page and visit us often to claim them.
Why aren't my Roblox Zombie Tycoon codes working?
There are several reasons why your codes could not work when you type them in. Your codes could be expired already. Codes expire within hours and are the developer's decision so make sure that you claim them before they disappear. You could be a misspelling or typing the code wrong. Make sure to add punctuation and type the code exactly as you see it on our list.
What is a Roblox Zombie Tycoon game?
A Roblox Zombie Tycoon game is a survival Zombie game. You are going to need to survive hordes of zombies by killing them. Play with friends in order to unlock weapon skins and build your own tycoon up to face the hordes easier.
You can also get more free codes to help you in all your Roblox adventures by going to the Roblox Promo Codes page. We have you covered when it comes to all things Roblox and Roblox Anime!