Hordes of Zombies are trying to break free and start the apocalypse in Roblox Zombie Uprising! It is up to you and the other players in the game to kill all of them as they try to escape and devour the brains of the innocent Robloxian residents. Build yourself as the perfect war machine and prepare to take on the undead!
The codes you can claim in Roblox Zombie Uprising will give you the in-game currency of Cash that will allow you to buy upgrades to your Guns and armor and cosmetic items for your avatar. Claim these codes now to help you fight off the hordes.
Roblox seems to be having a Zombie invasion crisis. With these codes' help, you can easily fight off the hordes. Claim these codes for zombie evading tools in Brookhaven Zombie Invasion Codes, Roblox Survival Zombie Tycoon Codes, Roblox Zombie Tycoon Codes, Roblox Zombie Strike Codes, and Roblox Zombie Madness Codes.
All Roblox Zombie Uprising Codes List
Updated August 17, 2022

Added new info.
Roblox Zombie Uprising Codes (Working)
august2021—Redeem for 5k Cash
bugs2021—Redeem for 5k Cash
melee—Redeem for 5k Cash
february 2020—Redeem for 5k Cash
summer 2020—Redeem for 5k Cash
shotguns—Redeem for 5k Cash
shutdown—Redeem for 2.5k Cash
Roblox Zombie Uprising Codes (Expired)
update_v1—Redeem this code to get 5,000 cash
Roblox Zombie Uprising Frequently asked questions
Here's everything you need to know regarding Roblox Zombie Uprising codes.
How to Redeem Codes in Roblox Zombie Uprising
To redeem codes in Roblox Zombie Uprising, follow our guide below.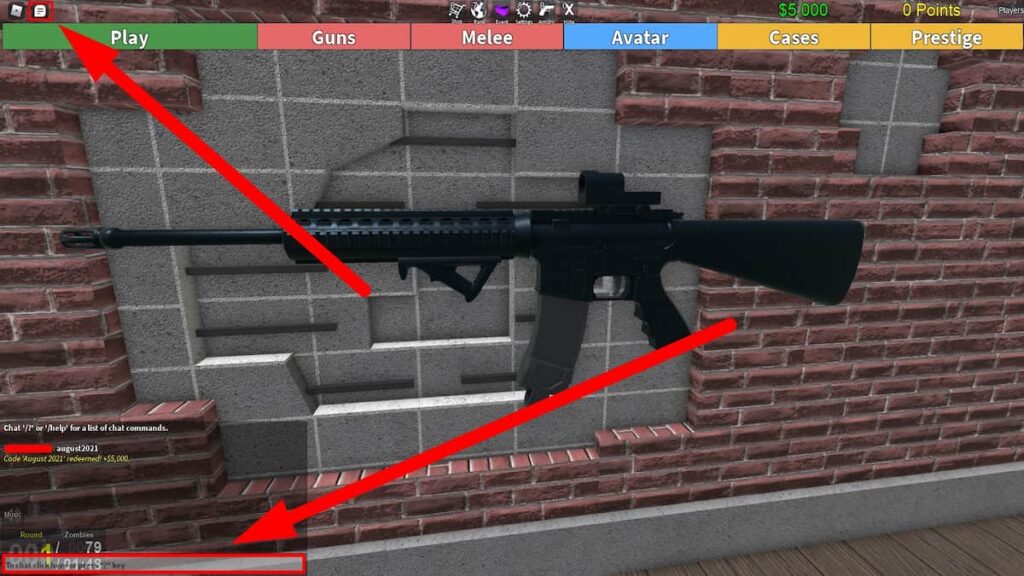 Launch the game.
Click on the in-game chat in the top left-hand corner of the screen.
Enter each code separately into the chat box in the bottom right-hand corner of the screen.
When the code has been typed in, press Enter.
You will receive confirmation in the chat box that your code worked successfully.
How can you get more Roblox Zombie Uprising codes?
The latest codes from the developer USSF - United States Special Forces can be found by joining their US Special Forces Discord Server. We at Pro Game Guides have all the latest codes for Roblox Zombie Uprising, so make sure you bookmark this page and often return, never to miss another free reward!
Why aren't my Roblox Zombie Uprising codes working?
There could be several reasons your Roblox Zombie Rising codes are not working. These codes may be mistyped into the text box. Ensure that your spelling and punctuation are correct when trying before pressing Enter to redeem their codes. These codes could be expired. If the code gives you a message like an invalid or expired after you have pressed the Enter key, let us know in the comments below so that we can update our list.
What are the controls in Roblox Zombie Uprising?
To become the savior of the Robloxian race, you will need to understand the controls for Roblox Zombie Uprising. The controls below are for PC; you can change them to suit your style of play. Here are the basics.
Controls
"M1" mouse left click—Fire gun
"Q" key or "M2" mouse right click—Aim down sight
"C" key—Crouch
"X" key—Stand
"R" key—Reload Gun
"G" key—Throw Grenade
"1-5" keys—Change weapons
What is Roblox Zombie Uprising?
Roblox Zombie Uprising is a first-person shooter where you will need to shoot and kill hordes of Zombies. Kill all the Zombies in the wave to get to the next level. The more zombies you kill, the higher your score and the more currency you will get. Create a specialized loadout to suit your play style and unlock better weapons to kill Zombies faster. With many modes you can choose from and many different maps you can explore, there is a lot of fun to be had.
If you're looking for codes for other games, we have a ton of them in our Roblox Game Codes post! You can also get a bunch of free stuff via our Roblox Promo Codes page.