Sakura Stand is a Roblox experience where you get to dive into the world of JoJo's Bizarre Adventure! Level up your character, obtain powerful Stances that can increase your power level, and meet new and interesting NPCs. You can embark on an adventure with other players and spend time helping each other and farming together.
The codes for Sakura Stand will benefit players with various in-game goodies and benefit such as 2x EXP gain, in-game currency, level-ups, and Stances. This will be especially valuable for new players just getting into the game and helping them start faster. For more Roblox anime experiences like this, check out Roblox is Unbreakable Codes.
All Sakura Stand Codes List
Sakura Stand Codes (Working)
CodeBugFix—Redeem for 2x EXP for 15 minutes (New)
SukunaFingerIncident—Redeem for 2x EXP for 15 minutes
Sakura Stand Codes (Expired)
There are no expired Sakura Stand codes at this time.
Related: Rampant Codes
How to redeem Codes in Sakura Stand?
Redeeming codes in Sakura Stand is straightforward. Just follow the instructions below.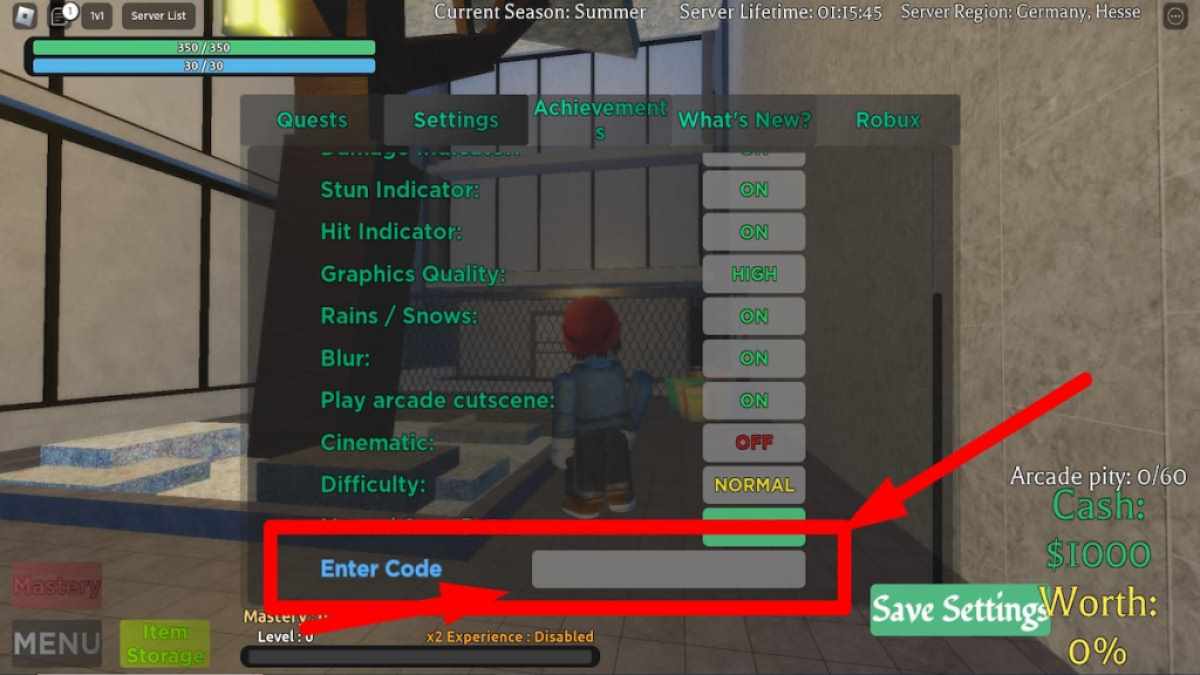 Launch Sakura Stand on your device.
When you log onto a server, press M to enter the Main menu.
Click the Achievements button at the top of the menu.
Scroll down to the bottom of the Achievements menu and enter the code in the empty field.
Press Enter to confirm.
How can you get more Sakura Stand Codes?
The best way to ensure you're always on top of the newest codes for Sakura Stand is to follow the developer, Sakura Pro Max, on their Sakura Stand Community Discord server. The community is fairly active and interacts with the developer regularly. It's also always a good idea to bookmark this page by pressing Ctrl+D always to be updated as soon as new codes appear. We at Pro Game Guides scour the internet and constantly look for fresh game codes.
Why are my Sakura Stand Codes not working?
There could be a couple of reasons why your Sakura Stand codes might not be working. The codes could be already expired. Developers usually release the codes during holidays or certain milestones their experience reaches. Such codes usually have a limited lifespan and don't last forever. Make sure always to redeem your codes as soon as possible to never again miss out on giveaways. The codes could also be mistyped or have missing punctuation. Sometimes the codes can be case-sensitive as well. The best way to enter the codes is to copy them from the list on the website and paste them into the game directly. That way, you will always ensure you're properly entering your codes!
Other ways to get freebies in Sakura Stand
If you're looking for other ways to get freebies and win giveaways in Sakura Stand, you can join the developer's Sakura Stand Community Discord server. The server is well-maintained and developed, with a nascent community. Despite the game being in early development, the developers are active and can offer free giveaways and rewards for various activities.
What is Sakura Stand?
Sakura Stand is a fighting Roblox experience inspired by JoJo's Bizarre Adventure manga and anime series. The players can enjoy a vast anime-inspired world, dazzling spell effects, a character-growing RPG system, and exciting fights.
If you're looking for codes for other fighting games, we have many of them in our Roblox Game Codes post! You can also get many more freebies via our Roblox Promo Codes page.