Rampant welcomes you to the fighting arena! Team up with your friends, choose your weapons and abilities, and fight other teams in this adrenaline-pumping Roblox experience. There are various goals, like capturing the flag, becoming king of the hill, and regular team deathmatch. Get more kills than any other player on your server to top the leaderboards.
The codes for Rampant will enable players to level up faster and unlock different weapons. This will be especially useful for new players, who are just coming into the game, to get them off the ground faster. For more Roblox battle experiences, check out Arsenal Codes for a boost in in-game currency.
All Rampant Codes List
Rampant Codes (Working)
You must be a part of the developer's Alpha Engine Roblox Group to redeem the Rampant codes.
JUSTRELEASED—Redeem for x65 Gems (New)
Rampant Codes (Expired)
There are currently no expired Rampant codes.
Related: Sword Simulator Codes
How to redeem Codes in Rampant
Redeeming the codes in Rampant is simple. Follow our instructions below: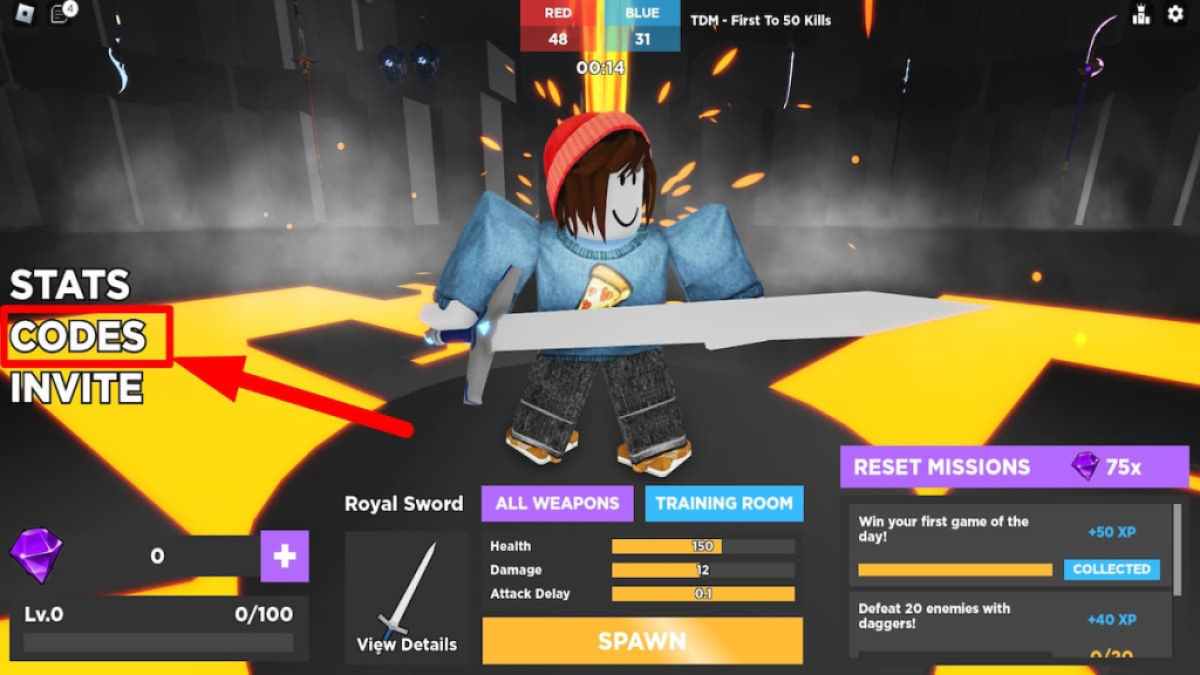 Go to the Rampant Roblox page, and click on the game developer's name on the right-hand side of the game.
Click on the Join Group button. This will allow you to redeem the codes in the game.
Launch Rampant on Roblox.
In the main menu, look for the Codes button on the left side of the screen and press it.
Enter the code in the pop-up menu.
Click on the Redeem button.
How can you get more Ramapant Codes?
You can get more codes for Rampant by following the game's developer, Alpha Engine, on their Twitter page @AlphaEngineRBX and their YouTube channel @jacobchen2481. You can also join their Alpha Engine Discord Server. It's always a good idea to press Ctrl+D or use a bookmark button on your mobile device to bookmark this page, as we always keep all the code articles up to date. This will make sure you never miss any new codes released by developers!
Why aren't my Rampant Codes working?
There could be a couple of reasons your Rampant codes are not working. If you manually entered the codes into the game, a typo could have occurred. Sometimes the codes get misspelled or have missing punctuation. It's always a good idea to copy the codes from the code list and paste them into the game to avoid any mistakes. The codes could also be expired. Many developers release the codes as a part of an event or a holiday. Such codes usually have a finite lifespan and don't last forever. Always claim your codes as soon as possible to ensure you never miss any freebies!
How to unlock new weapons in Rampant?
Unlocking new weapons in Rampant is possible by playing the game and earning the experience. The more fights you win, the more in-game experience you will get. Try getting into a team of players with more experience in the game to level up faster and earn rewards for completing missions easier. Remember, Rampant is a team-based game, and a well-organized group will always have the upper hand.
What is Rampant?
Rampant is a simple but fun PvP-fighting Roblox experience. There are no classes in the game, but players can choose their weapons which also give them combat stats, like health and damage. Players can team up and fight over the objectives like Capture the Flag and Team Deathmatch, or they have to capture certain points on the map to win the game.
Looking for more codes for fighting games? We got you covered in our Roblox Game Codes post! You can also get a large number of freebies via our Roblox Promo Codes page.