Things can get real fizzy in Roblox Soda Legends. This game is all about the clicks you put in. The more you click, the more you are rewarded. You can get rewarded with some awesome new Pets and even unlock unexplored worlds to become the clicking legend. There are mini-bosses in your way, and you will need to click them out of existence.
It would be best if you didn't have to do pushups on your index finger. We have collected these codes for you so that you can collect the Fizz you need to unlock pets and new worlds more easily. Let's get popping!
We know how much you love clicking games, and we want you to keep the click count high. Try some of these Roblox titles to get that boost you need, so you don't have to click too much: Roblox Clicking Havoc Codes, Roblox Clicker Frenzy Codes, Roblox Clicking Simulator X Codes, Roblox Clicker Realms X Codes, and Roblox Clicker Life Codes. You can also browse Pro Game Guides for more awesome Roblox content.
All Roblox Soda Legends Codes
Updated July 11, 2022

New codes added.
Roblox Soda Legends Codes (Working)
ChristmasSpeed—Claim for 30 Potion
Part2—Claim for 15 Potion
Oops—Claim for 30 Potion
1M—Claim for 15 Potion
Sorry—Claim for 30 Potion
Winter—Claim for 15 Potion
Update7—Claim for 15 Potion
1KLikes—Claim for 1 Potion
900Likes—Claim for 10 Potion
Update6—Claim for 30 Potion
100Likes—Claim for 10 Potion
200Likes—Claim for 10 Potion
100K—Claim for 100k Cyberis
Update3—Claim for 10 Potion
400Likes—Claim for 10 Potion
Release—Claim for free Pet Dog
RussoTalks—Claim for free Pet Russo
Tofuu—Claim for free Pet Tofuu
Intel—Claim for free Pet Intel
Boss—Claim for free Pet Party Dragon
ChristmasPet—Claim for free Pet Santa Plushie
ChristmasYT—Claim for free Pet Dex Plushie
Roblox Soda Legends Codes (Expired)
Sale—Claim for a free reward
Part1—Claim for Candy Canes
Roblox Soda Legends FAQ, Answered
Here's everything you need to know regarding Roblox Soda Legends codes.
How to redeem Roblox Soda Legends Codes
Claim your Roblox Soda Legends codes by following our easy guide.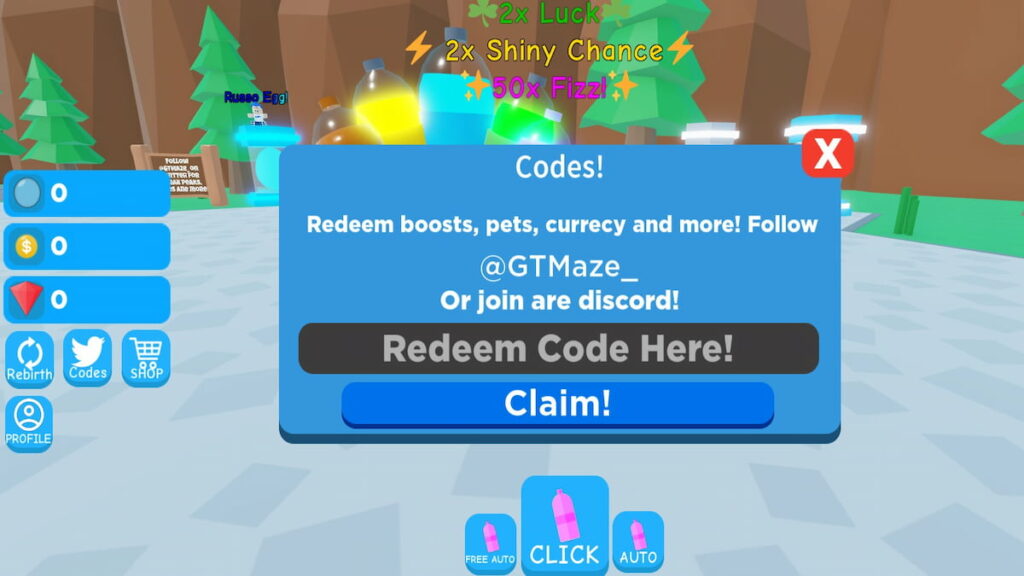 Launch the game
On the left of the screen, click on the Twitter Bird icon that says Codes
Enter the code into the text box that says Redeem Code Here!
Click the Claim! button to redeem the code
How to get more Roblox Soda Legends Codes
To get the latest codes from developer CartoonyGames, follow them on Twitter @GTMaze_. Here at Pro Game Guides, we have the latest in all things Roblox Soda Legends, so make sure you return to us to claim those free rewards! We regularly update this page with working and expired codes.
Why aren't my Roblox Soda Legends codes working?
There are a few reasons why you cannot claim your Roblox Soda Legends codes. You could be typing the code into the text box incorrectly. By copying and pasting the code from our list, you can ensure that your code is always correct. The code could be expired and is no longer active when the developer has decided to let the code expire. Most Roblox codes only last for several days or even hours. Make sure you claim the code as soon as you see the code on our list. You can also bookmark this page and return to it to check our list of codes. If a working code is expired, leave a comment. We will verify that the code no longer works and update the page accordingly.
What is a Roblox Soda Legends game?
In Roblox Soda Legends, you need to click as much as possible to get Fizz and level up. The more you click, the more you can unlock in Soda Legends. Unlock pets to travel with you to new worlds and encounter boss fights. See how strong your clicks have become by defeating them all.
You can also get more free codes to help you in all your Roblox adventures by going to the Roblox Promo Codes page. We have you covered when it comes to all things Roblox and Roblox Anime!