Become a master of clicks in Roblox Clicking Havoc by clicking on other players, solving missions, and discovering new areas. Clicks are so valuable in this game that they are also a currency. You'll use them to buy upgrades, pets, and other goodies. Some gems are a premium currency.
Our Roblox Clicking Havoc Codes has the most up-to-date list of OP codes that you can redeem for new Pets, Boosts, and additional freebies. These items will set you apart from the rest of the pack as you play in style!
If you're looking for more Roblox games with clicking, check out Roblox Clicking Champions Codes, Roblox Clicking Legends Codes, Roblox Clicking Simulator X Codes, and Roblox Clicker Simulator Codes on Pro Game Guides.
All Clicking Havoc Codes List
Updated July 17, 2022

Removed one expired code
Clicking Havoc Codes (Working)
Here's a look at all the working Clicking Havoc codes.
SECRET—Redeem for a Mythic Lava Elemental Pet
15MILLION—Redeem for a Mythic 15M Pet
UPDATE54—Redeem for a 2x Luck Boost and a 3x Luck Boost
VAPORWAVE—Redeem for a new Pet
UPDATE52—Redeem for a Luck Boost and an Egg Boost
EASTER—Redeem for a Small Easter Dominus
UPDATE51—Redeem for several Boosts
UPDATE50—Redeem for several Boosts
RANKUP—Redeem for a Cloud Dominus Pet
UPDATE47—Redeem for free Boosts
UPDATE46—Redeem for free Boosts
DEVELOPER—Redeem for a Mini Toxic Pet
JOLLY—Redeem for x2 & x3 Luck Boosts
FESTIVE—Redeem for Pet
UPDATE33—Redeem for a free boost
AURIC—Redeem for a Mini Auric Pet
CORRUPT—Redeem for a Mini Corrupt Dominus Pet
4MILLIONVISITS—Redeem for All Boosts (15 minutes)
SPINTHEWHEEL—Redeem for Prize Wheel Pet
LAVA—Redeem for a Chilled Lava Cat Pet
POWERFUL—Redeem for a Grim Reaper Pet
BATTLE—Redeem for a Sword Pet
RELEASE—Redeem for Lava Elemental Pet
GEMS—Redeem for 1500 gems &1500 clicks
CLICKS—Redeem for 1500 gems &1500 clicks
BOOST—Redeem for an x2 Click Boost (15 minutes)
UPDATE29—Redeem for an x2 Luck Boost (20 minutes)
QUESTS—Redeem for a Starry Dominus Pet
3MILLIONVISITS—Redeem for All Boosts (15 minutes)
VOID—Redeem for a Void Star Shine Pet
CHEST—Redeem for a Chest Pet
UPDATE27—Redeem for x2 Luck Boost (15 minutes)
MINI—Redeem for a Charged Dominus Pet
200KVISITS—Redeem for an x2 Click Boost (10 minutes)
28KMEMBERS—Redeem for an x2 Luck Boost (10 minutes)
TINYGEM—Redeem for a Tiny Gem Pet and 1.5k Gems
YOUTUBE—Redeem for a YouTube Play Button Pet
BUG FIXES—Redeem for a Cool Hammer Pet
2KLIKES—Redeem for an x2 Click Boost (15 minutes) and an x3 Hatch Boost (five minutes)
B4N—Redeem for Havoc Hammer Pet
500KVISITS—Redeem for a 500K Pet
THANKYOU—Redeem for all boosts (five minutes)
600KVISITS—Redeem for a free +1 Egg Boost
UPDATE10—Redeem for a Havoc Flame Pet
HELL—Redeem for a Mini Hell Demon Pet
10KFAVORITES—Redeem for an x2 Luck Boost
100KMEMBERS—Redeem for an x2 Luck Boost
UPDATE13—Redeem for a Shiny Pet Boost (five minutes)
1MVISITS—Redeem for free Boosts
CELEBRATE—Redeem for a Party Hat Pet
PATRIOT—Redeem for free Boosts
FIREWORKS—Redeem for an American Flag Pet
Clicking Havoc Codes (Expired)
These Clicking Havoc codes no longer work.
60MX2LUCK—Redeem for 60 minutes of 2x Luck
2HOURLUCK—Redeem for two hours of double Luck
Roblox Clicking Havoc FAQ
Here's everything you need to know regarding Roblox Clicking Havoc codes.
How to Redeem Clicking Havoc Codes
It's easy to redeem codes for free rewards in Clicking Havoc.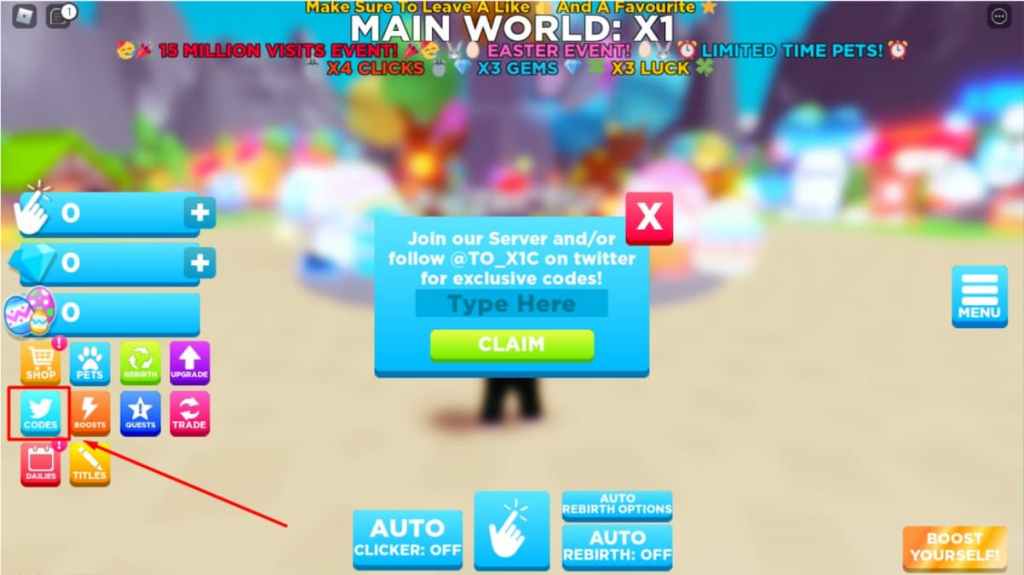 In the game, press the Twitter button on the left side of the screen.
A new window will appear where you can enter each working code into the text box.
Press the Claim button to receive your free reward.
How to get more Clicking Havoc Codes?
The best way to stay up-to-date on Clicking Havoc codes is by checking out this page regularly. You can also visit developers' Twitter and Discord pages. Codes are usually posted on these social media sites before they're officially released anywhere else.
Why aren't my Clicking Havoc Codes working?
We'll keep you updated with additional codes once they are released. You should redeem these as soon as possible because you'll never know when they could expire. We've tested these codes on the date they are posted. If you find one that is expired, please let us know the exact code in the comments below so we can remove it.
Please enter the code exactly as listed, or it might not work correctly. Please copy and paste codes into the textbox to avoid this instead of typing them.
What is Roblox Clicking Havoc?
Clicking Havoc is a Roblox game that focuses on clicking on objects and other players to accomplish missions. If you want to survive, you need to click fast, so be prepared to tap that phone or click fast on those mouse buttons!
If you're looking for codes for other games, we have many of them in our Roblox Game Codes post! You can also get a bunch of free stuff via our Roblox Promo Codes page.