Like most gacha-style games on the market, Anime Warriors also has a pity system. If you don't know what a pity system is, it's a mechanism/feature that allows players to get a guaranteed higher rarity banner after a fixed amount of rolls. For example, each player in Roblox Anime Warriors will get a 6-star character banner for every 120 spins they make with the Crystals.
What are the types of Banner in Roblox Anime Warriors?
There are two types of Banners in Roblox Anime Warriors.
Related: How to quickly level up your characters in Anime Warriors
Yen Banners: You will need to spend Yen to open these types of Banners. They mainly consist of 1 star characters.
Crystal Banners: As the name suggests, you will need Crystals to spin for these banners. They contain high-profile 2,3, 4, 5, and 6-star characters.
How to summon a character in Roblox Anime Warriors
Click the Summon icon from the main screen. You can find it in the bottom left corner of the screen. Navigate between both types of Banners and choose the one you want to buy. You can summon each character for 50 Crystals or 150 Yen, depending upon the Banner type.
All Guaranteed Banners through Pity System in Roblox Anime Warriors
You will get the following guaranteed banners through the pity system.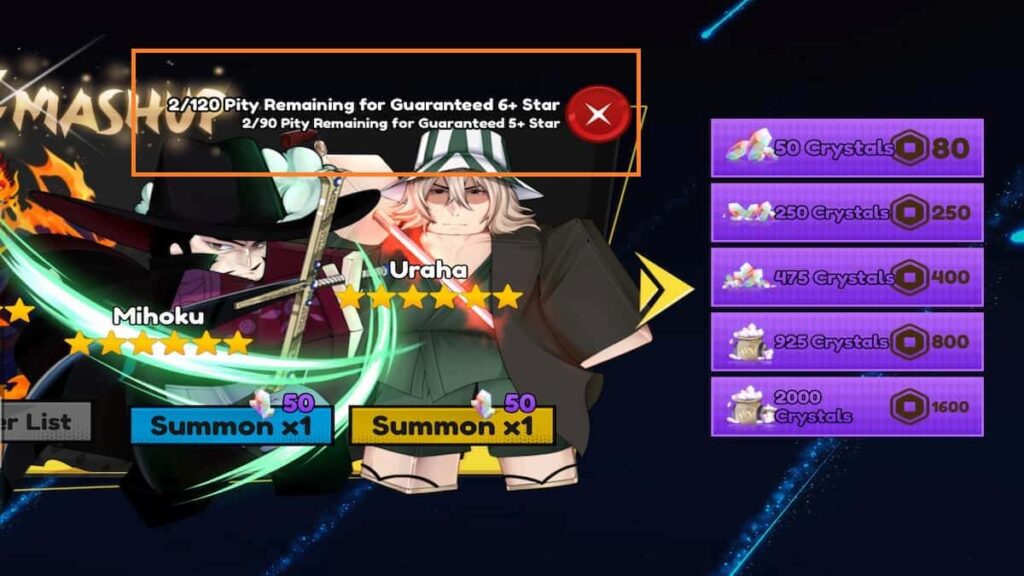 6-star Banner: As mentioned earlier, you will get a definite 6-star character for every 120 spins through the Crystal Banner.
5-star Banner: You will get a definite 5-star hero for every 90 spins through the Crystal Banner.
For more on Roblox Anime Warriors, check out Anime Warriors Discord Server and Twitter Link or How to Switch Characters in Roblox Anime Warriors on Pro Game Guides.