Roblox's World Sail is an open-world RPG based on the One Piece universe. As you progress through the village, you earn new abilities, gems, and unlock new upgrades for your character. There are a variety of rarities available in the Black Market called Cores, which are your abilities. Legendary cores are the same as Devil Fruits in One Piece.
The codes below will give you more Exp, Gems, and Stat Resets. Stat resets bring up your health and power, so it's like skipping the resting period. Gems let you buy more items for your character to get stronger, and the exp helps you level up quickly.
To get more codes for games like World Sail, check out A One Piece Game Codes – Beli and fruit resets!, One Piece Bursting Rage codes – Free beli & rerolls, and Roblox Project: One Piece Codes. These codes will give you the boost needed to skip the early-game grind and get right to the fun.
All World Sail Codes List
Updated August 3, 2022

Added a new code!
World Sail Codes (Working)
Here's a look at all the working World Sail codes.
REFRESHSTATS—Redeem for a Stat Reset (New)
500KVISITS—Redeem for 3minutes of 2x EXP and 15k Gold (New)
QUESTBUFF—Redeem for 15 Minutes of 2x EXP and 10k Gold (New)
World Sail Codes (Expired)
These codes for World Sail no longer work.
6KMEMBERS
5KFAVS
400KVISITS
MOCHIMOCHI
1KLIKES
4KMEMBERS—Use for one hour of Double EXP and 10 Gems
3KFAVS—Use for 30 minutes of Double EXP and five Gems
VFXFIX—Redeem for 15 Gems, 25k Gold, and 15 minutes of 2x XP
SOSORRY—Redeem for 1 hour of 2x XP and 10k Gold
XPBUFFS—Redeem for 30 minutes of 2x XP and 10 Gems
ANOTHERRESET—Redeem for a Free Stat Reset
MOREFIXES—Redeem for a Free Stat Reset
STORAGE—Redeem for 5 Gems
VexxGoated—Redeem code for 30 mins of two times exp and five Gems
THANKYOU—Redeem code to reset your stats
OgSwoleVexx—Redeem code for three Gems
DATAFIX—Redeem code for two hours of double exp, 10 Gems, and 30,000 Gold
STATRESETBOI—Redeem code to reset your stats
World Sail FAQ
Here's everything you need to know regarding World Sail codes.
How to redeem World Sail codes
Redeeming codes for free rewards in World Sail is easy.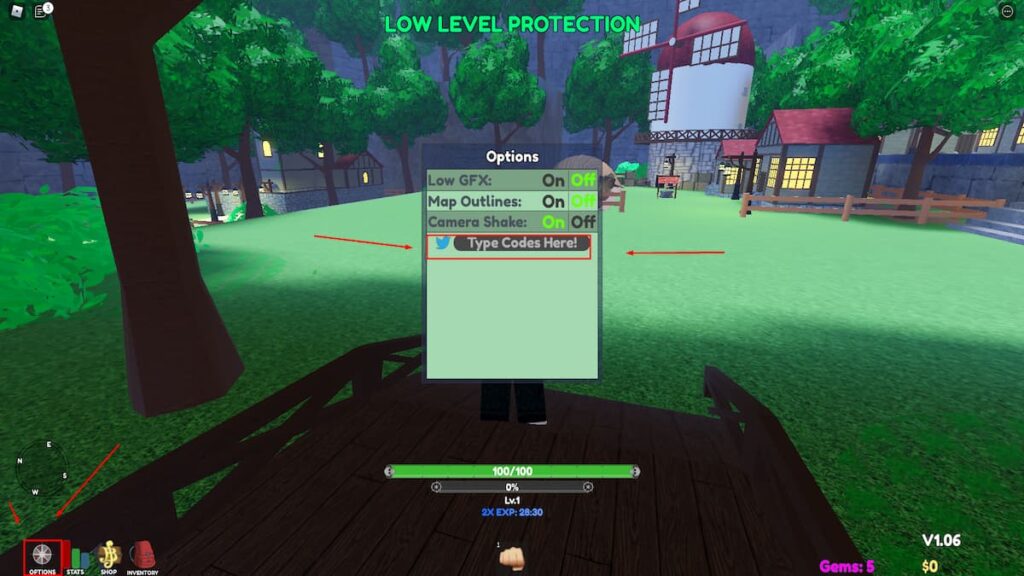 Launch World Sail through Roblox.
Press the Options button on the lower left side of the screen.
Find the text box and enter the code exactly as it appears in the list above.
Press the enter key to claim your reward!
How can you get more World Sail codes?
Keep visiting this page for more World Sail codes since we update our guides often and double-check new codes whenever they are released. Alternatively, you can follow the developer's social media, World Sail Online. For more codes, check out their Discord since they will announce and release them there.
Why aren't my World Sail codes working?
Unfortunately, World Sail does not tell you whether a code works. Before entering the code, check your gems and experience to see if there is a difference. You should always copy and paste the codes above into the text box to ensure they are entered correctly. Please let us know if you continue not seeing a difference after entering your codes so we can double-check them.
What is World Sail?
The objective of World Sail is to become the most powerful pirate in the world of One Piece. You need to level up your skill to get gems and receive more cores. As you level up, you can buy boats to visit other islands and spend your money on killing bandits. Besides using your powers to fight other players and bandits, there isn't much to do in the world. Once you're strong enough, you're just going to hunt other players.
All current abilities in World Sail
Here are all the abilities you can get in the open-world Roblox game World Sail!
Barrier
Fire
Light
Quake
Dark
Sand
Ice
Bomb
Lightning
If you're looking for codes for other games, we have a ton of them in our Roblox Game Codes post! You can also get a bunch of free stuff via our Roblox Promo Codes page.