In the previous guides for The Cursed Rogue Tall Tale, we covered how to find the Skeleton Key and the Skeleton Chest. If you haven't done one of these, you can use the links below to find them. Alternatively, you can take this opportunity to look for the Hidden Journals!
Before we begin, we'd like to suggest a few things to make the fight with Briggsy easier. On your way to the island, stock up on all the food and TNT barrels you can find. Fishing on your way to her is an excellent option since she'll usually spawn a long distance away from Plunder Outpost. TNT Barrels are a useful tool against her and her skeletons.
Related: Sea of Thieves Fish Guide: Fish Prices, Cooking Time, & Locations - Pro Game Guides
Sea of Thieves | The Cursed Rogue Tall Tale Guide | How to Find and Defeat Briggsy
Now that you've found the Skeleton Key and the Skeleton Chest, you've revealed its contents inside and found they were worthless in the condition you found them. In the previous guide, we explained how to return it to Madame Olivia at the Plunder Outpost. You now find yourself with a fancy new compass that emits green smoke! Very harrowing.
True to her personality so far, Olivia speaks more ominous words about the Compass and the souls of the dead, blah blah blah. Summed up, we're faced with a question — What do we do with this Compass? Well, like most compasses, we do the one thing they were designed to have us do: Look at it.
Step One: Find Briggsy
In most other Tall Tales, you're provided with an item that has some trick or gimmick you need to figure out to use it to its full potential. This Compass is nothing of the sort, as all it does is point straight to Briggsy. You don't need to compare it to something in the Quest Book or juggle it or anything fancy. Simply hoist your anchor and set sail in the direction the compass is pointing!
Briggsy can spawn almost anywhere. Since there is no guarantee as to which island she'll spawn on, you'll have to rely on your ability to go one direction in this part of the guide. However, she usually spawns on the outer sections of the map. If you're like us you might have been sailing for several minutes and wonder if you've gone too far. Just stick to following the Compass! On the very off chance that you've misunderstood how to follow the compass, below we have provided the entire list of islands she might spawn.
Cannon Cove
Discovery Ridge
Kraken's Fall
Lone Cove
Mermaid's Hideaway
Shipwreck Bay
The Crooked Masts
Wanderer's Refuge
Once you've reached the island, you're now faced with another question: Where do we go from here? The answer is simple — Keep following the Compass. Again, it points straight to Briggsy! However, instead of jumping straight on the island in a rush to duel with her, we recommend carefully parking your Ship so the side of it faces the island. This will make the next step much more manageable.
Before you engage in a battle with Briggsy, we strongly recommend you read over Step Two in this guide to be adequately prepared and equipped to win against her without dying several times.
Step Two: Defeat Briggsy
Briggsy's Strategy
There are several tactics to defeat Briggsy. Before we go over how to do that, though, we'll cover what kind of abilities Briggsy has against which you need to protect yourself. Thankfully, most of them are pretty simple and won't kill you in one hit.
Weapons: Most of Briggsy's attacks will be made with one of three basic weapons: her Cutlass, her Pistol, or her Blunderbuss. The weapon that she uses depends on how far from her you are, and she can quickly alternate between them. Her Cutlass usually does the most damage, but she rarely misses with her Pistol.
Skeletons: When she has too much attention on her, Briggsy will summon skeletons to distract you. These skeletons are usually fragile, and you can comfortably destroy several of them in one powerful swing.
Teleportation: If the player she is focused on gets too far, or if she needs to get away quickly, Briggsy will pull out a skull and perform a ritual. Upon finishing this ritual, she will disappear for a short period, then reappear in another location. Sometimes she appears right next to a player and swings at them, so tread carefully and be ready to dodge if you see her teleporting.
Stomp Attack: Occasionally, Briggsy rises above the ground for a short time, then slam back down. This attack does a lot of damage if you are too close to her. If you see her rise up, then run far away! You can also receive fall damage if you're thrown high up or knocked off a cliff.
Related: How to Get Curses in Sea of Thieves - Pro Game Guides
Helpful Notes
These are some helpful hints for you to keep a note of while you're fighting her.
Briggsy's Health #1: Her health scales up depending on the crew fighting her. If you approach the island on a sloop, she has significantly lower health than she would if you're fighting her on a Brigantine or a Galleon. For this reason, if you only have two players in your crew, a sloop stands a better chance against her than a Brigantine.
Briggsy's Health #2: If your crew approaches her on a Brigantine or Galleon, you will likely fight her for what seems like forever. This is not a glitch, and she's not regaining a ton of health in the course of the battle. She simply starts with a lot of health and has a strong resistance to damage since she is a Golden Skeleton.
Briggsy's Type: Despite her speed, Briggsy is a Golden Skeleton. If you manage to draw her into water, you will find that her movements are much slower, and easier to target.
Best Player Strategies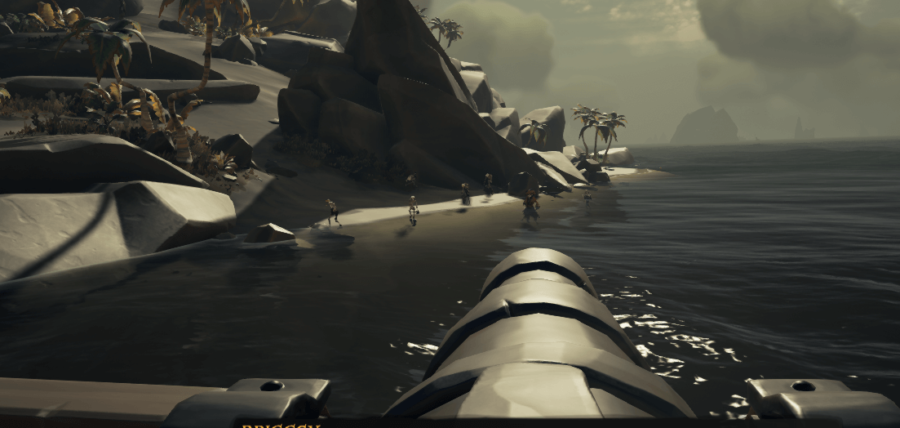 Due to her limited variety and range of attacks, a few strategies work best against her. They are listed below.
Use Your Ship: Your Ship is your most valuable took when squaring off with Briggsy. The only attack she has that can do significant damage to it is her stomp attack, but she generally doesn't use that if your crew isn't close to her. If you parked your ship far enough out in the water, she will not use this attack. When you're on the shit, you'll find that Blunderbombs and normal Cannonballs are the best weapons to use against her. Fire them, and try to land a direct hit to take her down quickly!
Herd the Skeletons: Briggsy doesn't seem to have a maximum amount of skeletons, so they can become overwhelming if you don't kill them at all. When fighting Briggsy, it's best to have one or two people make it their job to take care of the skeletons by distracting them and herding them away from Briggsy. Destroy the ranged skeletons first, then destroy the melee skeletons following you.
Explosions: These knock Briggsy back and cause her massive damage. If you have any gunpowder barrels, use them! The smartest way to use them is to keep them on your ship and have one player grab one and run to drop it next to her or a large group of her summoned skeletons. Then, someone on the ship can shoot at it to make it explode.
If you keep track of her attacks and put all of the above information to use, your crew should be able to defeat her easily. Once you do that, grab her Skull!
Step Three: Return the Skull
Briggsy's Skull is easily recognized because it has red and green gems in its eye sockets. If you are struggling to find it after defeating her, the Compass Madame Olivia gave you still points to it after beating her! Bring the Skull back to your Ship, and set sail back to Plunder Outpost!
When you get back, speak once more to Madame Olivia. She will take the skull from you and ugh talk more spooky nonsense about the intricate and incredible stories of pirates yadda yadda yadda. The end result: You have now Completed The Cursed Rogue! You'll receive The Cursed Rogue Commendation and 8,000 Gold for completing this quest.
Now that you've completed the Tall Tale, you have several options! You can complete it again for fortune or to work your way toward the commendation for completing it five times. You can also complete it again if you decided to forego locating The Hidden Journals the first time. Lastly, you can move on to the next Tall Tale: The Legendary Storyteller!
Do you have an Ashen Chest and need to open it? Check out our guide on How to Get an Ashen Key!