For those of us that aren't too familiar with the Ashen Key, it's a valuable item that is used to open Ashen Chests so you can obtain the loot inside. More often than not, this loot is worth more than what you'll find from quests. Whether you have a chest already or are looking for a key first, we've put together this guide to help you.
How to Get An Ashen Key in Sea of Thieves
The Ashen key is rare but not by any means exotic. If you like to fight boss skeletons when you spot them on the islands, you'll likely run into one holding instructions to find one. In fact, that's the first option on our list of ways to find these strange keys!
Option One: Ashen Key Masters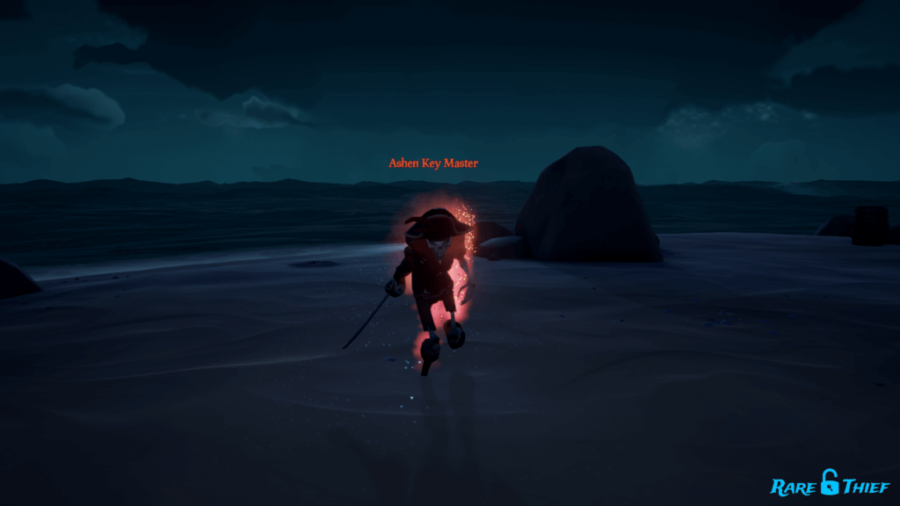 This is the most frequently used option to find an Ashen Key. The Ashen Key Master, a tougher-than-usual skeleton true to their name, will periodically spawn on random islands. They always drop a map that leads to a buried Ashen Key location. The island on the map is always the same island where you found the Key Master, so you don't have to go far to find it. Upon digging at the X's approximate location on the map, a chest containing the key will pop out of the sand.
Related: Genshin Impact: And This Treasure Goes To - Pro Game Guides
Option Two: Fishing
This is an incredibly rare circumstance. As such, it is not recommended as an option for searching for an Ashen Key. When you fish without any bait, there is a very low chance that you could catch an Ashen Key. If you want to fill your time while sailing the ocean blue, drop a line into the ocean to see what you catch! Beyond adding a nice thing to celebrate to your day, you're better off finding the keys another way.
Options Three: Skeleton Fleets
The Skeleton Fleet is a difficult event that spawns three waves of skeleton ships for you to defeat. Upon defeating the Captain's Ship in the last wave, two Ashen Keys will be your reward to grab along with any barrels and trinkets that float up from the destroyed ships. This is not an efficient way to snatch these keys due to the difficulty and amount of time it takes.
Option Four: Ashen Key Stash Voyage
You can buy one of these from the Black Market for 99 Doubloons. As with some of the previous options, if you're looking to obtain several keys, this is not an efficient option. Doubloons aren't exactly common, and you'll want 99 Doubloons more than one Ashen Key. However, if you have the extra Doubloons, this is definitely the fastest way to find a key!
Those are currently the only ways to get the Ashen Key in Sea of Thieves. When paired with Ashen Chests, these keys can lead to some good treasure to sell, especially if you know who the best buyers are! Get scrounging against those Key Masters and come back with some pirate booty!
Pro Game Guides has plenty more guides to finding good loot! Be sure to check out our Fortnite guide for Predator's Cloaking Device!