In previous sections of this guide, we covered the guides and locations for the Chest of Memories, the Music Box, and George's Spice Box. In this section, we'll cover what you're supposed to do with these items and how to finish up this love-strewn Tall Tale. We're going to talk to Madame Olive two more times and go on a hunt for the long-lost lovers!
Sea of Thieves | Wild Rose Tall Tale | How to Find George, Rose, and Rooke
Before we begin, if you are here because you're looking for how to find the other essential items or the Hidden Journals' locations, you can follow the appropriate link listed below.
If you're still reading, that means you're here because you have all of these items and don't know what to do with them, or you're struggling to make heads or tails of your compass (or rather — North or South, if you will). Starting from obtaining the Music Box and the Spice Box, we will walk you through the rest of the Tall Tale below!
Step One: Return the Items to Madame Olive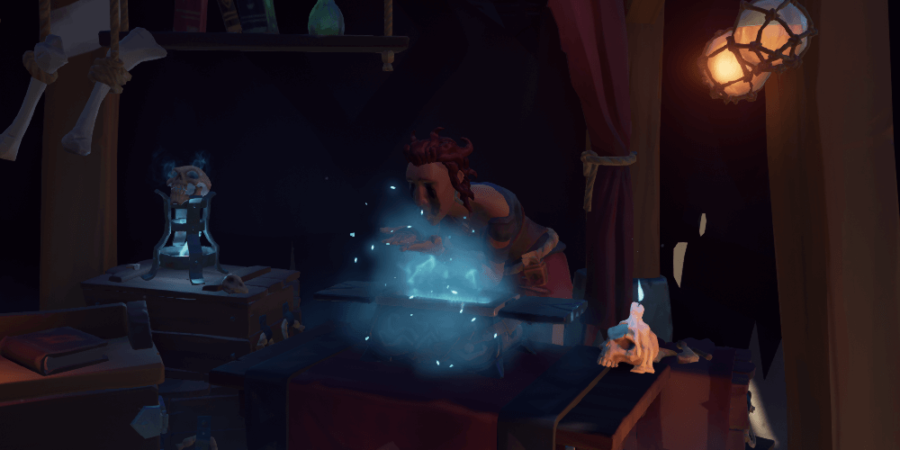 Generally, the game will tell you what you need to do next. However, perhaps you missed the notification because you were fending off skeletons or digging for booty. Whatever the reason, you now need to know where to go.
The first thing you need to do is return the Music Box and George's Spice Box to Madame Olive on Plunder Outpost. You can find her in the Order of Souls tent there.
Related: Where to Sell Villainous Bounty Skull in Sea of Thieves - Pro Game Guides
Upon speaking to her, she will express concern for her friend Rose and her lover George. Desperate to make sure they are okay, she will take the items from you and perform a ritual as shown in the image above. Once the ritual is over, she'll present you with a Compass that has figures of George and Rose dancing together. Those of you who completed the Tall Tale The Cursed Rogue probably know what this Compass does.
Step Two - Part One: Finding Rose and...George
If you have followed along with the story so far, you will have undoubtedly noticed that not all is well in this love affair. They have been fleeing a powerful pirate named Rooke because she has her heart and mind set on gaining George's affections. You'll see that she is...well...she's going to be a part of your story, too.
If you suspected that your new Compass points directly to George and Rose, you're correct! Similar to your method to locate Pirate Lord Briggsy, you now must follow this Compass to George and Rose's location. Sometimes, you'll end up having to go a significant distance away, so don't worry if you've been sailing for more than 10 minutes or so. Just keep following the Compass Madame Olive gave you. Listed below is the complete list of islands on which you might find George and Rose.
Cannon Cove
Crescent Isle
Lone Cove
Mermaid's Hideaway
Plunder Valley
Sailors' Bounty
Shark Bait Cove
Smugglers' Bay
Snake Island
Wanderer's Refuge
First, the Compass will lead to Rose. Once you've reached the island the Compass leads you to, just continue to use it to find his exact spot on the island.
SPOILER WARNING: The rest of this guide contains spoilers for the story. If you'd like to follow the story yourself without reading what happens, simply continue to follow where the compass points and return to Madame Olive once you've found what's at the end. Do not continue to read if you want to experience the story yourself.
Step Two - Part Two: Rose
When you reach the end of the line, you'll find the skeleton of Rose, likely leaning up against a rock. Sad music will play, and if you're anything like us, your heart will break a little bit as you realize she's no longer able to express her love for George. On Rose's (now boney) chest is her half of the Pendant she shared with George. Take this Pendant. Your compass will then flutter slightly, and you'll find it's pointing to a new location. Now, it's time to find...George!
Step Two - Part Three: Geo-...Rooke?
As you approach the new island and location, you won't find George's remains sitting here. Instead, you'll see the villainous skeleton Captain Rooke! If you wait long enough to listen, you'll hear her snide comments about George belonging to her and how happy she is to finally have his heart. Quite a creepy stalker, if you ask us.
Once you've gathered enough information, you'll realize Rooke has the lovebirds under a spell. You have only one choice: DESTROY HER.
Step Three: Defeat Captain Rooke
Look, to be honest, there isn't much we can say here that you don't already know. Captain Rooke is just barely above an average Skeleton. She doesn't have special powers, but she does have a lot of skeletons at her disposal. However, you can easily defeat Rooke by continuing to slash at her or just opt to fire at her from your Ship. Either way, this is a short battle.
Upon defeating her, she will drop Rose's Pendant. Pick it up, and you'll now be ready to complete this Tall Tale.
Related: How to Get Curses in Sea of Thieves - Pro Game Guides
Step Four: Return to Madame Olive
With the two Pendants in tow, head back to Plunder Outpost one final time. Bring the Pendants to Madame Olive to see how she responds to hearing of their death and the uplifting conclusion to the story. Hopefully, the image below doesn't give it away!
What's Next
This completes this main questline for the Wild Rose Tall Tale. For completing it, you will receive the Rose's Fate Commendation, the George's Fate Commendation, and the Wild Rose Commendation. From here, you have several options. You can do the quest again, find the Hidden Journals, or move on to the next Tall Tale: The Art of the Trickster!
Have you managed to get any of the Curses yet? Check out our guide to see how to get them!