The Ritual Skull is relatively rare, but don't let that stop you from searching for it! Depending on who you sell them to (if you sell them), they are worth a nice purse of different types of Doubloons. Both the Bilge Rats and the Reaper's Bones place a high value on the Ritual Skulls and will reward you handsomely for them. Alternatively, you can use them to perform Rituals!
How to Get the Ritual Skull in Sea of Thieves
Specific encounters guarantee to drop at least one of these rare skulls, but you can also get them randomly from chests and ships. We've delved the depths and found the current full list of ways to obtain them! Read on below to find out how.
Option One: Larinna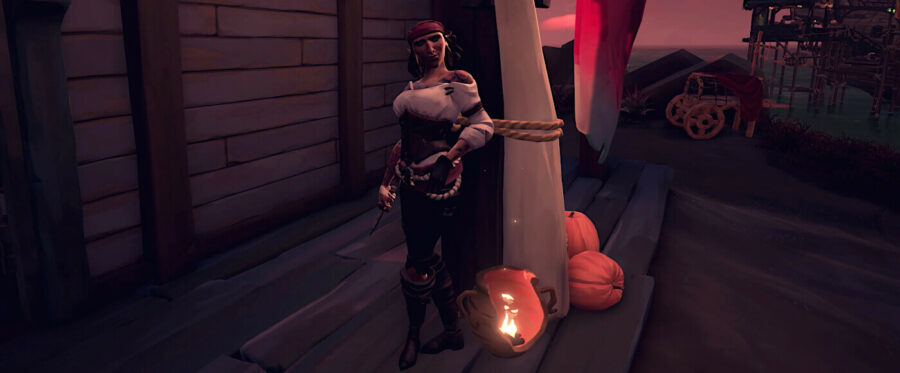 Larinna is an NPC in Sea of Thieves that leads the Bilge Rats. You can find her outside of every Outpost Tavern. She runs the Black Market and offers Voyages for you to take on for her scavenger operation. Once a month, she'll offer you a Skull Stash Voyage. Upon completion of these voyages, you're guaranteed one Ritual Skull! Be sure to visit her monthly!
Option Two: Skeleton Ships
Outside of Skeleton Fleets, you will occasionally encounter a Skeleton Ship in the wild. It isn't frequent, but you could find a Ritual Skull in the loot that floats up when you sink one of these ships. The ships by themselves aren't tough to destroy, especially if you're used to some of the more difficult World Events. However, it's not a guarantee, so it's up to you if you think it's worth the trouble!
Options Three: Ashen Lords
Ashen Lords are powerful skeletons that show up during the Ashen Winds World Events in Adventure Mode. Battling them is never easy, so make sure your entire crew is well prepared for a tough fight. When defeated, Ashen Lords are guaranteed to drop one Ritual Skull!
Related: Where to Sell the Reapers Chest in Sea of Thieves - Pro Game Guides
Option Four: Skeleton Fleets
Skeleton Fleets are difficult events that spawn multiple waves of skeleton ships for you to sink. Upon defeating the Captain's Ship in the third and final wave, you will find a Ritual Skull in the loot it drops. As mentioned, these are incredibly challenging events. Still, they drop a decent amount of rare items and are definitely worth defeating when you encounter them!
Option Five: Chests
Two different types of chests may net you a Ritual Skull when you open them. The first one is the Ashen Chest, which you'll find as random loot during various events and battles. These are frequently found in Skeleton Forts and on maps provided by Ashen Guardians, so be sure to look for those!
The other chest that might contain a Ritual Skull is in the Collector's Chest. These chests are obtained by completing the Maps or Riddles dropped by Emergent Skeleton Captains, who appear as random encounters on islands. You'll have to be on the lookout for these Skeleton Captains, as they don't appear on Voyages.
Due to their rarity, Ritual Skulls are often regarded as pleasant bonuses to adventures you're already in, rather than objects to seek. Consider yourself lucky and take full advantage when you come across them!
Are you looking for more rare items in Sea of Thieves for endless bounty? The Ashen Key can lead to great treasure!