There are not nearly enough careers in the Sims 4, something you may have noticed if you have been playing for a while. Instead of buying another expansion pack for more job choices, consider checking out one of these great career mods, first. They can revitalize your gameplay and even give you more use for your Sim's university degree.
Parks and Recreation
The nature-loving Sims 4 players have probably realized there are not many careers available to them, especially if you don't have extra content like Eco Lifestyle installed. To remedy this, get the Parks and Recreation Career mod. With this mod, you're challenged to improve your Fitness, Charisma, Gardening, and Logic skills while working in your new career. You can even choose between working in the office or out in the field, depending on your preferences.
Long Distance Trucker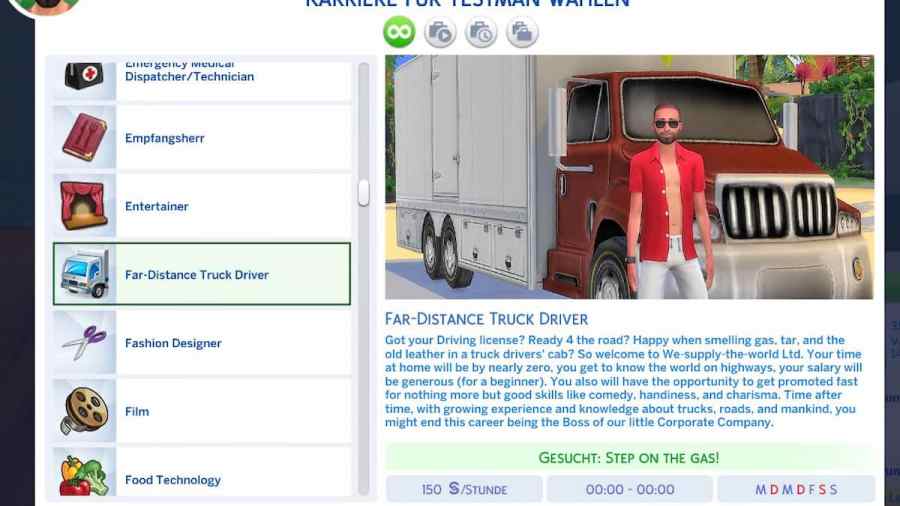 Maybe your Sim is a little sick of the rat race of working in the office and wearing stuffy clothes. If this is the case, consider trying out the Long Distance Trucker mod. The career is exactly as it sounds and has your Sim gone for long periods of time as they drive around the country. This mod does require the Get to Work expansion to work, making it an even more accessible mod for players.
Accountant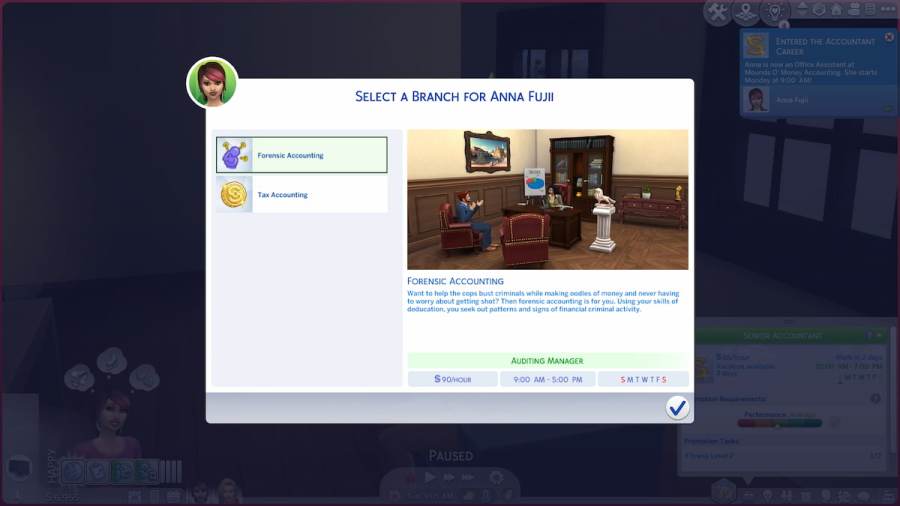 For the player that's not looking for a glamorous career, but rather the addition of another realistic career, check out the Accountant Career mod. Choose between the Forensic Accounting and Tax Accounting career branches, both of which pay handsomely. Finish out the career to get a reward trait that increases job mobility and pay.
Vintage Switchboard Operator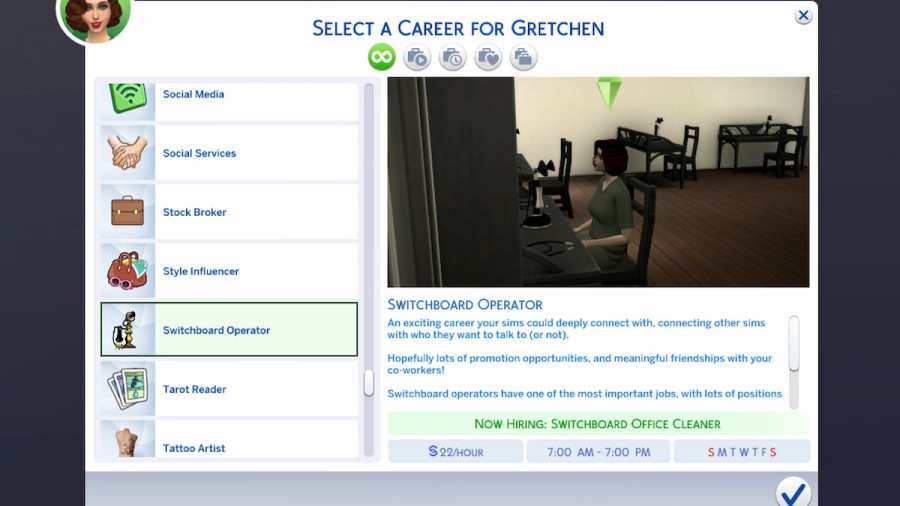 Maybe you are looking for something a little bit more old-school and off the beaten path for a career. If so, consider checking out the Switchboard Operator Vintage Career mod. Start out early on as an office cleaner, but quickly work your way up the career ladder by leveling up your Charisma and Programming skills to be a Switchboard Operator, meaning you'll be a midcentury socialite!
Related: How to download the Fairies vs. Witches Mod in The Sims 4
Batman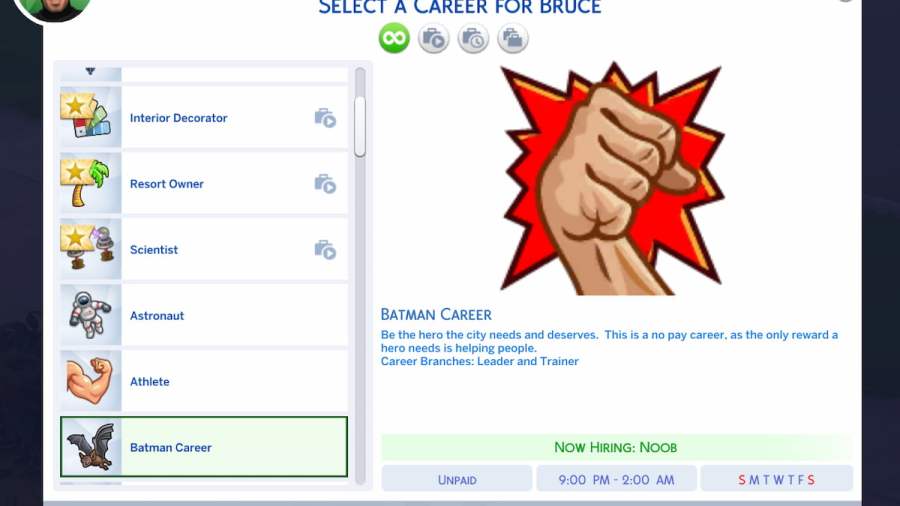 There's not much to say about this mod other than yes, you can be Batman in the Sims 4. Download the Batman Career mod to get a job as a crime-fighting superhero. Start out as a Noob and eventually choose between being a Leader and a Trainer. This career does not pay any money, so it's recommended that, like the real Batman, your Sim be wealthy before working.
At Home Daycare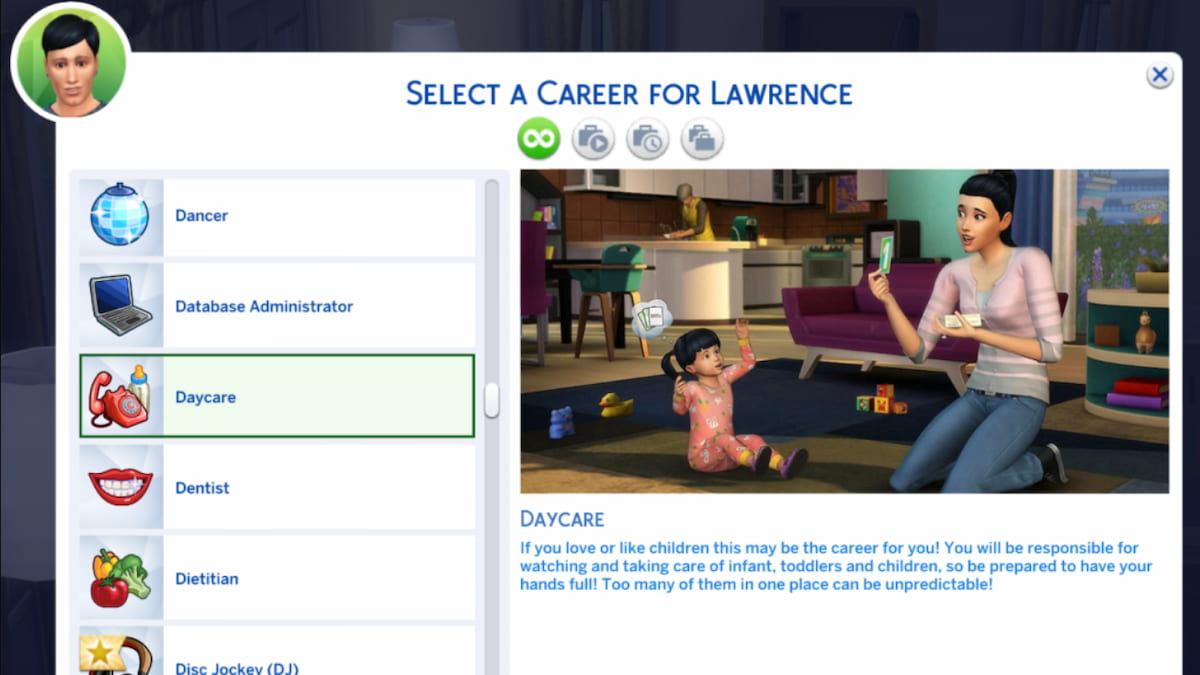 If you love taking care of young Sims and working from home, consider downloading the Daycare Career mod. On top of simply caring for children from your home, you can also rise the ranks from Amateur Babysitter to Daycare Specialist. The mod creator, KiaraSims, was even clever enough to integrate Discover University. If your Sim has a degree in Psychology, they automatically get promoted to the Good Guardian role of a Daycare worker.
Welfare/Job Seeker
Is your Sim having a hard time landing a job? For that Sim, consider signing them up for some government benefits by using the Welfare - Job Seeker mod. Once signing up for Welfare, that Sim will have to attend a meeting once a week. After this meeting, they'll receive 750 Simoleons for the week. They can do this as many times as needed until they get a job, affording some basic living expenses to them in the meantime.
Full-Time Bundle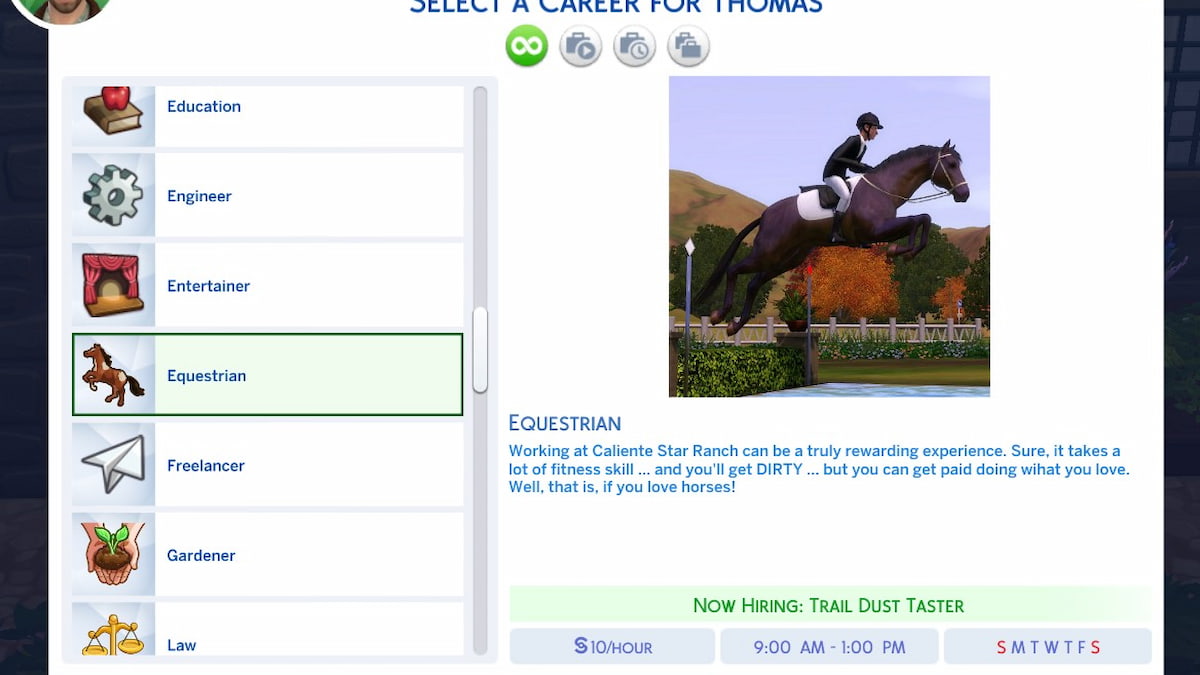 Don't want to choose just one career? Then choose a whole bunch at once with the Full-Time Bundle mod. In this mod, you'll get access to 10 full-time careers:
Sports
Equestrian
Ballet Dancer
Show Business
Circus
Private Investigator
Paranormal
Medical
Alchemist
Nectar Maker
With so many varied job options, this mod is not one you'll tire of quickly. Each career offers different opportunities, as well as having the chance of an instant promotion depending on the degree your Sim already possesses.
Related: Best Sims 4 Mods in 2023
Stylist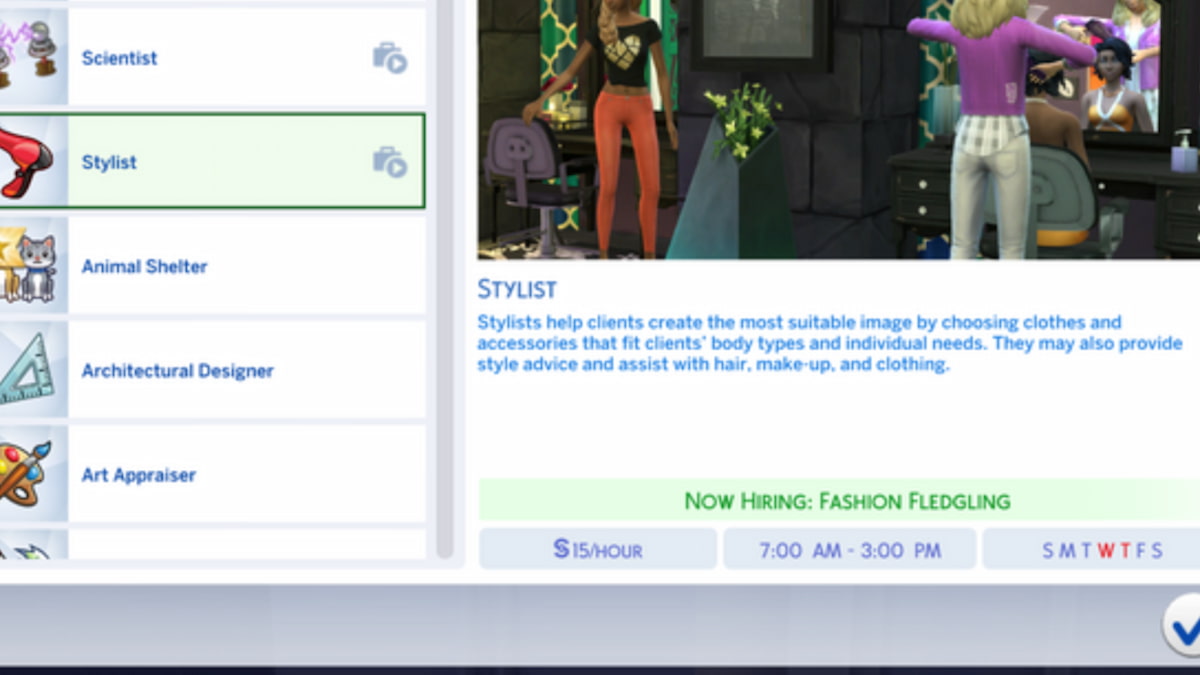 If you want both an active career and a job that lets you be creative, try out the Stylist Career mod. Not only is this career an active job that allows you to accompany your Sim, but it also comes with its own specifically designed salon lot. If your Sim has a degree in either Fine Arts or Art History, they will receive a major promotion immediately upon joining the career track.
Makeup Artist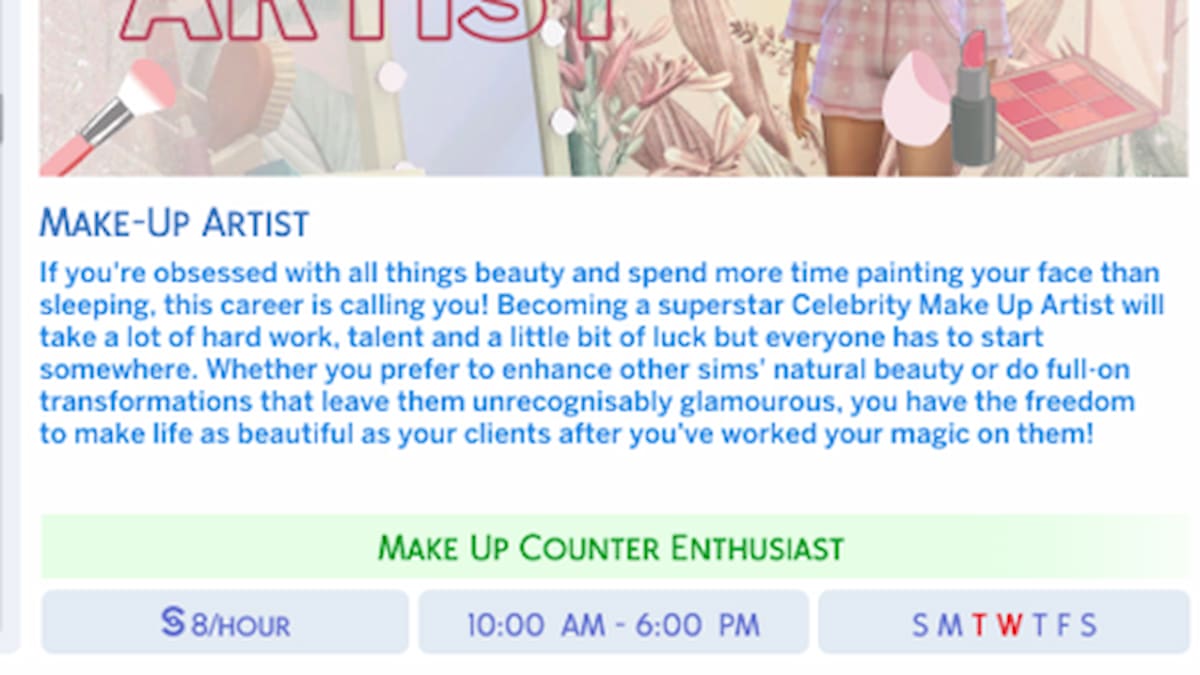 There aren't quite enough careers in The Sims 4 that focus on aesthetics, so we're pleased to see a Makeup Artist Career mod. Hone your skills in makeup to make your clients and fans happy. The best part about the job? You'll earn fame in the career once you begin to approach the top through promotions. You can become a makeup/beauty guru who is known across the Sims 4 universe.
Water Jobs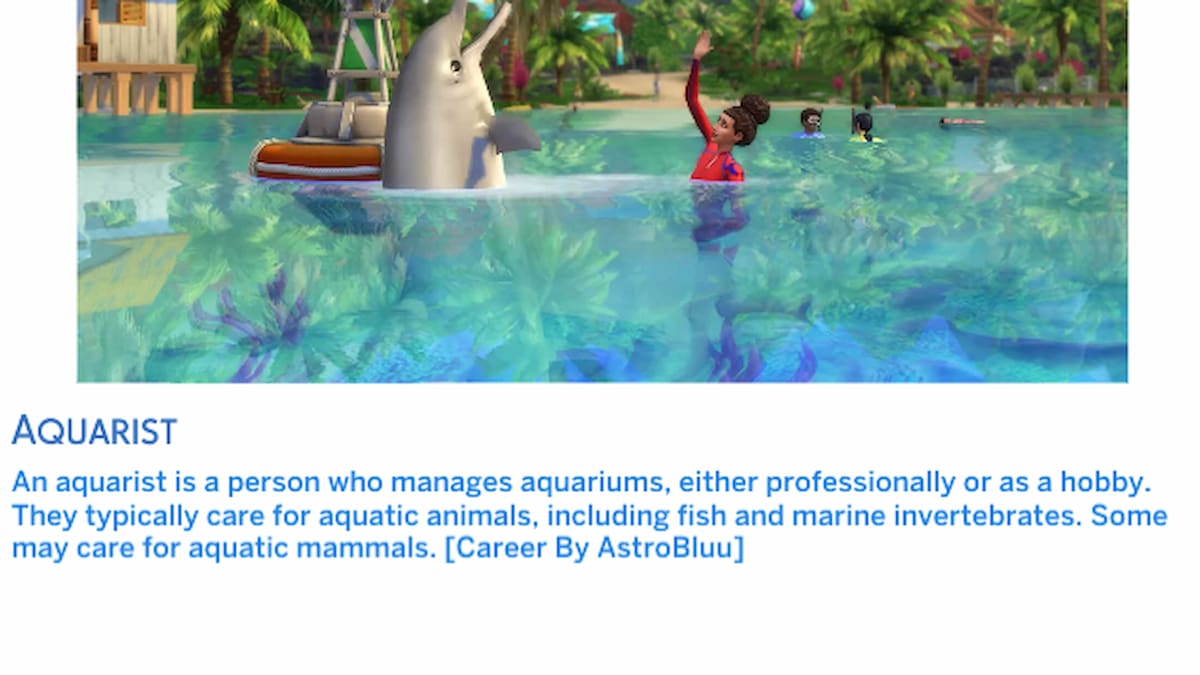 If you love everything marine-oriented, then consider getting one of the Water Jobs inside of this mod. Players can choose between becoming an Aquarist, Lifeguard, or Marine Biologist. All jobs include various positions for you to climb the ladder with. There doesn't seem to be any effect made on careers in the mod with degrees your Sim has earned, so don't worry about that aspect. This mod is especially appealing to Sims 4 players who love the Island Living Expansion pack.
Career Overhaul
The Career Overhaul Suite mod is a bit more meta than other entries, but it is no less useful. Instead of giving you a new career to play with in The Sims 4, this mod makes adjustments to existing careers and the career system as a whole. The biggest change with the mod is that promotions become harder to obtain. Not only is this challenging and engaging for hard-working Sims, but it also makes it more realistic for unambitious Sims to not get promoted as often.
Additionally, you'll see tweaks to pay across the board for more realism. Promotion goals/tasks, relationship gains with coworkers, and more integration with work and personal life are included in the mod.
Want to see more Sims 4 mods? If so, check out How to install the Realistic Pregnancy Mod for Sims 4 on Pro Game Guides.