Slime Rancher 2 is a fascinating adventure simulation game on PC and free to play on Xbox Gamepass. Continue playing as Beatrix as she ventures to the colorful Rainbow Island filled with plenty of new sights and mysteries waited to be uncovered. There are plenty of new Slimes to catch around the various areas of the map, each providing unique plorts used to gain money or upgrade your goods. Combining Slimes can create special Slime Largos that double your plort earnings. Here are some of the best combos you can make.
Best Slime Combinations in Slime Rancher 2 List
What are Largos in Slime Rancher 2?
Largos are two different types of Slimes that are combined together into one new mix breed. This combines all their features and diets, expanding the possibilities and dropping more plorts when fed. To create a Largo, feed a Slime a plort from another Slime. This is great way to get more of the plorts you need for crafting or earning Newbucks.
Cotton Pink Largo
The Cotton Pink is a great starting Largo to have as you are just establishing your Conservatory. Although the Pink and Cotton Slimes are not the best when it comes to making you Newbucks, they are both important plorts to have for upgrading your gear or creating new equipment with the Fabricator.
Locations: Rainbow Fields
Diet: Veggie, Fruit, and Meat
Plorts: Cotton and Pink
Cotton Tabby Largo
Another great starting combo is the Cotton and Tabby Largo. Tabby Slimes are great Slimes to have as you are organizing your initial Conservatory. They are easy to find and earn you more Newbucks per plorts than the Cotton and Pink Slimes. You can mix them with the Cottons since Cotton is great to have for crafting, and expands the Tabby's diet.
Locations: Rainbow Fields
Diet: Veggie and Meat
Plorts: Tabby and Cotton
Batty Phosphor Largo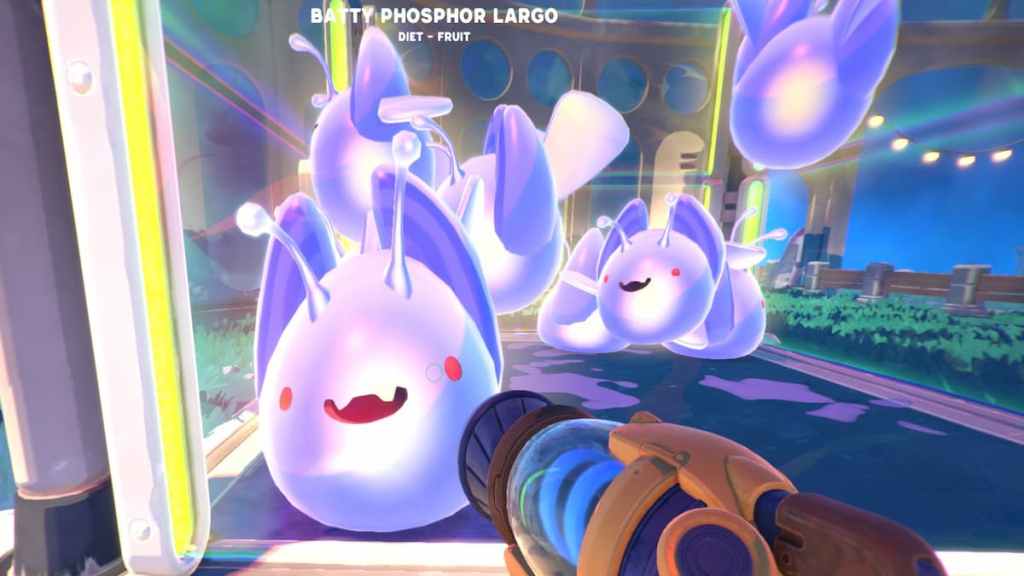 Both of these flying Slimes enjoy the same diet and darker habitats, making them the perfect combo. Batty Slimes and Phosphor Slimes can't stay in the light and must be put in a light-filtered corral. Although their diet won't expand with this combo, fruit is easily found around the maps making it easy to feed them and get plenty of crucial crafting plorts.
Locations: Rainbow Fields and Ember Valley
Diet: Fruit
Plorts: Batty and Phosphorous
Boom Rock Largo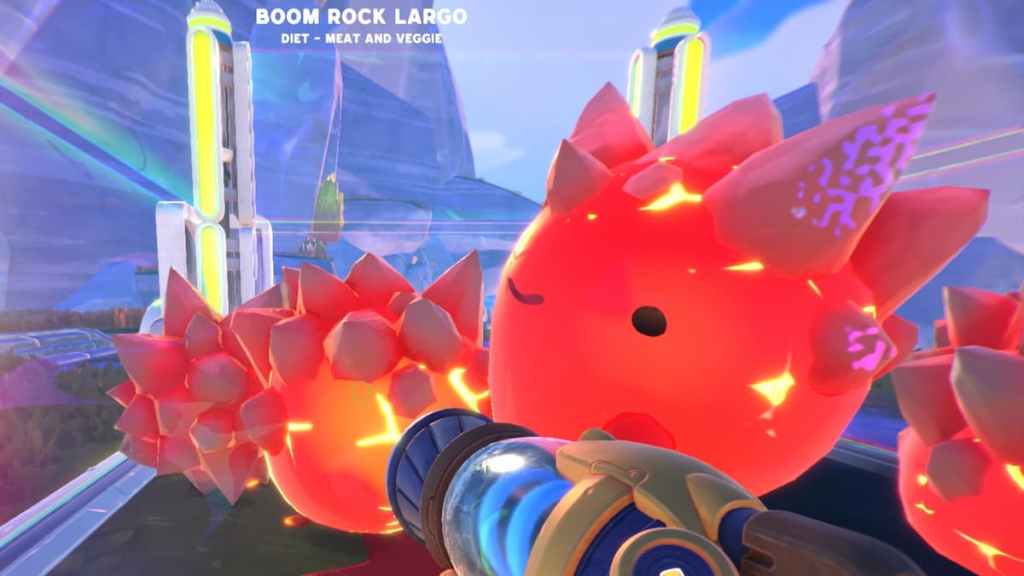 The Boom and Rock are both deadly Slimes that can create a powerful combo, offering two plorts that can be useful to for crafting and earning more Newbucks. Since both Slimes have limited diets, the pairing helps expand that criteria and make it easier to feed them. You'll definitely want some automatic Plort Harvesters on this one to avoid losing some HP.
Locations: Ember Valley
Diet: Meat and Veggie
Plorts: Boom and Rock
Angler Crystal Largo
Crystal and Angler Largos offer a beneficial combo that can provide a profit and crafting materials. Crystal plorts are some of the best plorts to harvest for Newbucks, while Anglers are used for some important upgrades, making a perfect combo to keep your savings high and storage stocked. They are also another dangerous combination that may require some Plort Harvesters.
Locations: Ember Valley and Starlight Strand
Diet: Meat and Veggie
Plorts: Angler and Crystal
Ringtail Hunter Largo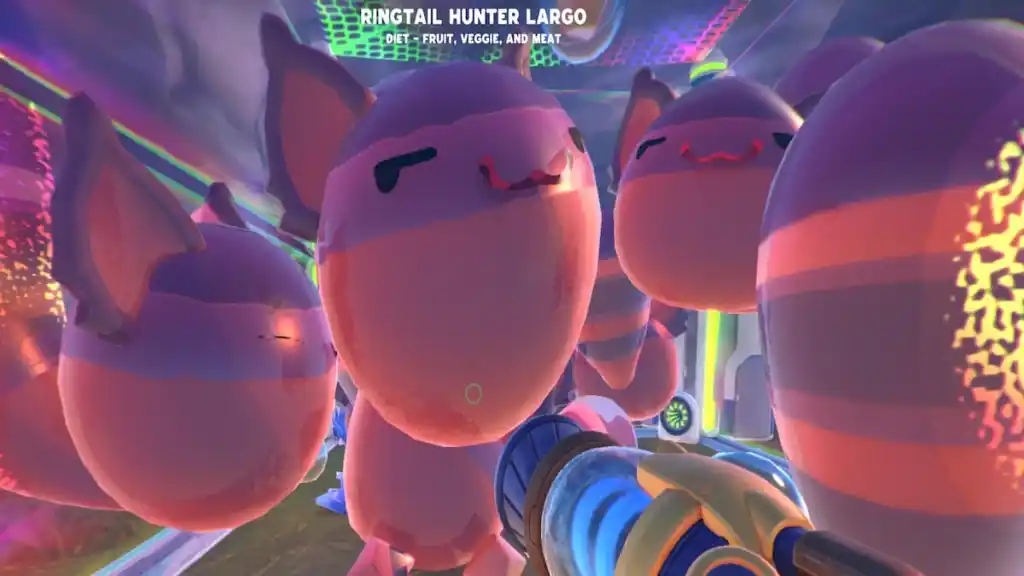 As similar Slimes, the Ringtail and Hunter make for a great combination Largo, allowing for a broader diet and double the amount of valuable plorts. Since the Hunter Slime has a very small diet, combining it with the Ringtail makes it a lot easier to feed them. However, the Ringtail also requires a dark corral to avoid them turning to stone.
Locations: Starlight Strand
Diet: Fruit, Veggie, and Meat
Plorts: Ringtail and Hunter
Flutter Honey Largo
The Flutter and Honey Largo is an easy and smart combination. Since the two Slimes can be found in the same area, this is a no-brainer combo that provides beneficial plorts. Nectar for the Flutters is a rarer substance to collect, making the pair with the Honey Slime extremely helpful in feeding them.
Locations: Starlight Strand
Diet: Nectar and Fruit
Plorts: Flutter and Honey
Flutter Phosphor Largo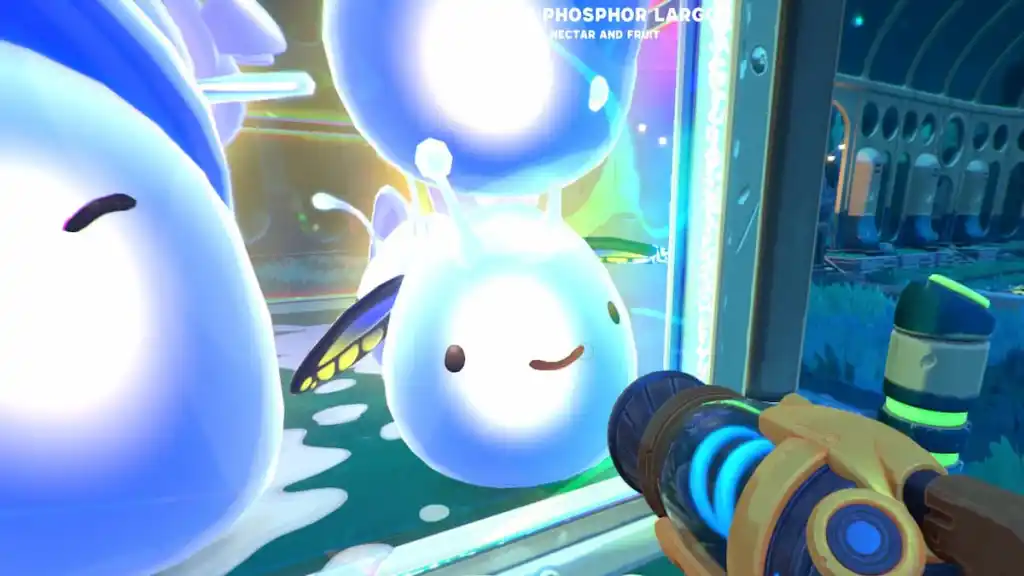 These two flying buggy Slimes are the perfect combinations, allowing you to get double the plorts and expand on the Flutters limited diet. Although the Phosphor requires a dim-lit corral, this combo creates an adorable Largo that is much easier to feed than the singular Flutter Slime.
Locations: Rainbow Fields and Starlight Strand
Diet: Nectar and Fruit
Plorts: Phosphorous and Fruit
Rock Hunter Largo
The Rock Hunter Largo is a combination of Slimes that just makes sense. The two can be found in the same general area of Starlight Strand, making it easier to catch them and put them together. This combo allows for you to collect plorts perfect for crafting and earning some quick Newbucks, and with an easy diet.
Locations: Starlight Strand and Ember Valley
Diet: Veggie and Meat
Plorts: Rock and Hunter
Ringtail Crystal Largo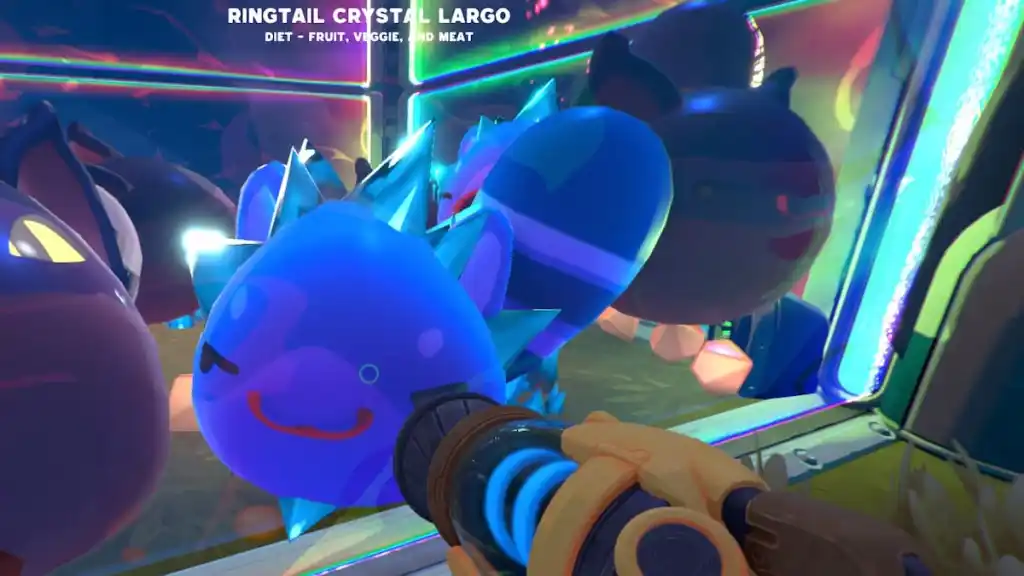 The Crystal and Ringtail Slimes are some of the most valuable of Slimes, offering a quick and easy way to earn Newbucks with their plorts. Combining the two is a smart way to go if you're looking to sell your plorts over using them for resources. Since the Ringtail is so flexible with their diet, it allows this combination to be easy cared for as well.
Locations: Starlight Strand
Diet: Fruit, Veggie, and Meat
Plorts: Ringtail and Crystal
Largos are a great way to get double the amount of plorts and create new adorable Slimes mixed with your favorite variations. Create the best Largos to provide all the plorts you could possibly need for crafting new equipment, earning quick Newbucks and upgrading your gear.
Looking for more Pro Game Guides Slime Rancher 2 content? Check out our guides on How to get to new islands in Slime Rancher 2 or Where to find Ringtail Slimes in Slime Rancher 2!