If you want to get Prismatic Jelly in Stardew Valley, you must find and kill Prismatic Slimes. Upon killing Prismatic Slimes, they will drop Prismatic Jelly. You can then use Prismatic Jelly to complete a Prismatic Jelly quest. You can find Prismatic Slimes between levels 95 through 115 in the Mines.
You can also tell Pirsmatic Slimes from normal ones by their unique appearance. Unlike other slimes, Prismatic Slimes have a rainbow or color-changing appearance. It is very easy to see these Prismatic Slimes in the dark because of their unique appearance. So, keep a look out for color-changing Slimes, and you will be able to get your Prismatic Jelly and Slimes. Once you get some Jelly from the Slimes, you can use the Jelly to turn in and complete the Prismatic Jelly quest in Stardew Valley.
How to complete the Prismatic Jelly Quest in Stardew Valley
To complete the Prismatic Jelly quest, you must find the Wizard over at the Wizard Tower location. The Wizard Tower location is south of the Player's Farm in the game. Players can get to the wizard tower by taking the path south from their Farm that leads into the woods. Eventually, they will get to the location shown below.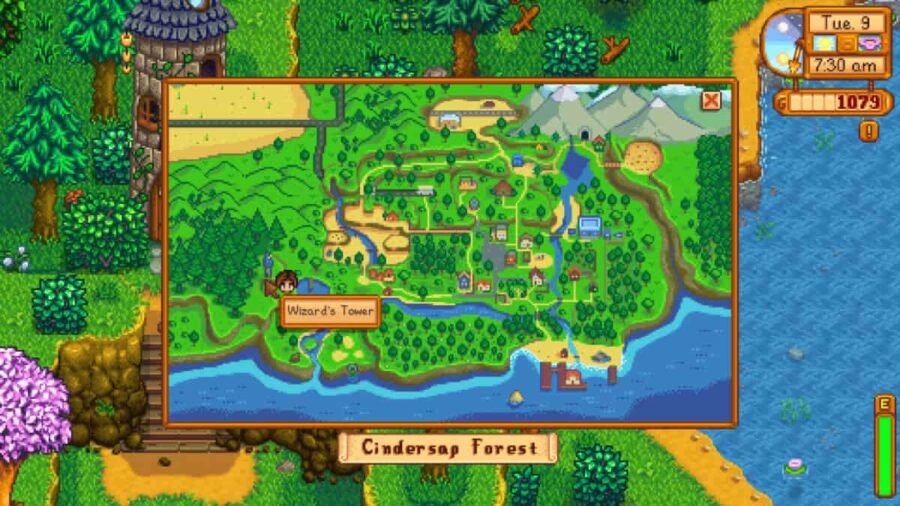 When players find the location shown above, they need to enter the tower, find the Wizard, and speak to them. While speaking to the Wizard, players must select the option to turn the quest in. Upon completion of the quest, the Wizard will reward players with a total of 5K gold. You can also pick between an obelisk or monster musk as a special reward.
For more on Stadew Valley, we at PGG have you covered with tons of guides like All farm and farmhouse upgrades in Stardew Valley and Everyone you can marry in Stardew Valley.