In Stardew Valley, players can customize their farms and farmhouses to suit their own tastes. It is not cheap to buy these items, but they provide the player with new features and a sense of progression. Below you will find a list of all the upgrades and costs that are associated with Farmhouses and Farm Buildings.
If you've never played the game before, make sure that you have at least gotten through your first year in Stardew Valley before upgrading anything. The first year is dedicated to teaching you everything you need to know about the game and introduces different kinds of farming and ways to earn money. Before you begin to fill in space, it is always a good idea to know what you want to accomplish.
How to upgrade your farmhouse in Stardew Valley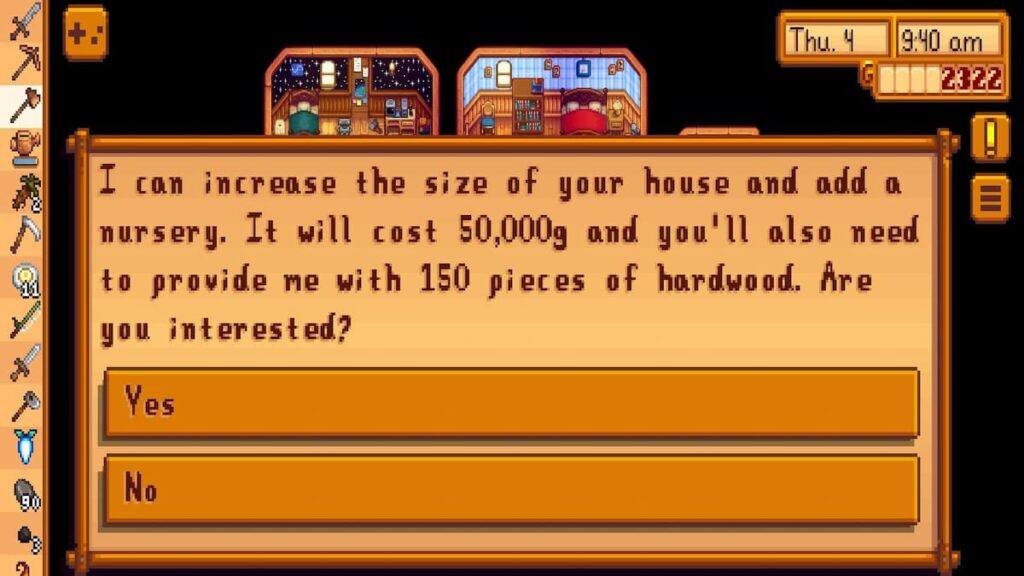 When you upgrade your farmhouse, you can do a lot more than you think. In the beginning of the game, you will only be given a single room with a bed, table, fireplace, television, and chair. If you upgrade it as soon as possible, you will have enough room for other items, and you will also be able to prepare your own meals.
Whenever you are ready to upgrade your farmhouse, head north of town to the Carpenter's Shop. As soon as you reach the counter, you should talk with Robin, who will be able to offer you the farmhouse upgrades that you desire. The upgrades are expensive, so you'll need a steady income before you purchase them.
All Farmhouse upgrades and costs
Below you will find a list of all the upgrades you can make to your house. It would require you to have 160,000g, 150 Hardwood, and 450 wood to gain every upgrade. Because these upgrades are expensive, we recommend that you only consider them as you get married and start to have children.
Upgrade 1 – This upgrade includes a kitchen, a refrigerator, and a counter for cooking. Additionally, it adds a bedroom to your house and upgrades the bed to a double bed, allowing you to marry.

The first upgrade costs 10,000g and 450 Wood.

Upgrade 2 – This upgrade adds two additional rooms to your house and is required if you want children. After the upgrade, the first room in your house will be empty, but the second room will have two single beds and a crib. The main bedroom and kitchen will also be larger.

The second upgrade costs 50,000g and 150 Hardwood.

Upgrade 3 – This upgrade will add an underground cellar to your home. Casks can be stored in the cellar for aging cheese and alcohol so that you can sell them at a higher price. This is essentially the last step you need to be a high roller in the game.

This upgrade costs 100,000g.
How to upgrade your Farm in Stardew Valley
In addition to the fact that farm buildings allow you to expand your farm, they also provide you with new ways to make money from your farm. When you are are interested in building farm buildings, Robin can be found in the Carpenter's Shop north of town. If you bring Robin enough supplies, she will be able to construct your farm buildings for a fee.
You should keep in mind that buildings take up a lot of space on your farm, so you can only have a limited number of them. Fortunately, the farm space in Stardew Valley is quite large, but we still recommend you to plan ahead when it comes to what kind of farm you're going to build.
Related: Stardew Valley Universal Gift Guide
All Farm upgrades and costs
There is no need for you to build every building on this list. It all depends on what kind of farm you want to have and the kind of buildings you need. You may not need certain buildings on your specific farm, so you can skip building them.
Barn – Barns house four animals and enable the purchase of cows.

Barns cost 350 Wood, 150 Stone, and 6,000g

Big Barn – Big Barns house eight animals and enable the purchase of goats.

Big Barns cost 450 Wood, 200 Stone, and 12,000g

Deluxe Barn – Deluxe Barns house 12 animals and enable the purchase of sheep and pigs.

Deluxe Barns cost 550 Wood, 300 Stone, and 25,000g

Coop – Coops house four animals and enable the purchase of chickens.

Coops cost 300 Wood, 100 Stone, and 4,000g

Big Coop – Big Coops house up to eight animals, come with an incubator, and enable the purchase of ducks.

Big Coops cost 400 Wood, 150 Stone, and 10,000g

Deluxe Coop – Deluxe Coops houses 12 animals and enable the purchase of rabbits.

Deluxe Coops cost 500 Wood, 200 and 20,000g

Silo – Silos enable the player to cut grass and store hay for animal feed. They are capable of holding 240 pieces of hay each.

Silos cost 100 Stone, 10 Clay, five Copper Bars, and 100g.

Slime Hutch – Slime Hutches allow players to house and raise up to 20 Slimes.

Slime Hutches cost 500 Stone, 10 Refined Quartz, one Iridium Bar, and 10,000g

Stable – Purchasing stables allow players to house and raise a horse.

Stables cost 100 Hardwood, five Iron Bars, and 10,000g

Well – Wells can be used to fill watering cans but do not change the quality of water gathered.

Wells cost 75 Stone and 1,000g

Mill – Mills enable players to create flour from wheat and sugar from beets.

Mills cost 50 Stone, 150 Wood, four Cloth, and 2,500g

Shed – Like a small farmhouse, sheds allow players to customize their interior with furniture, wallpaper, and flooring. Usually, sheds are used for storage.

Sheds cost 300 Wood and 15,000g

Big Shed - An upgrade to a Big Shed increases the interior of the shed to 17x12

Big Sheds Cost 550 Wood, 300 Stone, and 20,000g
For more guides, info, and help in Stardew Valley, check out What does "A Train is Passing Through Stardew Valley" mean? or Where to find Robin's Axe in Stardew Valley here on Pro Game Guides!