Once you finally broke even and made your first 25k in Stardew Valley, a man will meet you at your door give you the choice of mushrooms or bats; the choice of either one will ultimately determine the fate of the empty cave on your farm. So which is it? Mushrooms or Bats?
Should you choose Mushrooms or Bats for your Stardew Valley cave?
When you get your first 25k in Stardew Valley, the NPC Demetrius will offer you a chance to participate in an experiment that will transform the empty cave on your farm. Should you accept his offer, you will have the choice of either Bats or mushrooms.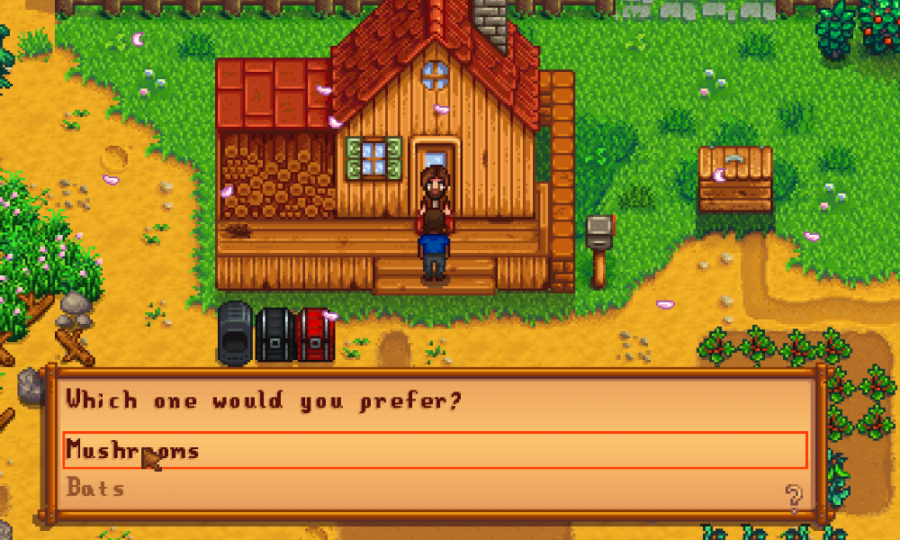 The Bats option will turn your cave into a home for bats that will drop fruit at random, and the mushroom option will provide a daily amount of mushrooms.
Both options have their advantages, and we would say disadvantages too if there weren't a clear one-side winner; in short, the best option is Mushrooms, and here is why.
You can't grow mushrooms in Stardew Valley, for starters, and the fact choosing this option will allow you to have a daily allowance of mushrooms is already a clear win. You can also get rare mushrooms far more frequently than foraging and finding them in the mines.
Along with this, there are only two seasons in which you can harvest mushrooms, and even then find them is a challenge. This is because, for mushrooms such as purple ones, you will have to go too deep into the mines to get them, and they are not guaranteed to be there when you get there.
Related: How to make wine in Stardew Valley
That said, because of these two reasons alone, mushrooms are the clear best choice; you also can't grow mushrooms, unlike fruit and mushrooms are also needed to make life exliars, so there's also that. Plus, some mushrooms make decent food options on their own and are required for a lot more crafting recipes.
However, the case could be made for fruit because they are beneficial gifts for many NPCs in Stardew Valley, and they are also needed for several bundles. You can also make wine with fruit, which is probably one of the most valuable items to sell in the game.
But again, unlike mushrooms, fruit is easy to get, mushrooms are not, plus you are not even guaranteed to get fruit, as some days you can get nothing, and the types of fruit you get are also random. So, in the end, we highly recommend picking the mushroom option over the fruit as it seems the more practical out of the two.
For more on Stardew Valley, we at PGG have you covered with an expanding roster of guides like how to upgrade tools and How to get void essence in Stardew Valley. We also have a lot of guides on other games that you can find on the home page hub.