Tales of Symphonia is a role-playing game that follows the story of Lloyd and Colette—and their quest to save two worlds. Symphonia is arguably one of the best games in the Tales series because of its strong story and equally well-written characters.
What is Tales of Symphonia Remastered?
Tales of Symphonia Remastered is an upgraded version of this GameCube title that will be released for most major consoles. It's different from Tales of Symphonia HD, which was released on the PS3 and Steam. Bandai Namco has yet to announce what changes to expect for this remaster.
However, since Tales of Vesperia has also launched its own remaster (called "Definitive Edition"), it's safe to expect that we'll at least be getting improved graphics, cleaner gameplay, and fully-voiced lines. These have also been showcased in the Sept. 2022 Nintendo Direct.
Other confirmed improvements include:
Smoother sea movement
A button to skip cutscenes
An update save screen
There are also new party members, new bosses, new arts, and additional music tracks, among others. But, again, none of these have been officially confirmed, so it's best to wait for the official announcement.
What platforms will Tales of Symphonia Remastered be released to?
Tales of Symphonia Remastered will launch on the PS4, Xbox One, and the Nintendo Switch.
What is the release date for Tales of Symphonia Remastered?
Tales of Symphonia Remastered will be released in early 2023.
How to pre-order Tales of Symphonia Remastered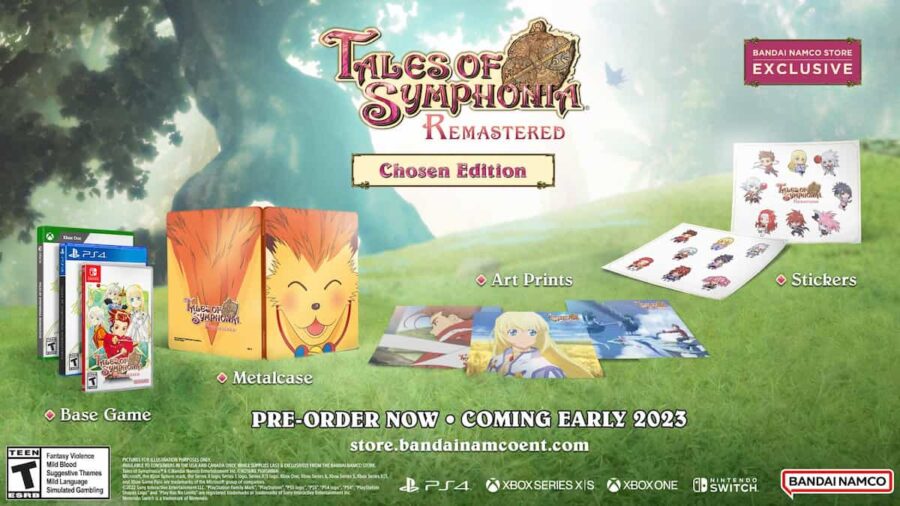 The game can be pre-ordered from most major retailers and Bandai Namco's official site. There will be a Chosen edition available, which will include the base game, a metal case, a few art prints, and stickers.
If you're looking for more JRPGs to play, check out What is Octopath Traveler 2? – Release date, gameplay, characters, & more! and What is Fire Emblem Engage? Release date, gameplay, trailer, & more! on Pro Game Guides.