If you're looking for a fast-paced game that focuses more on team composition than long-form strategy, then Teamfight Tactics' Hyper Roll mode may be for you. Hyper Roll does not feature win/loss streak gold or interest, and experience is granted equally to all players. In this mode, you can try out new team compositions for normal TFT, or you can discover the next meta build for Hyper Roll itself. Here are the best TFT Hyper Roll comps for Set 7.5 Uncharted Realms.
Best Hyper Roll comps for Uncharted Realms Set 7.5
Strong Mages of the Moon
While going Astral in normal TFT leaves you open to early damage, it is more lethal in Hyper Roll. Since everyone receives experience for free, you don't need to waste gold on leveling up, and can use that gold to obtain Astral units instead. This team composition is especially deadly if you have the Golden Ticket augment, which gives you a 50% chance to gain a free Shop refresh every time you refresh.
This comp prioritizes the Astral trait, which is supplemented by the Bruiser, Mage, and Dragon traits. Ideally, Varus is the main carry, equipped with a Guinsoo's Rageblade, Statikk Shiv, and either Runaan's Hurricane or Infinity Edge. Lux is the secondary carry, equipped with Jeweled Gauntlet, Spear of Shojin, and either Blue Buff or Rabadon's Deathcap. Although this team will be sitting at five Astral traits for a while, Aurelion Sol completes the team, achieving the maximum level of eight Astral traits.
Related: Teamfight Tactics Hotkeys – TFT Shortcuts You Should Know!
Lagoon Cannoneers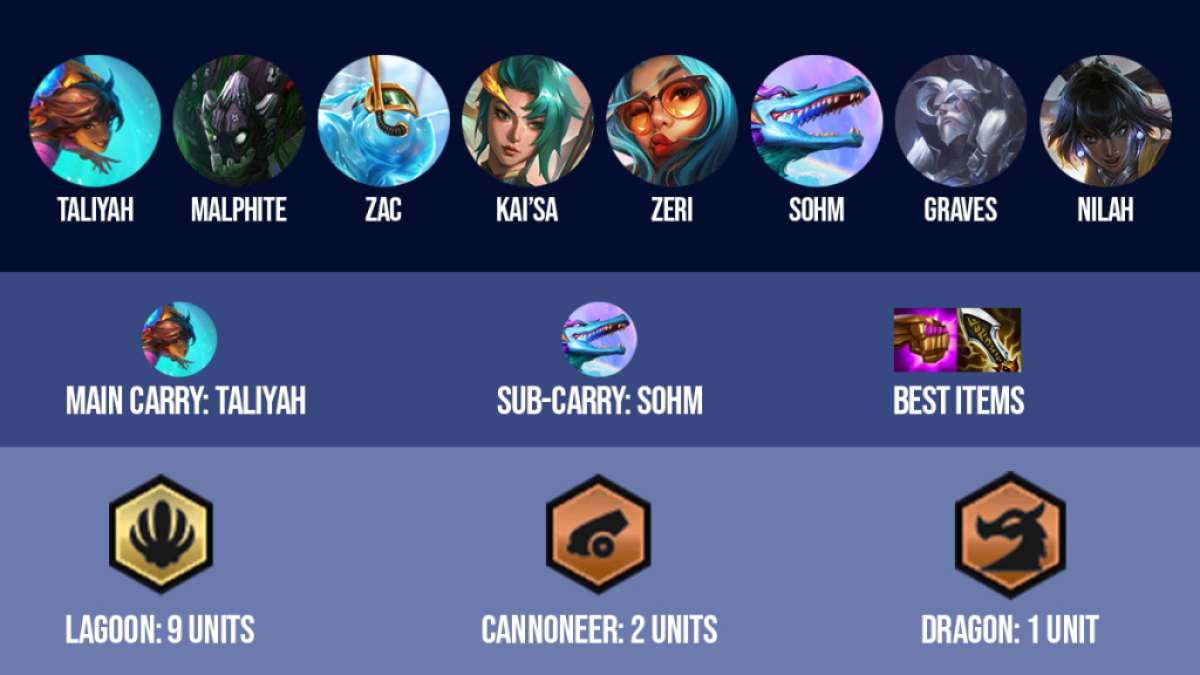 This team prioritizes the Lagoon trait, while also having two Cannoneers and one Dragon. A Lagoon team comp is especially helpful in Hyper Roll, since it quickly grants you extra item components, allowing you to get ahead of the curve. The Cannoneer trait also enhances Zeri's efficiency, making her a consistent source of damage. This composition synergizes well with the Jeweled Lotus augment, giving all units' abilities the chance to critically strike, as well as offering them a 25% critical strike chance.
Despite being an uncommon choice, this team comp makes Taliyah the main carry, since she is able to use her abilities often, which grants you an excess of item components with Lagoon. Taliyah is equipped with Infinity Edge/Jeweled Gauntlet, Bloodthirster, and either Death's Defiance or Guinsoo's Rageblade. Blue Buff is also effective on her, as it causes her to cast more often. The secondary carry is Sohm, equipped with Blue Buff, Infinity Edge, and Jeweled Gauntlet. If you possess the Jeweled Lotus augment, this can be substituted for Quicksilver or an item that increases critical strike chance.
For more Teamfight Tactics guides, come check out Teamfight Tactics – What is Darkflight Essence? here on Pro Game Guides.