Our Teamfight Tactics (TFT) Beta Pass Guide will walk you through all you need to know about this first test season of a battle pass for the game! There's rewards to be earned, and tiers to be levels, as well as some daily and weekly missions to complete to level it up! Completing the Beta Pass will earn you various cosmetic rewards including Little Legends, Arena Skins, Emotes, and Avatars/Icons!
The Beta Pass is Riot's first jump into a Battle Pass like format for Teamfight Tactics. If you are unfamiliar with the concept, these generally have you earning points and at certain amounts you will complete a tier. Once you reach a tier, you will be rewarded with some kind of cosmetic! This appears to be the route that TFT is headed, and you will be able to gain points by completing weekly missions and daily quests.
TFT Beta Pass Release Date
The Beta Pass should be rolling out to all regions now (July 1st, 2019)!
Is the TFT Beta Pass Free?
It appears that the Beta Pass is going to be free! Whether or not that is maintained in future season will remain to be seen. I would expect free and paid versions of the Battle Pass will be explored in future iterations.
How-to Gain Points
To level up your Beta Pass, you will need to earn points. You can earn points by playing the game and completing certain objectives in Weekly Missions and claiming the daily Orb of Enlightenment by playing five games each day. Here's a few examples of Weekly Missions:
Play 5 Games of TFT to Round 20 (30 Points)
Play 20 Nobles OR Play 20 Pirates (30 Points)
Build a 2-Star Darius (30 Points)
Teamfight Tactics (TFT) Beta Pass Tiers & Rewards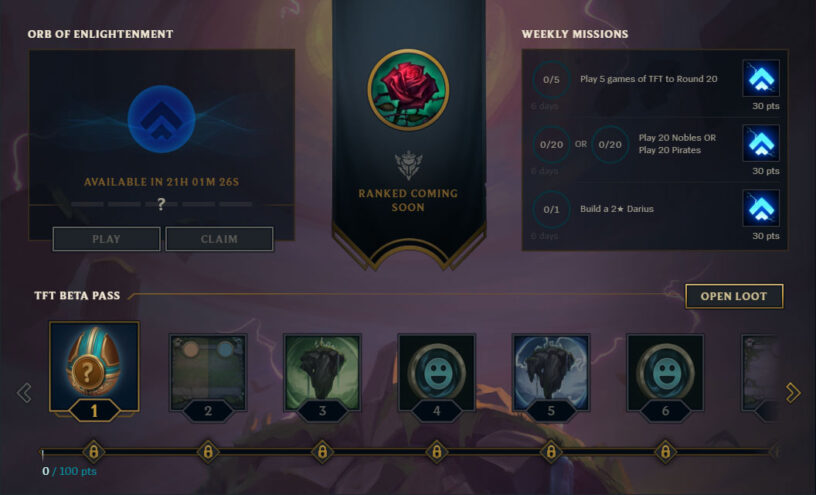 Tier 1 (100 Points): Starter Little Legend Egg (Your choice of one Sentinel Runespirit, Demacian Silverwing, or Soft-Nosed Molediver)
Tier 2 (300 Points): Two Arena Skins (Arrowhead and Runic Arena)
Tier 3 (600 Points): Tier 1 TFT Launch Icon
Tier 4 (1,000 Points): Secret Emote
Tier 5: Tier 2 TFT Launch Icon
Tier 6: Secret Emote
Tier 7: TFT Arena Skin (Rift Arena)
Tier 8: Tier 3 TFT Launch Icon
Tier 9: Tier 4 TFT Launch Icon
Starter Little Legend Egg
You get your choice of one of the following. It will be a tier one Little Legend. Each of them have three tiers, and can be upgraded if you open one of the same type and style in another egg. Learn more about Little Legends with our guide.
Arena Skin Rewards
TFT Icons