The Tears of Themis Choco Them All!! is a Valentine's Day event that runs from February 11, 2023, to February 24, 2023, and is open to all attorneys. This event takes place on the official Tears of Themis Discord channel, and rewards are distributed in a giveaway format.
How to join the Tears of Themis Choco Them All!! Discord event
Join the official Tears of Themis Discord server and head to the choco-instructions channel. You'll see a message from DAVIS inviting you to play the event and the buttons Begin and Chocodex. Clicking Begin will start a round, while Chocodex will reveal all your collected illustrations.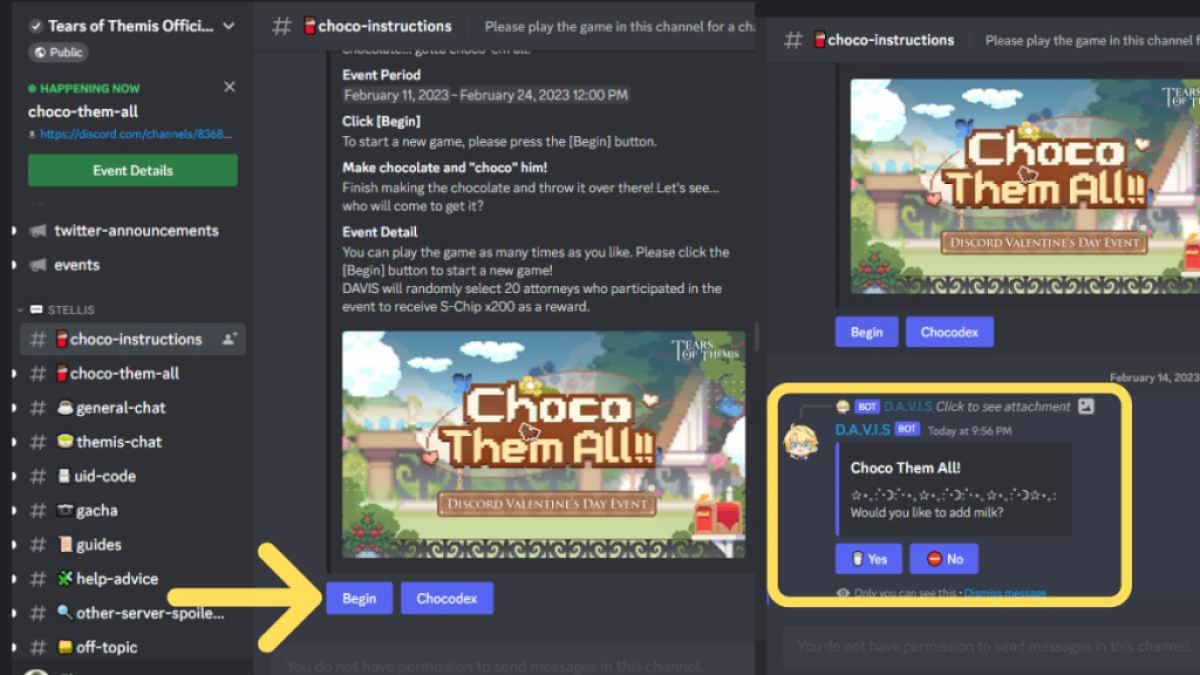 Related: Tears of Themis Cozy Couple's Getaway I event guide
Upon starting, a small prompt from DAVIS will appear, asking you to answer a series of questions related to chocolate-making ingredients. Every answer you make will lead toward a specific illustration, and your goal is to collect them all. Follow the dialogue branches below to get all of the illustrations and complete the Chocodex.
Yes

A lot

Logic - Marius ~Lili DU-Dada~
Empathy - Marius ~On Your Way~
Intuition - Marius ~Coffee Break~

A little

Logic - Luke ~Always Wanted A Snowman~
Empathy - Luke ~Hot Dango Days~
Intuition - Luke ~Popping Ballons~

No

A lot

Logic - Vyn ~Lovely Pokers~
Empathy - Vyn ~No Tardiness Allowed~
Intuition - Vyn ~Crispy Tempura~

A little

Logic - Artem ~Marry Go Round~
Empathy - Artem ~Get It From The Books~
Intuition - Artem ~Ready For Our Date?~
You can post your results and Chocodex in the #choco-them-all channel. Tears of Themis will be picking 20 lucky players who participated in the event to win x200 S-Chips each. Participants will most likely be contacted via Discord, so keep your DMs open for communication from DAVIS.
Check out our Tears of Themis Butterfly Kisses MR event guide here on Pro Game Guides to participate in another ongoing Valentine's Day event.