Terraria is a massive game with tons to do. If you don't pay attention, you could easily end up dead, and if playing on a difficulty where all your inventory drops, well, it's going to be hard to get that back! We advise more health!
How to get life fruit in Terraria
To get Life Fruit in Terraria, you must have progressed through a fair bit, to where you have defeated one of the Mechanical Bosses in the game. After one of these has been slaughtered, Life Fruit will start growing in the Underground Jungle Biome. Upon picking up a Life Fruit, it will increase your maximum health by 5.
Life Fruits are essential if playing the game on a harder difficulty, as they permanently increase your health by 5. However, they are a few requirements to make them start to appear and to pick them up. As we stated above, first off, one of the Mechanical Bosses have to be defeated; this could be either one of the three. Upon their defeat, Life Fruit will start to spawn in your world in the Underground Jungle. This is quite a dangerous place on Hardmode, so be fully equipped before venturing forth.
To be able to use a Life Fruit, you also must have 400 health. This is the maximum about of health you can achieve before using the Life Fruit. If you do not have max health, then you'll be able to pick up the Life Fruit but not use it. Heart Crystals are scattered across the map and are fairly easy to find. If you have explored a lot of your world, then you'll easily come across them.
---
Related: Terraria: How to get NPCs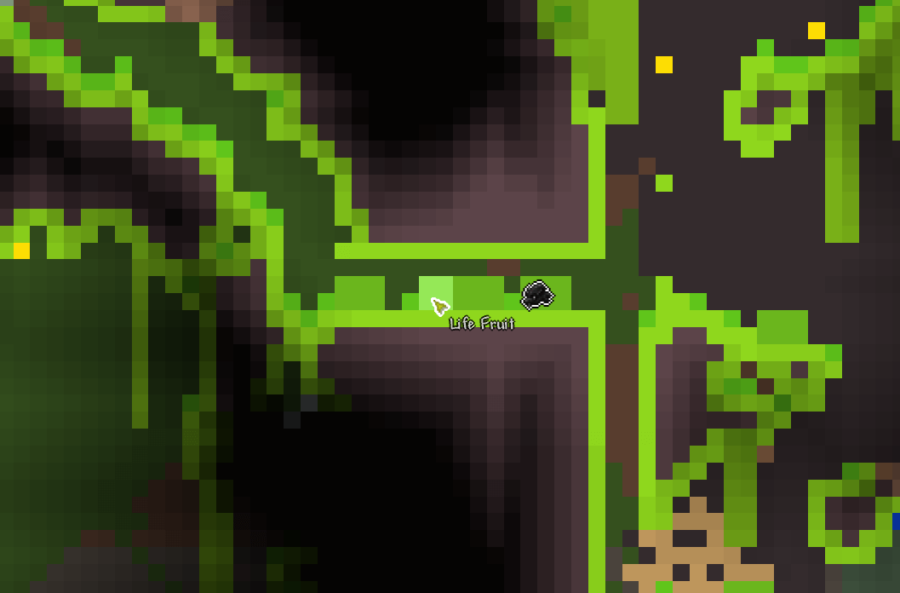 On your map, Life Fruit does appear; however, as they are in the Jungle Biome, they are exceptionally hard to see. They do show up as a lighter shade of green. Upon using a Life Fruit, one of your Hearts will turn Golden, and you'll have an extra 5 maximum health. This can be done a matter of 20 times to get a total increase of 100 maximum health. Not too, shabby!
It helps if you use a Spelunker Potion, as these will cause important items to glow as long as they are on your screen. This makes it so much easier to find the items you need, whether it's a Heart Crystal or a Life Fruit.
If you have hunted high and low for Life Fruit and can't seem to find any. You can make an Artificial Underground Jungle Farm, where you can follow this incredibly handy guide.
For more Terraria guides, we have you covered. If you are just getting started on your adventure, how about how to make a bed or how to fish in lava?