Ariel in Total War Warhammer 2 is a legendary hero for The Sisters of Twilight faction; however, to get her, you will need to do a bit of leg work that involves a magical forest.
How to awaken Ariel in Warhammer Total War 2
To get Ariel in Total War Warhammer 2, you must heal The Witchwood Tree to 100 health; to heal the Witchwood, you will need to destroy hostile armies, win battles, either take over or raze enemy faction heathland settlements.
Along with this, completing the occasional mission and destroying invasion armies will also give you HP to healing the Witchwood tree. Once you reach 100 health, you can then do the ritual of rebirth by hovering the cursor over Witchwood and clicking the purple icon shown below.
However, you have a long way to go before you will be anywhere near this point, so follow the steps below on how to farm HP to heal the tree.
The first thing you are going to want to do if playing the vortex campaign is to start by taking out the nearby broken teeth settlements; along with this, when you capture them, make sure to choose the raze option. You will want to do this because razing heathland settlements gives the most HP to healing the magic tree, along with a buff of +1 HP for every turn.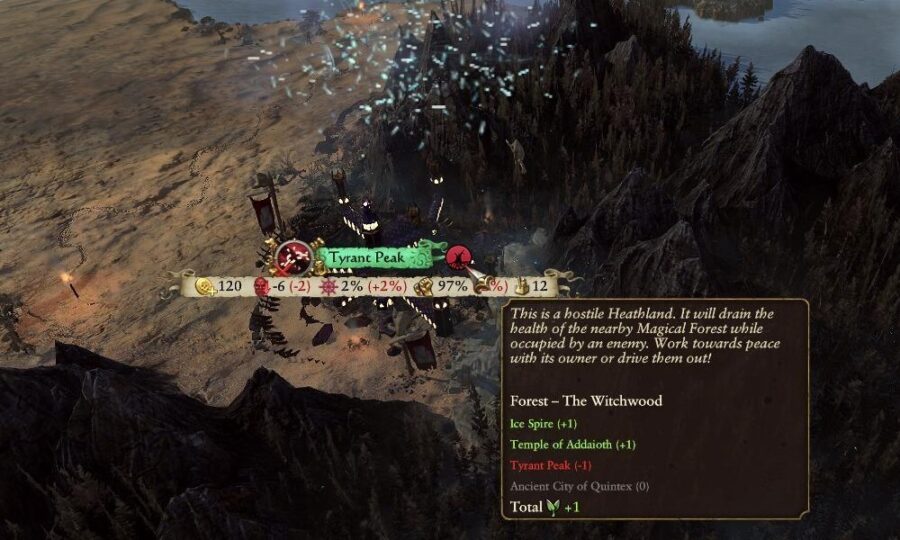 That said, it would also be a good idea to claim all heathland settlements to gain this buff; you can tell if a settlement is a heathland by the green name bar. These settlements also give a buff of +1 to healing the tree as long as you or an ally owns them; if a hostile faction is in control, you will gain -1 HP. The following are all settlements you need to take that are near The Witchwood.
Temple of Addaioth
Ice Spire
Ancient City of Quintex
Tyrant Peak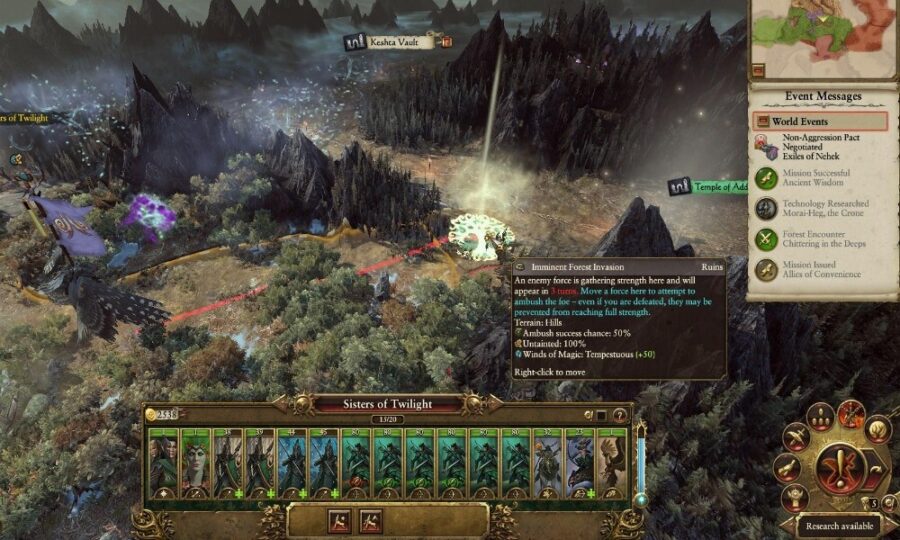 Moving on, in between raising armies to take settlements, you will want to complete side objectives and fight and destroy forest invasions. Along with this, you can also visit some of the other magical tree locations to heal them with the same methods, which will help heal The Witchwood. Keep at, and once you hit 100 HP, Ariel will spawn next to the Sisters of Twilight.
For more on Total War Warhammer, we at PGG got you covered with guides TW2 and the upcoming Total War Warhammer 3. For the third game, we recommend checking out both All Races in Warhammer Total War 3 – Confirmed & Non-confirmed races and All Factions in Warhammer Total War 3.