Ruins are dungeon-like areas that look like triangular spacecrafts. Upon approaching one, you can choose from three game modes: Easy, Normal, and Hard. The game will also provide a recommended CS to enter each mode to ensure you're amply prepared. Ruins contain a mix of battles, puzzles, and exploration mechanics. Most importantly, a Chest Counter will appear on the upper left of the screen upon entering so you can keep track of what treasures have yet to be claimed.
There are three Ruins in Astra: A-01, A-02, and A-03. The Main Story will introduce you to A-01 and will prompt you to complete it, but the other two are up to you to find.
Related: How to get and use a Mighty Mushroom in Tower of Fantasy
Where are Ruins located in Astra in Tower of Fantasy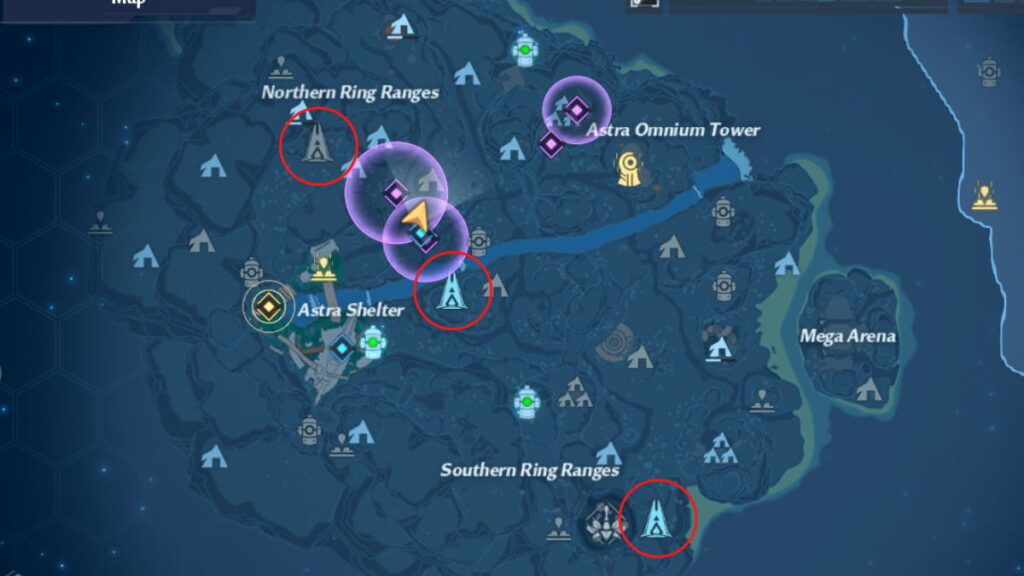 You can easily find Ruins anywhere in the game by looking for cathedral-like icons in the World Map. Reference the areas with a red circle to find the Ruins in Astra.
A-01—east of Astra Shelter
A-02—Sothern Ring Ranges
A-03—Northern Ring Ranges
Approach a Ruin to prompt a window to appear on the upper right, where you can choose the difficulty level before entering. Keep in mind that you can only claim rewards from a Ruin once.
Check out our guide on Can you replay Ruins in Tower of Fantasy? to learn more about how to explore these dungeon-like structures.