Tower of Fantasy is filled with stuff to do. Its shared open world allows players to explore the world freely, battle monsters, solve puzzles, and complete quests. One tool that will help you are your Relics. These are varied gear with unique abilities, which can also be advanced and upgraded. This may leave you wondering how to advance your Relics in Tower of Fantasy.
How to upgrade Relics in Tower of Fantasy
To advance and upgrade your Relics in Tower of Fantasy, you must use Relic Shards. These can be obtained from SR or SSR Relic Shard Boxes. You must have the matching shards for the Relic you want to upgrade. For example, to upgrade the Colossus Arms Relic, you must have Colossus Arms Shards.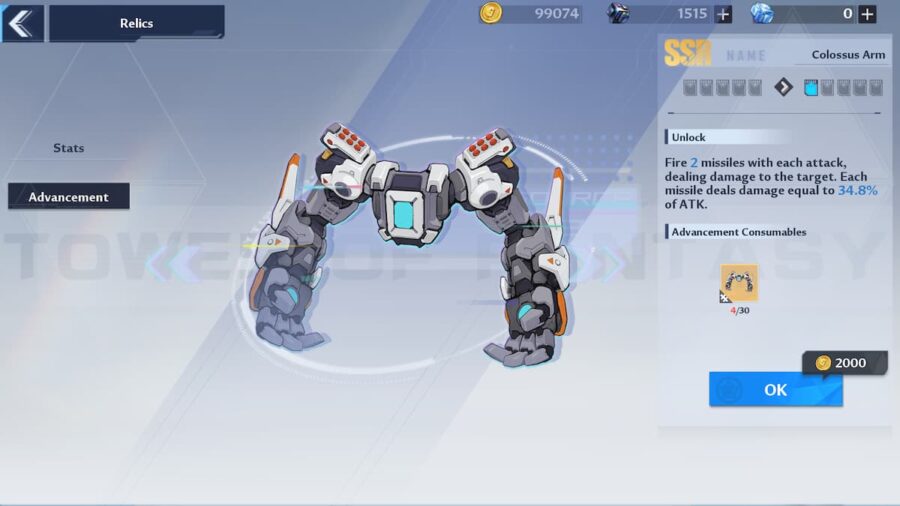 When you are ready to advance your Relic, open the Relic menu and select the one to upgrade. Go to the Advancement page, and you will see the number of Shards and gold needed to upgrade that Relic.
It will take a large number to advance your Relics. This number increases as you advance your Relic to the next stage, meaning you will need quite a lot of Shards to upgrade all of your Relics. Therefore, you should collect Shards for the specific Relics you want to upgrade rather than trying to advance them all at once.
For more information on Tower of Fantasy, check out How to get Cybernetic Arm/Grappling Hook in Tower of Fantasy and Should you immerse yourself into Claire's Dream Machine in Tower of Fantasy? on Pro Game Guides.