Red Nucleus is a special currency in Tower of Fantasy, used to pull characters from the limited banner. Most players will want to focus their resources on this banner, as it offers a 50 percent chance of getting the featured character at pity and a guaranteed featured character with a little more persistence. With that said, here's how to farm this important resource in the game.
All ways to get Red Nucleus in Tower of Fantasy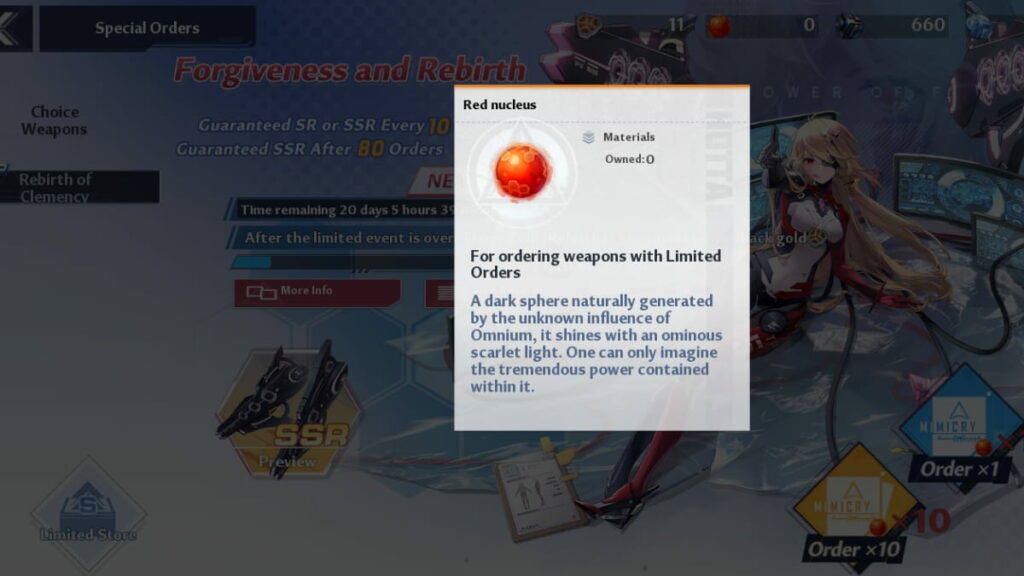 Exchange Dark Crystals
Dark Crystals are currencies that can be obtained by completing Achievements, Missions, and other exploration objectives. You can access the Shop menu on the upper right corner of the screen and exchange 150 Dark Crystals for one Red Nucleus under the HOT category. Alternatively, you can directly use Dark Crystals in the limited banner and will be charged based on the same exchange rate.
It's important to know that Dark Crystals can also be exchanged for Gold Nucleus, so we highly recommend using Dark Crystals directly in the limited banner to prevent accidentally purchasing the wrong type of Nucleus.
Related: Is the Monthly Pass worth buying in Tower of Fantasy?
Purchase from Shop
Apart from exchanging Dark Crystals, you can also purchase gift packs containing Red Nuclei using Tanium in the Shop. Tanium can only be obtained by spending real-life money, so this is unfortunately not a free-to-play option.
Participate in events
Red Nuclei are often distributed in Tower of Fantasy CN events, so it's likely for the global server to get the same treatment. So, if you remain active in the game, you can eventually save up enough of this currency to guarantee weapons and Simulacra from the limited banner.
Check out our guide on How does the pity system work in Tower of Fantasy? to learn more about how to optimize your limited banner pulls.