Trek to Yomi is an action-packed side-scroller that tells the tale of a young Samurai named Hiroki. Naturally, the game itself has four endings, three of which can be earned just from making a choice in Chapter 6. The fourth, however, can be achieved in Chapter 3, though it does involve beating a main boss on the first attempt. Failure to do so will continue the story and scratch out the hidden ending.
Which Path to Select in Trek to Yomi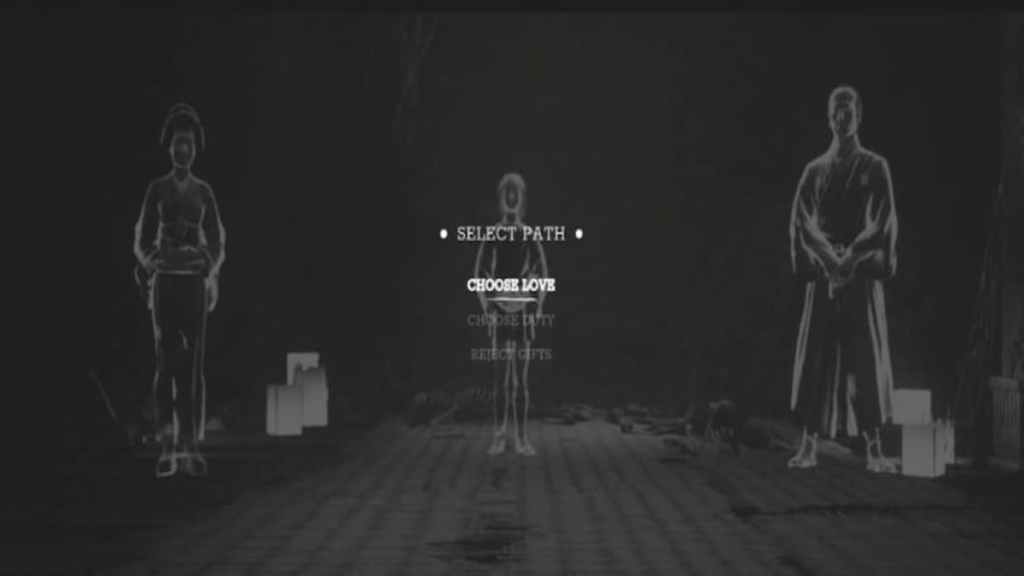 Once you reach Chapter 6, you will receive a prompt box informing you that three paths have become available. These three paths—Love, Duty, and Gifts—determine the ending.
Path of Love Ending
The Path of Love ending can very much be considered the good ending, as it sees Hiroki return to his dearly beloved Akio. To get this ending, simply select Choose Love when given the choice.
Path of Duty Ending
The Path of Duty ending sees Hiroki return to the land of the living to reunite and lead his people. In return, he is forced to leave Akio in Yomi. To unlock this ending, just select Choose Duty when prompted.
Related: Is Trek to Yomi coming to Game Pass?
Reject Gifts Ending
If you choose to Reject Gifts, then you will unlock the bad ending. In this ending, Hiroki will take over as warlord and discard the love of his life and his people. To unlock this ending, just hit the Reject Gifts option.
Secret Ending
In Chapter 3, you will have the opportunity to face the bandit warlord Kagerou. To continue the story, you will need to accept defeat. But, if you're able to turn the tide and defeat the boss, then you will get an early ending and pop the achievement Early End.
Trek to Yomi Length
Trek to Yomi isn't long by any means and can actually be beaten in under four hours. Depending on your play style, you should be able to complete the main story and mop up all of the achievements in less than five hours total.
If you're interested in Game Pass content, then be sure to check out 10 Best RPGs on Xbox Game Pass right here on Pro Game Guides.