Tribes of Midgard is a hybrid of the Action Role-Playing game genre and survival crafting genes with elements of rogue-lite titles. In the game, players take on the role of Viking warriors who must protect both a village and their giant tree from hordes of monsters and giant creatures called Jotuns.
To not face utter destruction, you will need to gather resources, slay monsters, and farm a resource called souls, which is the fuel that runs nearly every aspect of the game. Want to craft? Want to upgrade your weapons and armor? How about healing that big old tree? All of it needs souls, and because of it, players will be faced with a life and death struggle to gather enough souls to build their characters up to survive.
The best parts of the gameplay are the combat, crafting, and resource gathering systems. Combat is excellent and feels satisfying to play around with. Everything from weapons to skills feels impressive and functions well—it can actually become pretty addicting to just run around and kill monsters.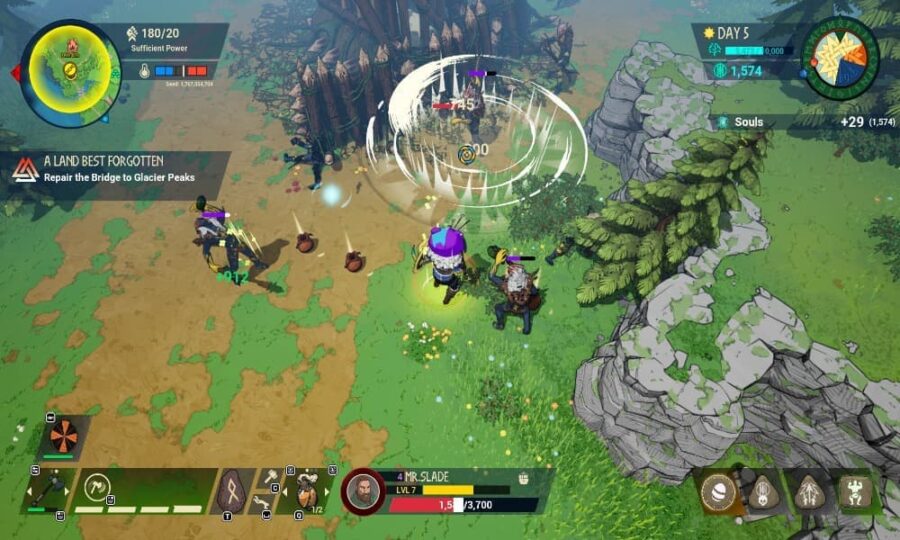 The resource systems are highly satisfying while also being straightforward to understand. Crafting in the game feels in-depth, and when you successfully gather enough materials to make powerful armor, they feel like actual accomplishments. The same goes for the horde and tower defense-like battles that play out over every night. These battles not only provide decent challenging gameplay, but a highly addicting loop that will keep you hooked hours on end.
There are some things that can be tiresome in the game. One is that it can become really easy to get stuck in specific environments in the game, cliffs, for example. It's easy to get unstuck if you use the command located in the options menu, but this will kill your character and cause you to lose any souls you have.
This can be a very annoying and frustrating situation, especially if you have many souls, as you lose all of them on death, which is another thing I dislike. In short, I feel losing all souls on death can and might be a little offputting to some players, especially since bugs can cause some deaths.
Pros and Cons of Playing Tribes of Midgard
| Pros | Cons |
| --- | --- |
| Highly satisfying combat systems and character skills | Some annoying bugs that can get you stuck |
| Rewarding but straightforward resource systems | Loss of all souls can be a little harsh |
| Excellent horde and town defense gameplay | A bit of a rush to start in the game |
| In-depth Crafting System | Can be a little unclear on how to get season pass rewards |
| Addicting gameplay loops | Far too easy to get stuck and die because of bugs |
| Solid Class Systems | Game can feel too rushy and doesn't give you enough time to explore the world |
| Boss fights are satisfying and challenging | Random characters on start is a little weird, but easy to change. |
| | |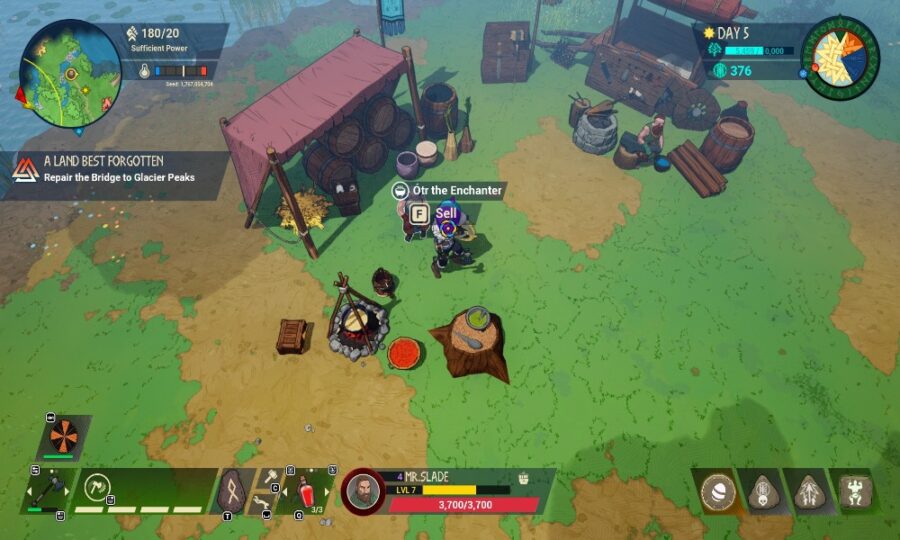 Verdict - We Recommend
If you are in the market for a decent and highly enjoyable ARPG-esque game, then Tribes of Midgard is the game for you. In fact, Tribes of Midgard is probably the best dam ARPG I have played since Scared Two and Grim Dawn. That said, from combat to looting and crafting, there is nothing but fun and enjoyment to be found.
Tribes of Midgard is fun and addicting, and its systems are balanced with some issues but still work in conjunction with each other like a well-oiled machine. Because of this, Tribes of Midgard manages to fill the void that can scratch the itch of ARPG, Survival, and rogue-lite genres all in a neat package.