I always wondered what it would be like to prepare for the zombie apocalypse, and while playing Unturned, I found out! Gathering resources to fight the hordes of undead can be a tiring job, and this is how I felt at some point while playing this game. I was looking forward to just slaying zombies and didn't want to go through some of the tediousness that often comes along with games like this, so these cheats helped alleviate some of those issues.
Unturned only has a few cheats, and I found out that most of them are ways that I can spawn or bring items into the game via console commands. There are a couple of things I could do that are actual cheats, which are to teleport, give myself experience, or change the time of day. Keep in mind that you can only use these if you are playing single-player or you are the admin of the server you are logged into! If you like this title, check out Dead by Daylight Codes.
Unturned Cheats List
Each cheat can be used with either a forward slash (/) or the at symbol (@). It doesn't matter which you use, so use whichever one makes it easier for you to enter them. You will need to use one of these commands and then enter an ID or something else along with it. I've added brackets and what you need to add to the cheat, but you do NOT add the brackets or what's inside them when you are actually entering the code.
Here's a look at a full cheats list for Unturned:
/give [ID]
/vehicle [ID]
/animal [ID]
/teleport [LOCATION]
/experience [#]
/day
/night

/time  [#]
You can use the above list as a quick reference to what cheats are available. To find the ID of a certain item, you should go to this site. I'm going to explain a bit more about what each of them does below.
Give
The Give command will give you an item based on the ID you enter. If you want more than one of the items, you will do this: [ID/AMOUNT]. ID is the number that represents the item you want, and the amount is how many of it you want. You need to have the forward slash between the two numbers.
Example: /give 474/2

Gives me two Maple Rifles.
Vehicle
Spawns a vehicle at your location.
Example: /vehicle 2

Spawns a Blue Offroader to my location.
Animal
Spawns an animal at your location.
Example: /animal 3

Spawns a Wolf to my location.
Teleport
It will teleport you to a specific named location. You can check out all of the town names by opening up the map. You can also teleport yourself to your way-point.
Example: /teleport [TOWN NAME]

Teleports you to whatever town you enter.

Example: /teleport WP

Teleports you to your way-point.
Experience
Gives you the amount of experience you enter.
Example: /experience 1000

Gives you 1,000 experience.
Day, Night, or Time
Will change the time from day, night, or some specific time.
Example: /day
Example: /night
Example: /time 200
Related: Dead by Daylight Codes
How to Use Cheats in Unturned
Follow the steps below to enable cheats in Unturned: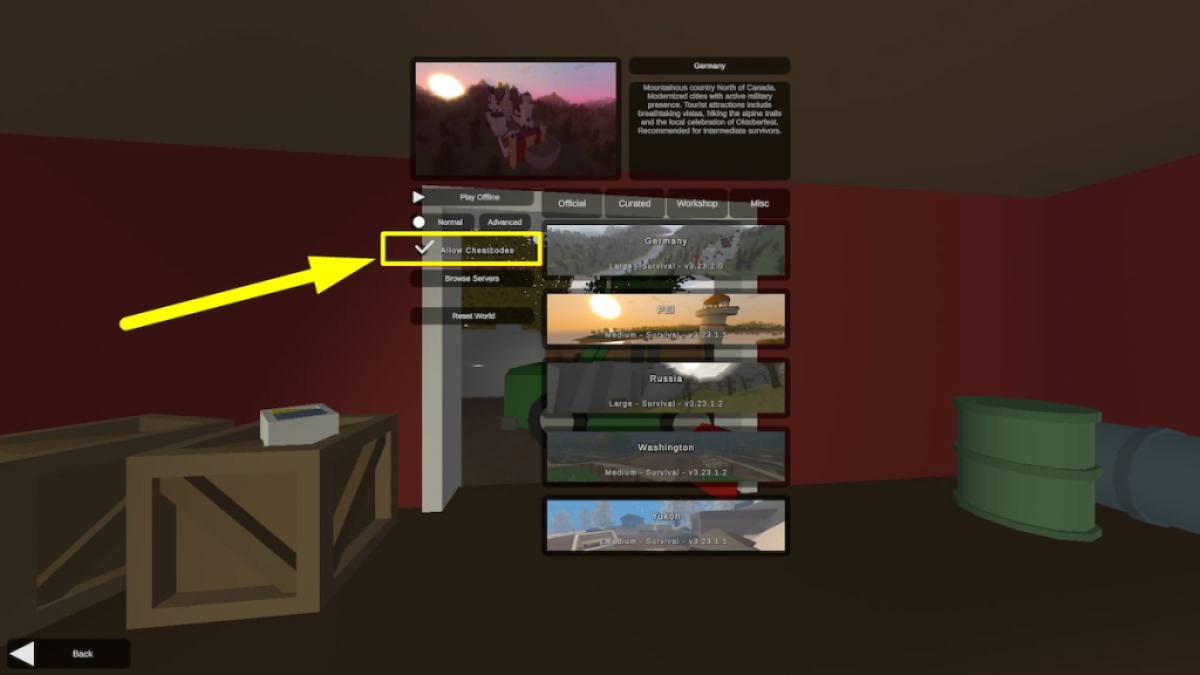 Launch Unturned on your device.
select the Single Player option in the main menu.
Make sure to have a checkmark next to the Allow Cheat Codes option.
Hit the Play Offline button and jump into the game.
Press the J key to open the chat box that allows you to enter whatever code you want to use from below.
Press Enter to confirm.
If you're looking for more codes for your favorite games, we have plenty in our General Game Codes section; make sure to take a look and see what you like!