Before you can fight the Spirit Sovereign, you will first need to battle its subjects: the four spirits that protected the isles for decades. Some of the most difficult to beat are the Ivory and Azure Spirits. After all, you're forced to use the Ivory/Azure maidens and guardians. You can't cheese the battle using the protagonist.
It'll take some patience and strategizing, but the Ivory and Azure Spirit are beatable. Below are some tips.
Know your party members' capabilities
The first step is to be aware of what Phila, Hyd, Lanca, and Crym can do. Here's a quick rundown:
Phila: Single-target heal, High single attack
Hyd: Attack debuff, Deadly poison
Lanca: Fixed 12 Light damage, Team move that restores HP and casts regen on entire team
Crym: +two gems, Party-wide heal, Team move that inflicts Attack debuff
Ignore all other skills; these are all you need.
Bring items
It's the end of the game and you have a lot of money. Use it to purchase items. These are the four you want with you during the final battle:
Supreme Salves
Quality Omnisalves
Panaceas
Omni Panaceas
The Salves are there for emergency healing. Landa, Phila, and Hyd can throw them when the party's HPs are low.
Related: Best weapon and armor locations in Voice of Cards: The Forsaken Maiden
Meanwhile, the Panaceas will save your life. The Azure Spirit has a skill that will cast water resistance down on the entire party, which could prove fatal in the next three turns. It can also cast Freeze, which is worse. Freeze will force them to skip a turn until they're attacked, and when they are attacked, the damage inflicted will be multiplied by two.
Kill the Azure Spirit first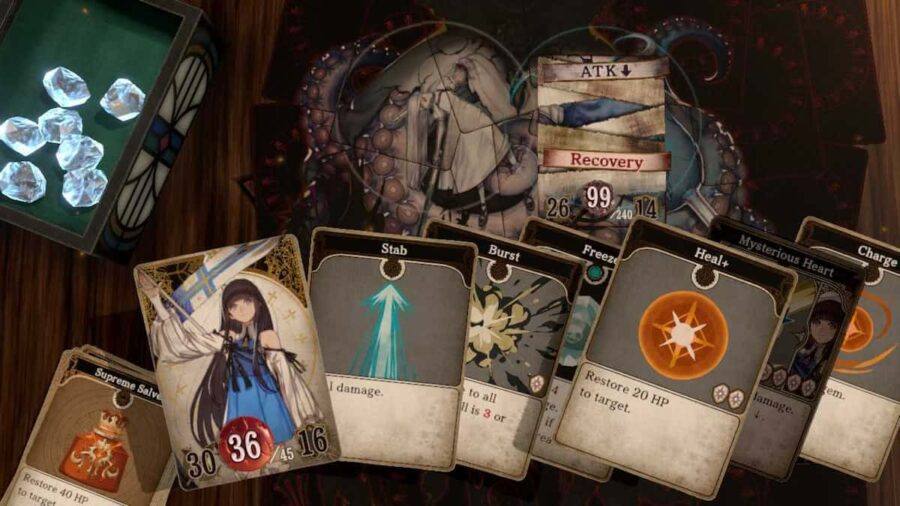 The Azure Spirit has lower defenses, higher Attack, and, as mentioned, awful skills. You need to get rid of it first. Never mind the recovery skill it casts, as it only procs every ten turns. Phila and Hyd can do most of the attacking for you, but you can also use Lanca's White Sphere for Happenstance turns where everyone's defenses are buffed.
If you're using Phila and Hyd to attack, just use the normal, no-gem attack card. You need to save gems for healing and other skills.
Keep their attacks low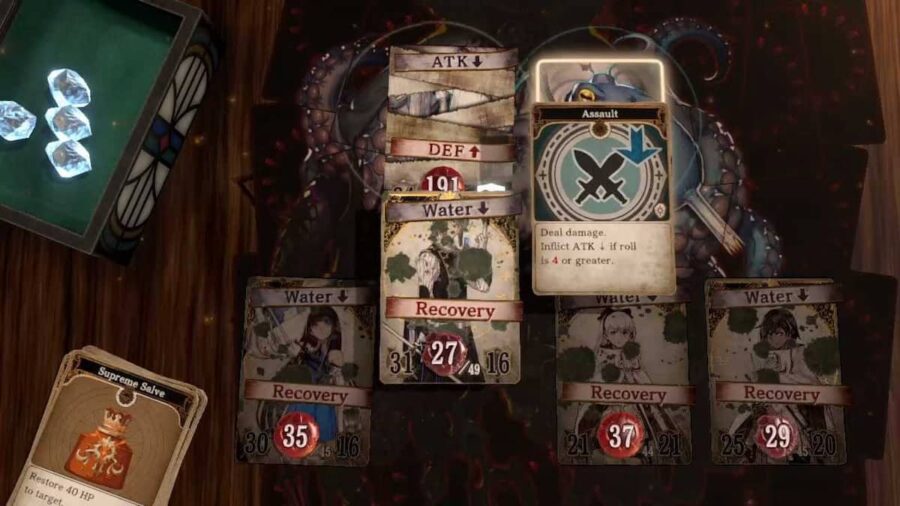 Nobody in your team can cast defense buffs, and healing every turn is not practical. Thus, you have no choice but to keep the Ivory and Azure Spirits' attacks low. Hyd is the best man for the job, but you can also use Lanca and Cyrm's Force Edge if you have enough gems.
Speaking of gems, they should be generated by Crym whenever she has a "free turn" (or, turns where she doesn't have to heal). Use Contemplate. If Lanca has a free turn, have her generate a gem as well.
Where there is only one of them left, you can have Hyd use Fatal Sign instead of Assault, which inflicts deadly poison. This skill will let you end the battle faster.
And that's all you need to know, really. Just don't rush the battle!
For more help with Voice of Cards: The Forsaken Maiden, Pro Game Guides has you covered.