After you have defeated the spirts of the four isles, it's time for you to confront Lac, the so-called Spirit Sovereign. If the 500 HP isn't enough to throw you off your game, it also loves inflicting party-wide status effects and heavy damage. The Spirit Sovereign can wipe out party members in one to two hits.
You can use any maiden-attendant duo for this battle. All of them are pretty great, though we'd argue that the best ones to take with you are either the Azures (Phila and Hyd) or the Ivories (Lanca and Crym). Lanca and Crym together make for a full-on defensive/support team, while Phila and Hyd can provide some support while dealing moderate damage.
What these two teams have in common (and effective), however, are an attack debuff skill and heal skills. Defeating the Spirit Sovereign will be much easier with both.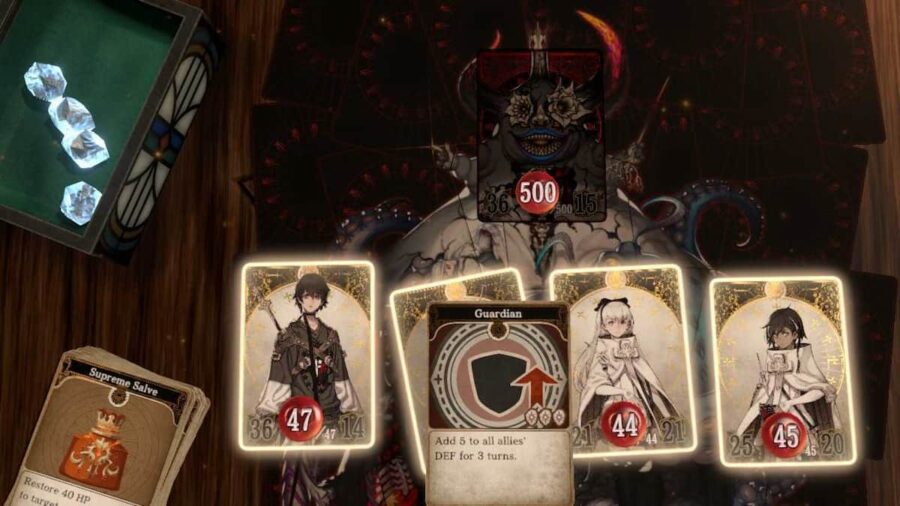 Given that pretext, below are key strategies to keep in mind:
Use Laty's Guardian skill every three turns to keep your defenses up (Lac will potentially one-kit KO you otherwise)
Have Hyd or Crym use Assault or Force Edge to lower the enemy's attack every three turns
Keep your HP up with heals from Phila or Crym
Use Omnipanaceas to remove all status effects when inflicted on the team
Then, use the protagonist's Air Thrust skill to deal heavy damage without wasting too many gems. If Laty has a free turn, have her use Sharpen on the protagonist to increase his damage output. If you're with the Azure team, Phila can use also normal attacks that Laty can buff.
Related: Best weapon and armor locations in Voice of Cards: The Forsaken Maiden
Moreover, Laty or the protagonist should have Double Heal equipped, just so you have a party-wide heal that can restore a lot of of HP in case of an emergency. Otherwise, stock up on Quality Omnisalves. Plus, if you're using the Ivory, Crym should always use Contemplate when there's nothing for her to do. You'll need all the gems you can get.
And that's all you need to know. Just remember to never rush the battle!
For more help with Voice of Cards: The Forsaken Maiden, Pro Game Guides has you covered.