The Heavy Stubber is an LMG that can be wielded by Ogryn in Warhammer 40k Darktide. The Heavy Stubber has a very high rate of fire and can mow down hordes quickly. Ogryn can take a lot of damage and dish it back out just as much. Equipping the Heavy Stubber can give you the firepower you need to hold down a line and take out many enemies, but how can you unlock the Heavy Stubber in Warhammer 40k Darktide?
The Heavy Stubber unlocks for Ogryn at Level 9. After the Heavy Stubber is unlocked, it can be purchased for gold at the Armory Exchange. As of now, there is only one Heavy Stubber available, the Krourk Mk V Twin-Linked Heavy Stubber.
Related: What are Infested Enemies in Warhammer 40K Darktide?
The Krourk MK V Twin-Linked Heavy Stubber has a high magazine capacity, but the ammo reserves can be pretty low, so you will need to grab some ammo during matches. It also has a reload time of seven seconds, so make sure you are clear of any enemies when reloading.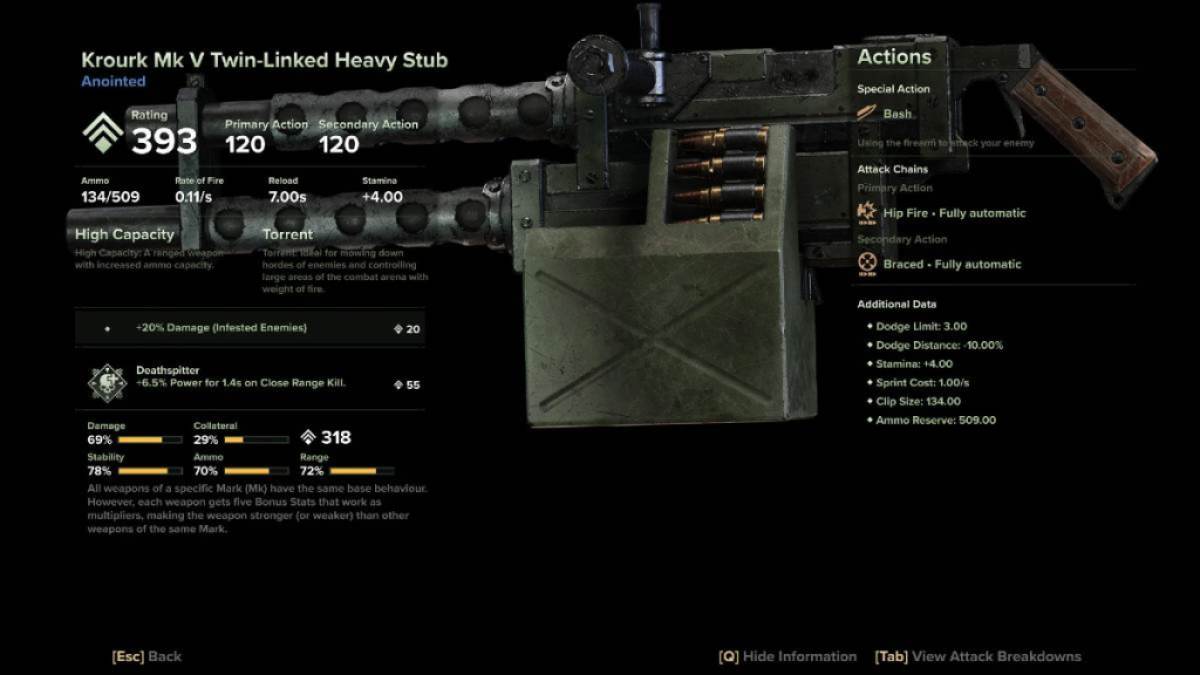 The Heavy Stubber can also come with seven different traits, which can make the Ogryn weapon much more powerful in certain situations. Here are the traits that can be on the Heavy Stubber:
Blaze Away: Up to +2% Power based on how long you keep shooting.
Ceaseless Barrage: Continuous firing increases Suppression over time.
Charmed Reload: +8 Bullets loaded on Critical Hit.
Deathspitter: +5-6.5% Power for 1-1.375 seconds on Close Range Kill.
Dumdum: +1-2.5% Close Range damage on Repeated Hit. Stacks 5 times.
Inspiring Barrage: Repenlish 10% Toughness over time during Continuous Fire. Stacks up to 5 times.
Roaring Advance: 5-15% Movement Speed while firing.
All traits can improve your weapon, but some will be more effective based on what playstyle you use. If you like to utilize Ogryn to get in close and tank damage, Dumdum, Deathsplitter, and Inspiring Barrage will help you maintain Toughness and take out hordes and special enemies that try to get up close. If you like picking off enemies and focusing fire on special enemies further away, Blaze Away, Ceaseless Barrage, and Charmed Reload will give you boosts to damage while continuously firing and reloading.
For more on Warhammer 40k Darktide, check out What are Grimoires, and how to find them in Warhammer 40k Darktide? here on Pro Game Guides.