In Apex Legends Mobile, players can unlock various badges as they progress through the ranks in Battle Royale matches. Rapid Elimination and Assassin are two of the most sought-after badges that can be unlocked for every Legend, and you can acquire them by playing the Ranked Battle Royale mode. Both of these badges can be equipped to your profile, and here's how players can unlock them in Apex Legends Mobile.
How to unlock the Assassin badge in Apex Legends Mobile
The Assassin badge can be unlocked with any Legend, and for this, players will have to be Silver or higher in Ranked Battle Royale. There are four stages for this badge: Assassin I, II, III, and IV. Players will have to secure at least five kills in 5 | 15 | 50 | 100 Ranked Battle Royale matches to acquire it. In simple terms, to get Assassin I, players will have to get five kills in five different matches. Similarly, to get Assassin II, you need to play 15 games with five kills or higher. We recommend landing at hot-drop locations to easily get five or more kills in Ranked Battle Royale matches.
How to unlock the Rapid Eliminations badge in Apex Legends Mobile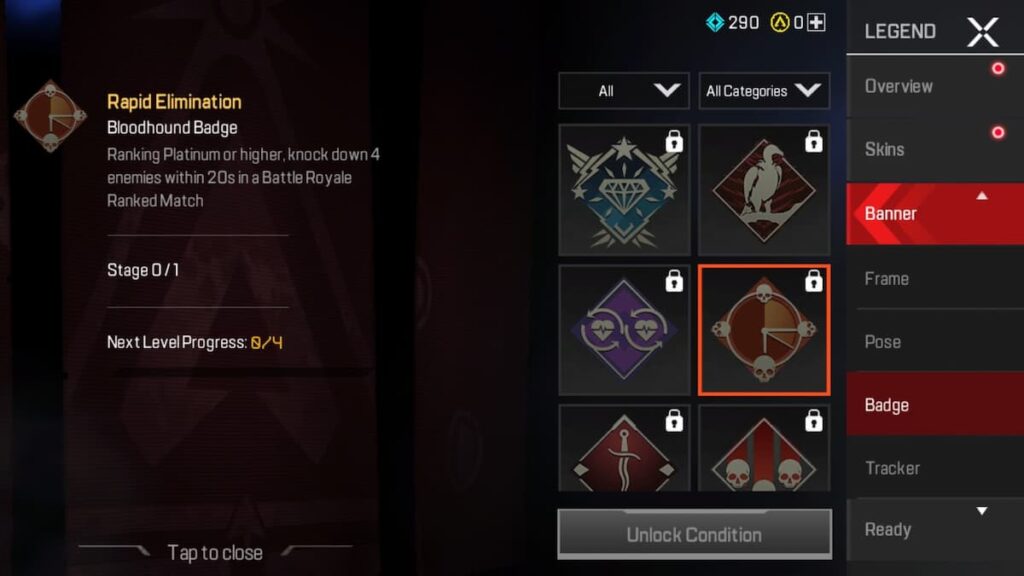 The Rapid Eliminations badge is tougher to acquire, and for this, players will need to be at least Platinum in Apex Legends Ranked Battle Royale. To unlock this badge, you have to knock down four opponents within 20 seconds. We recommend landing at hot-drop areas contested by two or more teams. Find a weapon as soon as you land and start cracking shields. It is best to use several throwables to deal more damage within the limited time period. Communicate with your friends to eliminate the knocked opponents while you focus on taking down others swiftly.
For more Apex Legends Mobile content, check out All weapon skins on the Apex Legends Mobile Season 1: Prime Time Battle Pass on Pro Game Guides.