Depending on the character architype chosen by players in Biomutant; the special abilities, or perks assigned to each class, help to excel the character's build in combat style and determines the starting equipment given at the beginning of the game.
Best Biomutant Class Perks
Though a few of these assigned abilities are available for all players in the General Perks, most Class Perks are not available to every class or player. Each class represents a different type of play-style, for those who seek a melee build or for those looking for more of a ranged-style shooter one. With a breakdown of the three perks that players will want to unlock first; here's our list of the best Biomutant Class Perks.
Dead-Eye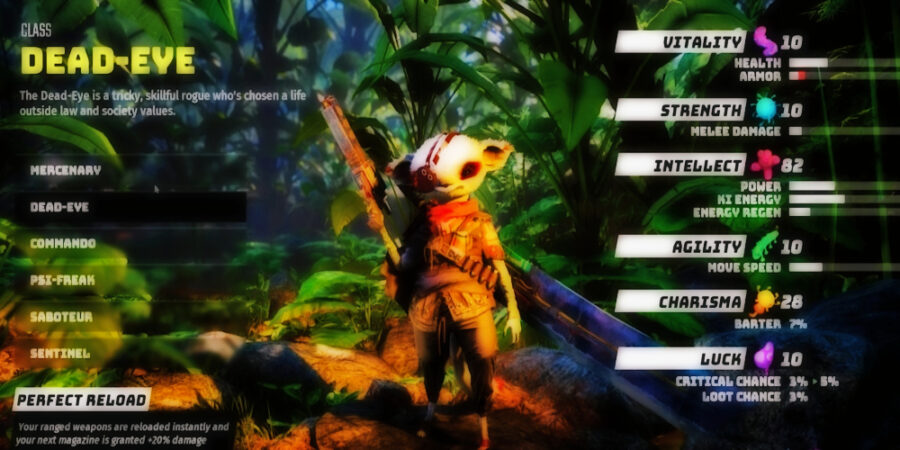 Dead-Eye is the perfect class for a ranged-weapons style build and excels in Non-Automatic Rifles. It's starting perk is Perfect Reload, which is a General Perk that reloads ranged weapons instantly, and grants the next magazine to players with an additional 20% damage attached to it.
Crackshot

Inflicts 20% more attack damage with Non-Automatic Rifles. There are a lot of rifles in the game that are pretty powerful, but lack the attack or fire speed that's known to help deal better damage. Increasing the power to already powerful weapons is a pretty awesome perk for the Dead-Eye class.

Sniper

Gives a 10% Crit chance bonus to Non-automatic Rifles. Sniper is another great perk that adds awesome damage to the Class.

Sharpshooter

Two-handed guns inflicts double the damage. Probably the best class perk in the game; Sharpshooter basically increases players' damage by 100%- It gets no better than that.
Commando
Commando is best for players who like a shooter style build that revolves around dual wielding pistols. It's starting perk is Fury, which inflicts 10% more damage to enemies with ranged weapon attacks.
Stimulus

Increases Armor and damage from Melee attacks by 20%, when Health drops below 20%. Players should not allow their health to get this low, because one hit crucial hit could end it all- but this can happen to even the best of the best. This perk could give players one last shot at defeating an enemy or surviving long enough to evade one.

Shock

Shotgun hits have five percent chance to Stun a small enemy per hit inflicted. This is a great Commando perk that assists players in killing their enemies quicker.

Brutality

Critical Damage from Ranged Attacks increased by 10%. Increased damage with pistols and shotguns is never a bad thing.
Psi-Freak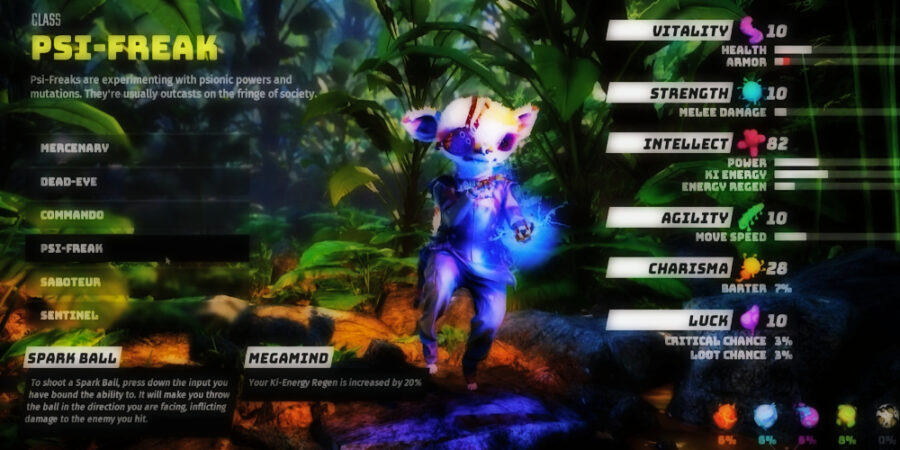 The Psi-Freak Class begins players with the starting perks, Spark Ball and Mega-mind. Spark ball is an ability that allows players to form a ball of energy that will damage the enemy in it's direction, and Mega-Mind gives players a 20% increase to their Ki-Energy; which will be used frequently for this class.
Mind Melt

Power Damage ability attacks have a 10% chance to inflict a Critical hit. Psi-Freak's abilities deal a lot in Ki-Energy and lack a bit in the physical strength aspect of the Class. Any chance that helps in dealing extra damage to enemies is helpful for Psi-Freak's build.

Psi Spikes

Power Damage attacks inflict 10% more damage to the Target. Again, any help with increasing damage dealt to enemies for this class is a good one.

Brain Drain

Attacks that inflict Power Damage regenerates Health by 20%. This perk allows players to gain Health, while killing their enemies.
Related: All Psi-Powers in Biomutant
Saboteur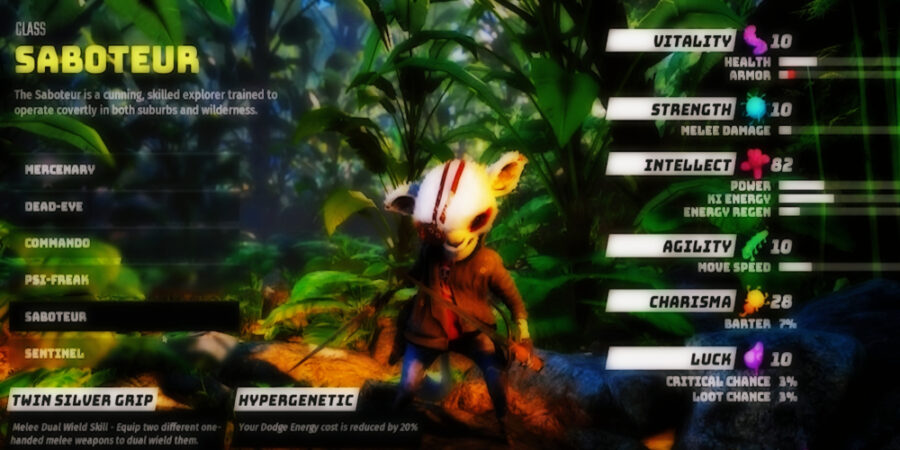 Saboteur's starting perks, Twin Silver Grip allows players to equip two different one handed melee weapons, and is a General Perk that's available for any class. Hypergenetic will reduce players' Dodge Energy by 20%.
Reflexes

Players get a 10% chance to miss Weapon based Ranged attacks from enemies. Any chance to avoid an attack from an enemy is good one.

Agile

Increase Dodge Distance by 20%. Agile assists players in eliminating or evading an enemy.

Evasive

While dodging on the ground or in the air, armor is increased by 20%. A great perk to use during combat, especially against the bigger and strongest enemies.
Sentinel
If a melee build is the style players are looking for, the Sentinel class is the one to choose. It's starting perk is Toughness, which increases players base armor by 10%.
Medic

Health regen from Items is increased by 10%. This is a great for players when using consumables that generate health; it will give players more or the health that is regenerated, outside of combat will regenerate faster.

Ricochet

A weapon ranged attack from an enemy will have a 10% chance to ricochet back and inflict damage the attacker. Ricochet is a great perk that assists players in reflecting ranged attacks.

Invincibility

When a players Health is full, their Armor and damage from Melee attacks is increased by 20%. For a melee-style focused class like Sentinel, this is a fantastic perk to unlock.
Fight enemies with colorful mushrooms, goo bubbles and green slime! Check out our list of the Best Biomutant Abilities and Mutations.