The last objective in the Woeful Wednesday challenge is to kill someone by scaring them to death. To do this, you must choose the Scare to-death murder method after selecting your victim from the Murder section under the Crimes tab.
How to murder someone in BitLife
You can murder someone as soon as you reach high school. Navigate to the Activities tab and find the Crime icon from the long list of options. Inside the Crime menu, click on the Murder option. Now, choose a victim you want to murder. It can be your close annoying friend or the irritating colleague from your office circle. The choice is yours!
Related: How to murder your supervisor in a drive-by in BitLife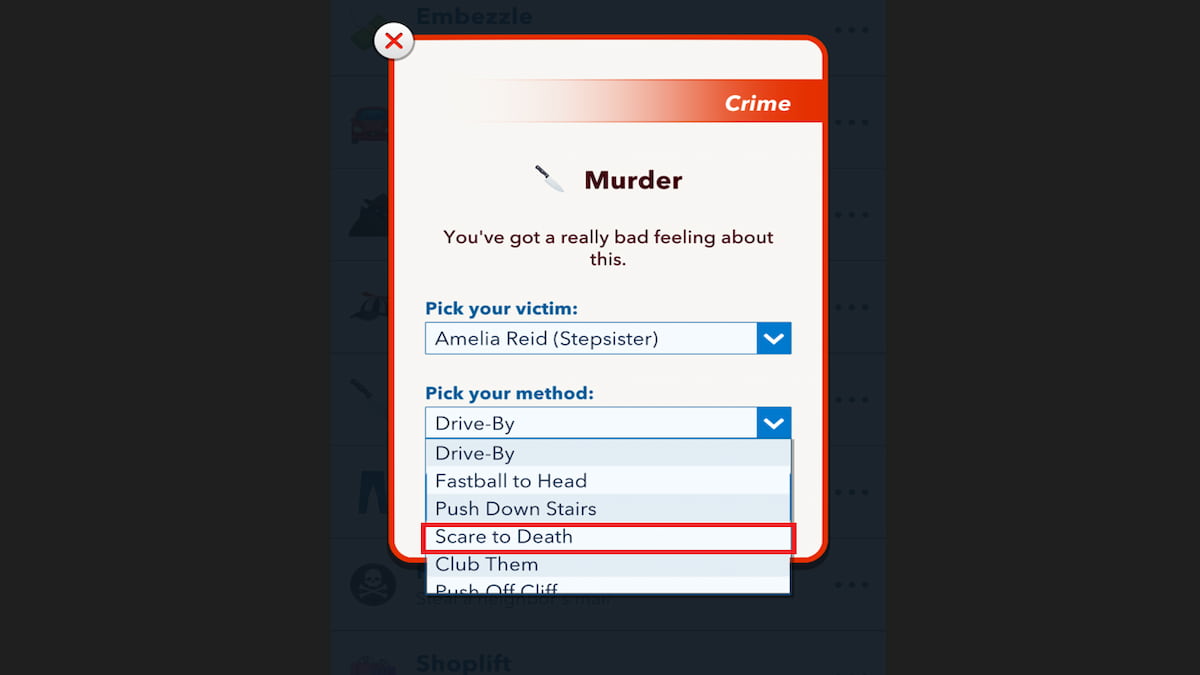 After picking your victim, it's time to select your murder method or technique. Open the drop-down box below the victim's name and choose the Scare to Death option from the list. If you cannot find such a murder technique, age up and revisit the section. Once the method is available, choose it and hit the Murder button to kill the victim. Remember, it's a weak way to kill someone. So, there is a high chance that the target may escape or flee from the scene. Keep trying till you successfully kill the person with the intended technique.
How to get away with murder in BitLife
After killing the victim, there is a high chance of getting arrested by the cops and prosecuted for murder. The best way to get out of this scenario is by hiring the most expensive lawyer during your trial and never accepting guilty for your crime in any situation. With time, your lawyers will fight and turn you innocent.
For more on BitLife, check out How to Commit Murder in Bitlife or How to get away with murder in BitLife on Pro Game Guides.