Our Borderlands 3 Legendary Farming Guide features the fastest methods to grinding out tons of Legendary items! We've got methods for people who have yet to complete the game and want to improve their loadout, and options for players who have completed the game and want to gear out their character.
Borderlands 3 Legendary Farming Guide
Offline Mode Glitch Legendary Farming
In the recent patch a lot of the great loot farms were nerfed heavily. If you want to go back to the days of farming tons of Legendaries off of a few spawns, then you can follow the steps below and they should work as they did before the patch.
Disconnect from the internet (PC just quit out of the game and then disconnect).

Xbox: System > Settings > Network > Network Settings > Go Offline
PlayStation: Settings > Network > Uncheck Connect to Internet
PC: Disable WiFi or unplug your Ethernet cable. There's likely other ways to do this, you just need to disconnect your PC from the internet.

Quite Game & Close the App Fully!
Open the Game
Farm!
Rare Spawn Hunt Week
From October 8th at 9:00 AM PDT to October 15th at 8:59 AM PDT you'll be able to find these rare enemy spawns in their locations 100% of the time! They even have an increased drop rate on their unique legendaries. Check out our Rare Spawn Hunter Week Locations Guide for more information!
Rakkman – Night Flyer, Legendary Pistol
El Dragon Jr – Unleash the Dragon, Legendary Artifact
Road Dog – Redline, Legendary Shotgun
IndoTyrant – Random Customization
Force Troopers – Random Legendary class mods
Demoskaggon – Random Legendary Shield
The Unstoppable – Band of Sytorak, Legendary Shield
Thunk & Sloth – It's Piss, Legendary Grenade Mod
Maxitrillion – The Horizon, Legendary Shotgun
Borman Nates – Psycho Stabber, Legendary Pistol
Princess Tarantella II – Hive, Legendary Rocket Launcher
Mother of Grogans – Random Legendary Artifacts
Red Jabber – Random Legendary Grenade Mod
Urist McEnforcer – Masterwork Crossbow, Legendary Sniper Rifle
No Gear Required Mayhem 3 Troy Boss Farm
If you don't mind using what could be considered a glitch to farm, then this is going to be one of the best end game methods that requires no gear. You can do this in Mayhem 3, and it's a great way to gain some currency as well as weapons. What do you need to do? You fight Troy which is at The Great Vault on Pandora. If you stand in a certain spot and have him charge at you, he will go under the map and basically kill himself giving you all the currency and loot you would have got if you had killed him yourself! This method is a bit tricky, but once you've got it down you can do it quite quickly! I've tested and done it myself a few times, but it's far easier to learn this method with a video:
Do EXACTLY what the video demonstrates and you should be able to pull it off on any platform. It took me a few tries to get it right, but once I followed along exactly as demonstrated it worked fine!
Loot Tink Farming
This is no longer available in the recent patch. However, you can still do it if you play in offline mode! This still works, tested on October 4th, 2019!
Tinks are those little enemies you will face now and again that are small in stature but can pack a wallop if they are a badass version! A Loot Tink is a new addition to Borderlands, but you might be familiar with the concept if you've played any Diablo. That game features something called a Loot Goblin, and they randomly appear on the map occasionally and if you can kill them before they escape, they will drop a whole lot of loot. Unfortunately, in Diablo they are random so you can't reliably farm them. In Borderlands 3, however, you can absolutely farm these because there's a guaranteed location where one will spawn!
The location to find a guaranteed Loot Tink is on Eden-6 at Jakobs Estate. This is not to be confused with Jakobs Manner, which is a different location entirely. You'll eventually reach this area by following the story missions.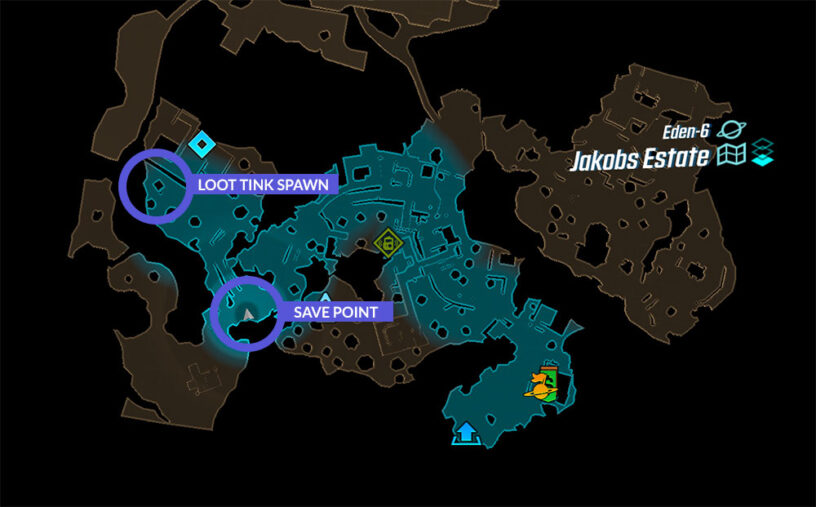 Once you reach this area, make sure to trigger the nearby save point located on the map above. You can then run up to the Loot Tink area and kill it for the loot. An IMPORTANT note about Loot Tinks! Not only do they drop loot when they die, they also drop a backpack of loot that you need to open! It's easy to forget or miss this and reset the game without opening the backpack!
Once you've finished looting, just go back to the main menu and re-enter the game to respawn him! This is a good farm even at level 50 when you can crank up the Mayhem levels for additional loot!
Chupacabratch Farming
This farm along with Captain Traunt are still viable after the nerf! It is recommended you do one and then run over and complete the other. Restart the game and then reverse the order! Repeat as necessary. You can resurrect the previous drop rates in offline mode.
This is a very simple farm that you can do repeatedly and very quickly. I wouldn't necessarily recommend this to you if you haven't gotten to the Mayhem modes yet, because the Loot Tink farm is far more profitable in the earlier stages of the game.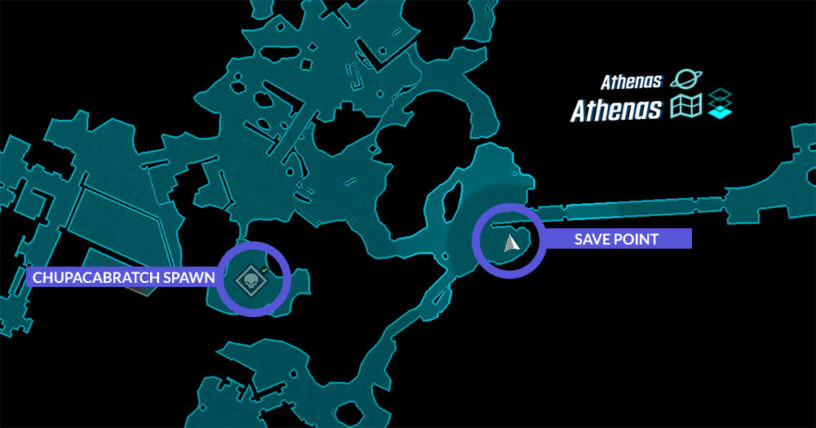 You'll find the Chupacabratch on Athenas. It's pretty much in the middle of the map, and unfortunately there's no vehicle spawns here so you're going to have to run over to the area. There's a nearby save point which you'll want to make sure you grab as located on the map. If you pop the game up into the Mayhem modes, this enemy will pretty much guarantee drop at least one Legendary per kill. If you can get it up to Mayhem 3, then you are likely to get multiple Legendaries each time!
Captain Traunt Farming
Captain Traunt is another popular destination for Legendary farming. This is another one that's better in Mayhem mode, but can be used at lower levels if you just want some items for leveling. He can be found in Athenas across the long bridge.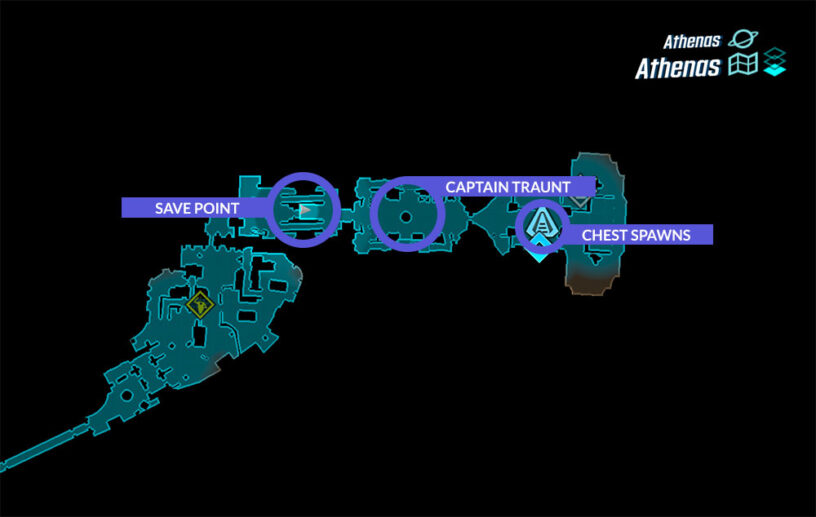 He's relatively easy to kill, but he does resist fire elemental damage. Once you kill him, he has the possibility to drop Legendaries, but there's an additional bonus to this boss. When he dies a room opens up behind him that has three chest spawns. These all have a possibility of giving you a Legendary, especially if you're doing this in Mayhem mode! It's currently debatable about whether or not this farm is better than the previously mentioned Chupacabratch one.
Loot-O-Grams
Loot-O-Grams are drops off of a specific enemy that can be turned into Crazy Earl for a chance at three specific Legendaries: The Butcher Shotgun, Lucian's Call Rifle, and the Wagon Wheel Pistol. You can find this specific enemy on Promethea in Skywell-27.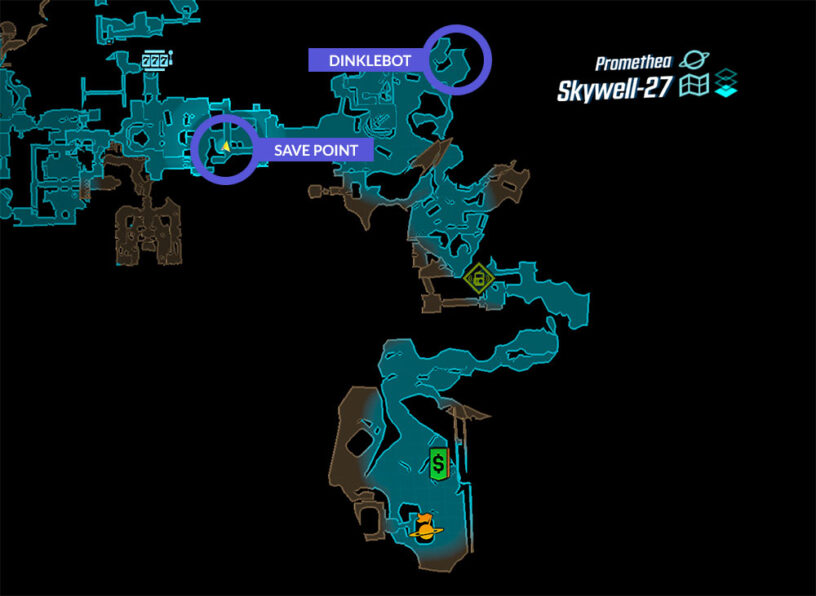 This is the location of a rare spawn called Dinklebot. It doesn't spawn every time you go to the area, so you will be resetting the game a lot. However, when it does spawn, it is guaranteed to drop the Loot-O-Gram. You will want to do this over and over again until you get a backpack full of Loot-O-Grams. Once you have that, return to Sanctuary and drop them off at Crazy Earl (Eridium Vendor). He will spit out a weapon for each one you have and if you're lucky, one of those will hopefully be one of the aforementioned Legendaries.
I'd only recommend this spawn if you're looking for the specific weapon drops that Crazy Earl will possibly give you. Learn more about Dinklebot with our full guide here.
Targeted Enemy Farming
There are a lot of special enemies in the game that will respawn again and again that have specific Legendary drops on them. These are usually associated with Crew Challenges from Sir Hammerlock or Zer0. The guns will typically ONLY drop off of these specific enemies, so if any of them sound intriguing to you, all you'll need to do is grind the particular enemy over and over again. There's a ton of these in the game, but we've got a guide for them that's being updated frequently with all of the ones you can find right here.