From building your weapons to choosing and customizing your character, Call of Duty: Modern Warfare 2 Multiplayer offers it all to the player. Similar to every other game in the franchise, this title features several operators divided into two Factions between which the battles are fought.
The Factions of Call of Duty: Modern Warfare 2
Factions in Modern Warfare 2 consist of two private military contractors: SpecGru and KorTac. At launch, the game features 25 unique playable operators. Initially, default Mil-Sim operators, one from each faction, will be available to all players. Players can unlock the remaining 23 operators via various in-game challenges and missions.
All SpecGru Operators in CoD Modern Warfare 2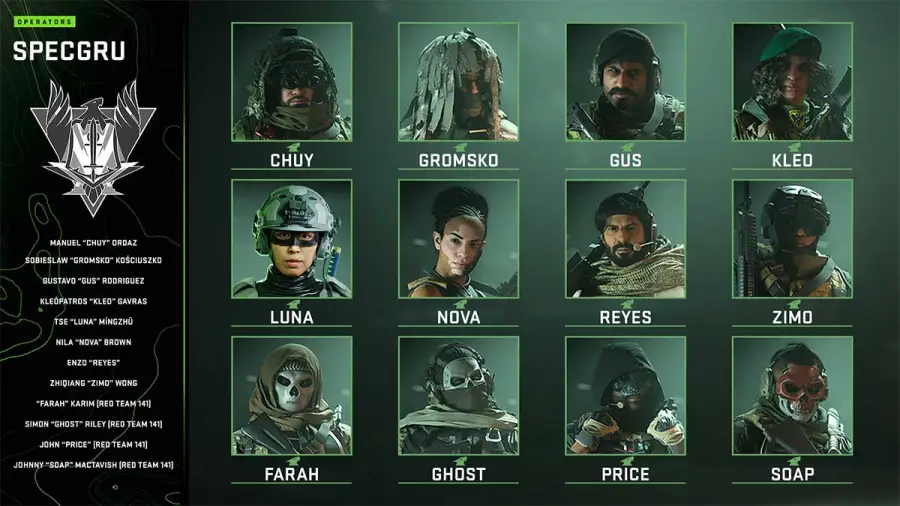 John "Price"
Simon "Ghost" Riley
Johnny "Soap" Mactavish
"Farah" Karim
Manuel "Chuy" Ordaz
Sobieslaw "Gromsko" Kosciuszko
Gustavo "Gus" Rodriguez
Kleópatros "Kleo" Gavras
Tse "Luna" Míngzhu
Nila "Nova" Brown
Enzo "Reyes"
Zhiqiang "Zimo" Wong
The Red Team 141 Pack variants of Price, Farah, Soap, and Ghost operators are available to players who've purchased the Modern Warfare 2 Vault Edition.
Related: Does Modern Warfare 2 have Skill Based Matchmaking?
All KorTac Operators in CoD Modern Warfare 2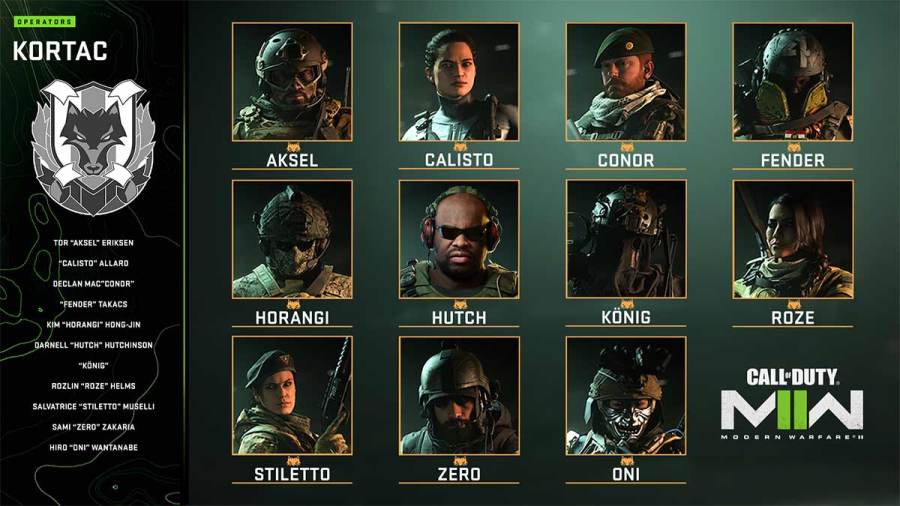 Tor "Aksel" Eriksen
"Calisto" Allard
Declan Mac"Conor"
"Fender" Takacs
Kim "Horangi" Hong-jin
Darnell "Hutch" Hutchinson
"Konig"
Rozlin "Roze" Helms
Salvatrice "Stiletto" Muselli
Sami "Zero" Zakaria
Hiro "Oni" Wantanabe
The Oni operator is a pre-order exclusive bonus for PlayStation users only. Furthermore, the Collision operator skin for Horangi was unlockable during the Modern Warfare 2 Beta as a reward.
Stay tuned to Pro Game Guides for more Call of Duty content. In the meantime, head over to our article on How to get Modern Warfare 2 Twitch Drop Viewership Rewards and How to preload the MW2 Campaign.